"We can't think small any longer," Lonnie Holley says. "We have the universe to consider."
His message is urgent, and it's one he holds close. The seventy-three-year-old is a prolific artist—he's explored drawing, painting, sculpture, assemblages, music, photography, and performance for more than five decades—and creates like his life depends on it. And in a way, it does. "This brain of mine has been through so much," says Holley, whose childhood was marked by violence, poverty, racism, and a horrific car accident that left him unconscious for three months at age seven. In an interview with G&G contributor Nic Brown in 2015, Holley explained, "I had to use art to keep me from crying. I had to bring it all out of me and put it on something. So my art was that."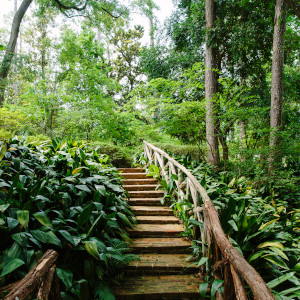 From May 10 to October 1, the Museum of Contemporary Art, North Miami (MOCA) presents Lonnie Holley: If You Really Knew, the first extensive exhibition of Holley's artwork in the South. The gallery will display seventy multimedia pieces from the course of his career, including Holley's earliest projects: sandstone carvings with by-product material salvaged from around Birmingham, a sculpture practice that began after Holley forged headstones for his two nieces, who passed away in a fire in 1979.
If You Really Knew will also debut recent works on paper and new, never-before-seen paintings of faces on large antique quilts. Viewers will also find assemblages, like Without Skin and Nine Notes, that highlight Holley's interest in curating and collecting objects others have cast aside—a church organ, fire hoses, discarded fabric—to craft narratives about his ancestry, American history, politics, psychological struggles, and climate change. "Objects that seem to be small, unimportant to consider, are transformed into so much more," says MOCA's Adeze Wilford, who curated the show and worked closely with the Birmingham-born artist.
The show also shares the spotlight with Black Southern artists within Holley's collective: Miami native Purvis Young, Thornton Dial, Mary T. Smith, Joe Minter, and Hawkins Bolden. "Lonnie's work tells the story of American history in the South, and it doesn't shy away from the more painful parts of that legacy," Wilford says. "We wanted to explore what that context looks like in Miami, especially with the inclusion of Purvis Young, whose work adds a layer to that story." Two of Young's works, Dark of Night and an untitled triptych painting, will be on view, echoing themes of migration and the trans-Atlantic slave trade observed in Holley's work.
Today, Holley is one of the country's most celebrated contemporary artists, known for seeing stories and meaning where others may never look twice. But before museums like the Smithsonian American Art Museum, the Metropolitan Museum of Art, and the Whitney Museum of American Art offered gallery space to Holley's improvisational works, the Southern artist was largely overlooked until he met the Atlanta-based art collector and Souls Grown Deep founder Bill Arnett in 1986. Though Holley is able to translate his pain into his artwork—and speaks of Wilford with complete appreciation and fondness—his heartbreak is still palpable. "I ended up being treated like I was an alien," Holley says. "I was in the process of creating an environment for the world, and so many people were coming and taking from that environment, stealing and abusing it, trampling over it. Curators or critics came along…criticizing me as an artist for doing what I was doing."
When Holley's landscape of artwork outside his home in Birmingham conflicted with the expansion of the city's airport in 1997, his art environment was destroyed—but he saved the chain-link fence gates and created If You Really Knew (Parts 1 and 2), two of the most powerful pieces in his show. "They have both early-assemblage and face motifs and really work as a grounding part of Lonnie's story as he has navigated the art world for decades," Wilford says. "They hold space for the trauma of losing that site but also as a genesis of where he is now with his practice."
For Wilford, collaborating closely with Holley on his first expansive Southern exhibition has been a rewarding, eye-opening experience. "He is the type of artist who inspires you to produce more, think more creatively, and engage with curiosity more intentionally."