Yesterday, after Chris Eubanks pulled off a five-set, nail-biting upset against the number-five-ranked player in the world, Stefanos Tsitsipas, rocketing himself into the quarterfinals of Wimbledon and international fame, my sister (and college doubles partner) called me to verify I'd gotten the memo: "You know this guy is from Georgia, right?"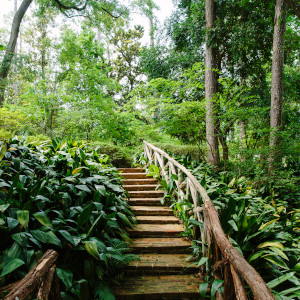 I did, but I didn't know a whole lot more than that, besides the obvious—a hell of a serve, a cracking forehand, and an infectious smile. So who is Chris Eubanks, anyway? The spotlight on the Atlanta native might have just turned up about a hundred watts, but the six-foot-seven twenty-seven-year-old has been paying his dues in the tennis world for years. He grew up in Atlanta, coached first by his dad, a Baptist minister who played college tennis himself, and then by fellow Atlanta native Donald Young, a top fifty player at the time. Young invited a teenage Eubanks to travel with him on the ATP tour, offering a window into life as a professional tennis player. Eubanks went on to play for three years at Georgia Tech, taking home two All-American titles, before going pro after his junior year and playing the circuit. Until recently, he hadn't quite broken into the top tier. He even started moonlighting as a commentator on the Tennis Channel—Young used to call him "the mayor" because of his propensity to network and chat.
Then came the Miami Open in March, where Eubanks made it to the quarterfinals and slid into the top hundred in the world. On July 1, he won the Mallorca Championships—also played on grass—and rode the confidence from that victory straight to Wimbledon.
In the on-court interview after the big win against Tsitsipas, Eubanks's happiness was palpable. "I feel like I'm living a dream right now," he told the crowd. "This is absolutely insane, when you paint all of the context. I've tried so much to block everything out and just focus on the next match–as cliché as it sounds—but it's surreal. It's unbelievable." Later, he drew on his commentator experience and gave a shrewd and analytical breakdown of the match.
It's easy to jump on the Chris Eubanks fairytale bandwagon. He's fun to watch. He's often got an ace up his sleeve. He absolutely smacks forehand winners. He has a mean slice on both sides. He'll often end points at the net with a crisp volley or decisive overhead. "And he's just so likable, with an ear-to-ear smile that lights up after a big point won and a tendency to engage with the crowd. After a volley winner in his third-round match against O'Connell, he kissed the net tape in celebration; after making an awkward dink to win a point against Tsispas, he widened his eyes and stuck his tongue out in relatable relief.
Tennis fans are a supportive bunch. We'll get behind anyone, pretty much, regardless of nationality, who has the skills and the heart to step onto the court and fight it out alone, determination stamped on every point. But it's sure good to have a Southerner to cheer for.