Outside of ordering in your entire Thanksgiving dinner spread—and if that's your move, we respect it—day-of kitchen mishaps are as inevitable as your overserved uncle dropping SEC rivalries into dinner conversation just to watch the fireworks. Even trained chefs aren't immune to the pitfalls, pressure, and unruly family members that come with preparing the annual all-American meal. The advantage those culinary professionals have is the ability to pivot in a pinch when disaster strikes in the kitchen.
To help home cooks correct (or sidestep!) common Thanksgiving dinner errors, we leaned on their expertise.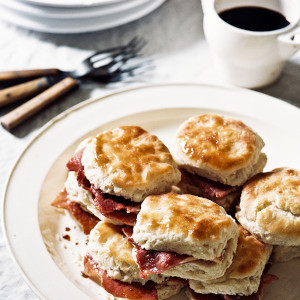 Problem 1: I overcooked my turkey and it's bone dry. Can it be salvaged?
"Try a shepherd's pie. You already have gravy laying around for the turkey, and you have vegetables from your stuffing and sides, so simply take your gravy and put some vegetables in it, then pick your turkey. Combine your picked turkey and veggies in a dish. Top with mashed potatoes and bake. Problem solved!" —Joe Kindred, Kindred, Davidson, North Carolina


By the way, here's how to avoid that conundrum in the first place.
"When you stuff a [whole] turkey, you inherently need to cook the turkey longer so that the inside heats up and fully cooks the stuffing, drying out the rest of the bird. Instead, break the down turkey into individual parts. Roast the turkey breast and braise the remaining pieces until they're all tender. And opt for a classic cornbread dressing over stuffing." —Lawrence Weeks, North of Bourbon, Louisville
"Everyone wants that showpiece in the middle of the table that looks beautiful. But no one knows how to cook turkeys because they only do it once a year, so dry turkeys happen. My advice: Buy a bird in July and figure it out when the pressure's off. Or we always do a backup meat—maybe duck or a pot roast. A backup meat gives you extra ammo in case the turkey doesn't turn out right. Pot roast is easy because you can't really mess that up. Plus, you could do the pot roast ahead of time and reheat it at dinner time. You could also get it going super early in a slow cooker. Just be sure you use nice meat. Don't skimp there." —Bryan Weaver, Butcher & Bee and Redheaded Stranger, Nashville
---
Problem 2: What to do with my lumpy—or overly thickened—gravy?
"Most people will have some lumps in their gravy, but if you have a nice strainer, those lumps are easy enough to remove. One big thing people need to remember is that gravy won't thicken until it boils. If you don't wait until then and you keep adding thickener, the gravy will get super thick. To thin out a thick gravy, I'd add broth or water a little at a time, and then adjust the seasoning with salt and maybe a little Worcestershire sauce. If you're thinning the gravy out, you really want to make sure it has enough seasoning." —Michael Zentner, the Drifter, Charleston, South Carolina
---
Problem 3: Help, I burnt the dinner rolls.
"Here's the thing. You've already spent a fortune. You have wrestled poultry as big as a toddler into the oven. It's that last mile. Everything is done. The cook finally has a chance to take a breath before dinner, and you've put the rolls in the oven right before, and damn, if you don't burn them. When that comes to pass, I've got a super quick roll dough that you make with yogurt and self-rising flour. Yogurt gives you a little of that sourdough umph, and by using self-rising flour you're just pulling out one bag. It's down-and-dirty, save-the-day bread. Dump it all in one bowl, and by the time you serve one more round of drinks, the rolls are ready. These rolls are great for making little snacking sandwiches later, too." —Martha Foose, Loblolly Bakery, Hattiesburg, Mississippi


Martha's quick roll recipe:
In a large bowl, mix equal parts self-rising flour and Greek yogurt to form a shaggy dough. Divide the dough into equal portions. Place 2 inches apart in a lightly sprayed baking pan. Allow to rest while oven is heating to 350°F. For a shiny top, brush with beaten egg. Bake for 17 to 20 minutes.
---
Problem 4: My pumpkin pie didn't set. Now what?
"I wouldn't want to remake the pie. Most people wouldn't. If it was a work-related dinner, we'd start from scratch of course, but at home, probably not. Instead, I'd call it a custard and pivot. I'd grab some store-bought vanilla wafers and make a crumble. Scoop out the pumpkin pie guts and put them in a baking dish then crumble the vanilla wafer over top, add whipped cream, and serve. —Zentner