If you're anything like me, spring and summer are high times for house projects—the sense of renewal unfurling outside initiates indoor rebirth, too. While I was sitting on my porch the other morning, mulling over paint color ideas, it occurred to me that all the inspiration I needed was growing in my garden. After all, the romance of Southern flowers is hard to resist, be it via a showstopping camellia or the fragrant bloom of a Noisette rose. So why not try to reflect that beauty in paint form? Below are a few ideas for doing just that.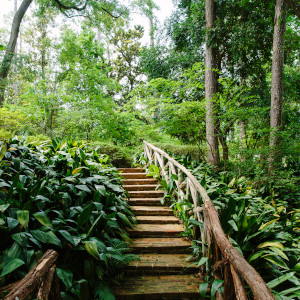 Love: Camellias
Try: Farrow & Ball's Rectory Red
This shade looks slightly raspberry-ish, and so do the red-pink petals of some of my favorite camellias.
---
Love: Noisette Roses
Try: Benjamin Moore's Tissue Pink
I can't think of a more delicate, intoxicating rose, and this shade of light pink captures it just so.
---
Love: Honeysuckle
Try: Backdrop's Disco Nap
The honeysuckle vine depicted here may not be invasive, but many of the other varieties are. Still, I love them. 
---
Love: Magnolia Leaves
Try: Sherwin Williams's Tradd Street Green
This hue from Sherwin Williams's Colors of Historic Charleston line captures these glossy leaves perfectly.
---
Love: Plumbago
Try: Backdrop's Stromboli Chess Club
When I think of plumbago, I picture it sweeping over fences in Charleston and also dotting scenes in the Italy of the 1999 film The Talented Mr. Ripley. This version nearly glows just like the real thing.
---
Love: Wisteria
This sophisticated purple feels moody, not sweet. And it's right in line with the speckles in those ephemeral wisteria flowers.