If Tom Brady's seven Super Bowl rings make him the greatest quarterback of all time, then what do Linda Skeens's fifteen hundred ribbons at the county fair make her? The G.O.A.T. of competitive baking, canning, and crafting, that's what.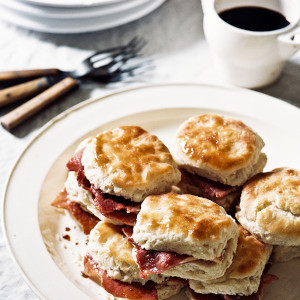 Frankly, the septuagenarian great-grandma has been outpacing rivals at fairs around her Southwest Virginia hometown of Castlewood for decades. But it wasn't until last summer's Virginia-Kentucky District Fair, at which she racked up a mind-blowing thirty ribbons, including blue ribbons for cake, pie, brownie, cookies, candy, bread, jelly, jam, canned tomatoes, canned corn, pickled peppers, sauerkraut, relish, and spaghetti sauce, that overnight internet fame was thrust upon her. Unsure what to make of the fuss being made by legions of new admirers (seriously, people wrote songs), Skeens ducked it at first, eventually emerging to appear on The Today Show and even join Instagram.
Now she's revealing her winning secrets, or at least her recipes, in Blue Ribbon Kitchen: Recipes and Tips from America's Favorite County Fair Champion, on sale July 7. The cookbook goes beyond just baked goods to include hearty Appalachian fare, and she previewed a few recipes with G&G: peach-raspberry jam, a trio of favorite biscuit toppings, and her ever-popular peanut butter fudge. So does this mean Skeens is retiring from amateur competition as this year's county-fair season approaches? Hardly, as she recently told us from—where else?—her kitchen.


Why did your dominance at last year's Virginia-Kentucky District Fair become such a sensation?
I've been entering local fair competitions for maybe twenty-eight years, and I'm not bragging, but I get ribbons all the time. The thing of it is that usually they'd just print an article in the local paper. Then last year they put it on Facebook, which I guess is why it caught on like it did. Some people didn't even think I was real. I'm not used to that much attention just for going to the fair.


Did anyone else win any ribbons at all?
When some people heard about it, they thought I was the only person who entered or something, but there were plenty of others. This other lady won some ribbons, and also another fellow had a couple.


What's your secret?
I don't really know. I just enjoy cooking something that people really like. And I keep it simple with ingredients that anyone can easily find. I get asked if I make lots of batches until I get one just right to enter. No, I make one batch that goes to the fair and if it wins, it wins. I'm not throwing out food—if you've been to the store lately, you know it's too expensive.


Will your cookbook turn us into ribbon contenders, too?
Doing a cookbook has been a lifelong dream of mine. But I'm one of these old cooks who puts things in, then tastes, and maybe adds some more of this and that. So for the cookbook recipes, I had to sit down and individually measure out everything. I thought I could figure it out, and I did. Anybody can take one of my recipes and make it just like I do.


The recipes go beyond just baked goods. What are your favorites to cook?
My personal favorite is my crockpot barbecue chicken with coleslaw. My daughter Cathy loves my lasagna, so both of those recipes are in there. I have six grandkids and two great-grandkids, and all of them like my mac and cheese. Some of them always want my plain yellow cake with chocolate icing. And I don't think anybody has eaten my peanut butter fudge and not liked it. My husband is my good critic on everything. Funny thing is that I couldn't cook a lick when we first got married. I had a lot to learn.


Where do you keep all your ribbons?
I keep a few out in case someone wants to see them. But there's too many to display them all—I'd have to have a whole room. When I took a big box of ribbons with me to the cookbook publisher for a picture, it took two hours to spread them all out.


Now that you're famous, are you competing in fairs again this year?
I've been doing this for nearly thirty years, so I'm not going to stop now! I've already been working on crafts and have some jellies made. There's a strawberry-themed bake-off at the Virginia-Kentucky District Fair this summer, and any time there's a special category, I try to enter it. I hear that more people are going to enter now, after hearing about the competition. I think people are trying to take it away from me.


Given your winning ways at the fairs, have you considered also entering the beauty pageant and demolition derby?
Ha! I'm no spring chicken. I'll be seventy-five by the summer, so I'll pass on the pageant, and as for demolition derby, I don't even drive. I'll just do my regular stuff. Except this year at the Virginia-Kentucky District Fair, I'll also be signing my book for two days.