Fast on the heels of the recently introduced Cheerwine Ale comes yet another North Carolina–spawned adult beverage mashup you had no idea you wanted until this moment: Bojangles Hard Sweet Tea.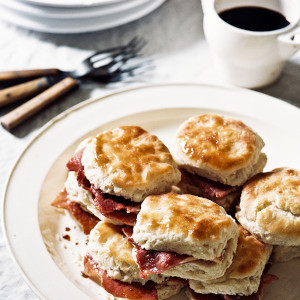 Bojangles, the Charlotte-based chain that has grown to nearly eight hundred locations across its Southern stronghold, is best known for tasty fried chicken and biscuits. But its distinctive sweet tea also has earned a cult following. Among those hardcore fans is Nathan Kelischek, cofounder of Appalachian Mountain Brewery in Boone, North Carolina. Fortuitously seated next to a Bojangles executive at a dinner a couple of years ago, he first proposed a collaboration in the form of a biscuit sour ale. When he followed up six months later with the brainstorm of spiking Bojangles tea, he got more traction.
"Prior to that conversation, we'd been approached by other craft breweries, but we were holding out for the chosen one," says Bojangles vice president Marshall Scarborough. "When we steep our tea, we do it like people here did in the late 1800s, when tea started being popular in the South."
The collaborators took fourteen months to develop a brewed hard version that didn't compromise the original's flavor profile, derived from black tea and cane sugar. "I love Bojangles tea because it's not cloyingly sweet, has a bit of smokiness, and a dry quality at the back of the throat," Kelischek says. "We're using their exact recipe blend that still has all those qualities, without being astringent from the introduction of alcohol."
"It was cool to see Nathan go through this process," Scarborough says. "It was like watching a chef at work."
G&G dutifully tested the result, which has no carbonation and arrives on the palate like the deeply flavorful original sweet tea, with just enough boozy kick that it announces, "Hi, I'm an adult beverage!"
To be clear, Bojangles Hard Sweet Tea is not available at Bojangles locations. "Yeah, I'd love to get 786 beer licenses," Scarborough jokes. "We definitely sent out a memo to our restaurant employees about how to communicate with any customers who mistakenly think they can order it at the counter."
Instead, the hard stuff is being sold in cans at grocery and convenience stores, and while the introductory rollout on March 13 is limited to the Carolinas, distribution should spread to other states in coming months.
Of course, those so inclined can enjoy the hard tea along with their Bo's menu favorites in places other than the restaurants, and its creators have some ideas about that. "Our fries have a special seasoning that's a perfect pairing with the hard tea, and it's right on point with a Cajun chicken filet biscuit, too," Scarborough says. "I think the hard tea is going to resonate with a lot of people—the funniest thing I've heard so far is a grandmother wanting some for her bridge club. But one thing I know for sure is that it's going to be very popular come tailgate season in North Carolina."