The Lynchburg Community Market has served as a focal point of the hilly, James River–adjacent Virginia downtown since 1783, staking a claim as the third-oldest continuously operating public market in the country. (Its current, gymnasium-sized building dates to 1932.) Part food hall, part farmers' market, part crafters gallery, it offers a little something for everyone and is an especially popular gathering place on Saturday mornings, when an extra dozen or so local growers bring their bounty to covered outdoor stalls. I've perused the market's wares many times, so to help guide new visitors, here is a list of my favorites. Or eleven of them, at least.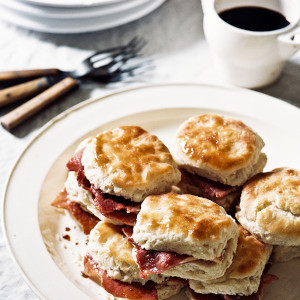 Heirloom tomatoes, Great Day Gardens
Married farmers Michael Grantz and Arden Jones bring a full spread of produce and artisan breads to the Saturday market. But when in season, it's their gorgeous "hyloom" slicing tomatoes—crosses of two heirloom varieties—that lure passersby to their stall facing Main Street. With names like Cherokee Carbon, GinFiz, and CubaLibre, what tomato nerd can resist?
---
Sausage gravy and biscuits, Barb's Dream Hut
Barb's has occupied a cozy nook just inside the market's indoor entrance for nearly two decades, and it's a great spot to fuel up on breakfast before making the rest of your rounds. The sausage gravy and biscuits isn't fancy but is seriously delicious and hearty. And at $3.50, it doesn't put a dent in your shopping budget.
---
Blackberries, Wildwood Berry and Produce
You're not planning on buying blackberries—until the perfectly arranged pints of even more perfectly plump, purple-black bramble fruit stops you in your tracks. Now your plan is to bake a pie—until you snack through the entire pint before you get back home.
---
Dyed goods, Mud, Twine & Sticks
Elizabeth Marcais grows or forages some of the flowers, plants, bark, roots, and other natural materials she uses to richly dye casual tops, beach cover-ups, bags, hand towels, and dog bandanas. Indigo blue is her favorite hue, and might soon be yours too.
---
Flowers, Backyard Bouquets
Self-proclaimed "country girls" Charity and Camille tend beautiful, vivid flowers in nearby Amherst and arrange them in small-to-overflowing bouquets that somehow manage to look intentional and carefree. Their secret has something to do with the lush greenery they work in, but good luck duplicating the effect on your own.
---
Handmade Pens, Pen City USA
Looking for a surprise gift for the bourbon lover in your life? Andrew Taylor crafts one-of-a-kind wooden pens, including a line made from barrels that once aged Jack Daniel's and Old Grandad. They are handsome and functional and, amazingly, cost just $75.
---
Honey, Hungry Hill Farm
Whether you choose fun, honey-filled straws for the kids or a gallon jug for serious baking, the family beekeepers of Hungry Hill have your raw honey needs covered. If you want to taste the place where honey and molasses meet, choose the darkest shade of amber, likely produced by bees that were feasting on tulip poplar blooms.
---
The bulletin board
Social media should have killed off public bulletin boards years ago, but the Lynchburg Community Market stands in the breach. Where else can you loiter at a large rectangle of corkboard and peruse flyers urging you to sign up for a baseball league, inviting you to hear a church organ recital, and warning you about an invasion of spotted lanternflies? Take that, Twitter.
---
Goat milk soap, Adoratio Farms
This indoor booth beckons with the colors and scents of soaps made from goat's milk on a nearby farm. Once you're pulled inside, it's just a matter of picking from square-edged bars of watermelon sugar, raspberry lemonade, cedarwood, clary sage, grapefruit, maple pecan…hmm, this is going to take a while.
---
The dolphin fountain
Okay, the outdoor "dolphin fountain" looks more like a chubby, contortionist goldfish. But the whimsical spray of water from its tail within a burbling, two-tiered pond is a reliably relaxing spot to sit and chat with the neighbor you're inevitably going to run into at the market. Kudos to the Woman's Club of Lynchburg for restoring this 1925 jewel.
---
Baklava, Kelly's Persian Food
One doesn't typically spot rosewater as an ingredient in baklava. With that info disclosed right on the package, you could theoretically make the nutty, flaky, decadent dessert as tasty as that lovingly made by Kereshmeh "Kelly" Kashefian. But why would you even try when she's just going to bring more next week?