Augusta buzzes with energy the first full week in April when the Masters Tournament comes to town. Exploration opportunities abound any time of year, however, in the city that sits on the western bank of the Savannah River.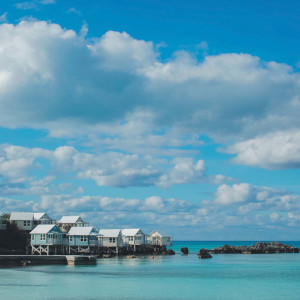 Murals dot the historic buildings downtown, home to plenty of shops and restaurants. The Augusta Riverwalk's brick path allows pedestrians to take in the views, and there may even be live music along the way. Around town, Augusta upholds its "Garden City" moniker, from the flowery enclaves in Pendleton King Park to the manicured lawns of Victorian homes and bungalows throughout the city. "You kind of always pass through Augusta on the way to the mountains or the beach," says Brianne Martin, co-owner and one of the artists behind Freshwater Design Co., a leather accessory studio and gift boutique. "So it's a good place to stop, rest, and do some fun things."
Here's how to make the most of an Augusta getaway.


One could easily lose track of time sifting through the treasures at Vintage Ooollee. The downtown shop sells retro apparel and accessories as well as new clothing in throwback styles. Adding to the store's quirky charm, the other half of the storefront displays costume rentals.
The landmark hotel in Augusta's Summerville neighborhood (just a few minutes from downtown) has hosted presidents, actors, and star athletes since it was built in 1910. A recent renovation gave the stately property a fresh boost to the rooms and common areas. You don't have to stay overnight, however, to swing by for a drink on the shaded veranda or rooftop bar.
Augusta shines at golden hour, and this downtown restaurant is one of the best places in town to appreciate the light. Edgar's spacious rooftop bar boasts al fresco seating and lawn games, including a larger-than-life checkerboard. The Imaginary Friend, a fruity tipple with house-made strawberry-infused vodka, ginger beer, and honey, stands out on the drink menu. Edgar's also sits across the street from Miller Theater, in case you need a pre-show bite.
The Boll Weevil Cafe & Sweetery
For a casual spot to grab lunch near the Riverwalk, check out the Boll Weevil. The cake slices, however, really make it a destination. Locals revere these cakes for their mile-high height and myriad flavors. You'll likely want to order many slices—maybe the hummingbird, canary lemon, and the banana chocolate chip—and sample all of them onsite or to-go.
Owned by sisters Brianne Martin and Danielle Harmadi, Freshwater Design channels California vibes into a sunny Broad Street boutique and studio. Those seeking a creative souvenir can find it here: The duo specializes in handcrafted leather accessories, using industrial lasers to transfer designs onto keychains, luggage tags, and coasters. They've also highlighted accessories, gifts, and jewelry from other brands and artists.
Take a quick jaunt over the Savannah River to North Augusta, South Carolina, for a sweet fix at Sheila's. A well-stocked pastry case awaits, filled with simple and elegantly prepared classics like vanilla glazed doughnuts and cinnamon rolls. Perfect cups of coffee will wash it all down.
If you drove into town and can carry a plant haul home, stop by Bedford Greenhouses. The gardening store and nursery, composed of vintage greenhouses, has served as a resource to green thumbs (and hopefuls) since the 1940s. Found off the beaten path in the Bedford Heights neighborhood, the greenhouses contain perennials, fruit trees, native plants, and tons of indoor varieties. There's even a terrarium bar where you can create your own miniature plant habitat.
Downtown really comes to life on Saturday mornings, March 19 through November 19, when the Augusta Market takes place. Here, the vendors, which include farmers, honey producers, chefs, and artisans, sprawl out from a plaza towards the river. Live music performances on the River Stage keep the atmosphere especially festive.


It may not have beer, but this Broad Street "tavern" has plenty of convivial warmth—plus two levels of new and used books for all ages. Comfy seating is sprinkled around the skylit space; don't miss the cozy second-level loft.
If you like oysters raw, baked, or steamed, a dinner reservation at Becks is a must. The seafood bar is the focal point of this casual-yet-fine-dining restaurant, making it the perfect place to grab a seat and throw back a few bivalves alongside a Garden City cocktail (tequila, St. Germain, strawberry simple syrup, lemon, and sparkling wine). Stay for dinner and check out the other seafood specialties, such as the blackened North Carolina grouper or grilled tuna with pineapple salsa.