In a recent Talk of the South newsletter, we asked readers to tell us about the best things they learned from their mothers. Here are some of the many responses:
When conversations turned a bit negative, raunchy, or not to her liking, Mother would say, "Let's talk about something pleasant!" We love to quip that in her honor when we need a deflection. —Susan R.


"Life ain't fair. Deal with it." It's something she said almost weekly when I was a child. And it's still great advice today. —Cassandra S.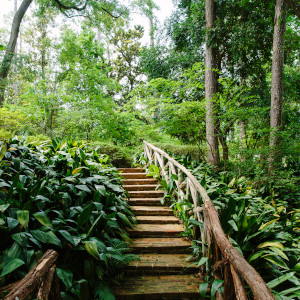 "One of the most powerful forces in our lives is kindness, only outdone by love." —Franklin R.


My late mother served our country as a proud member of the Women Airforce Service Pilots (W.A.S.P.), a group of about 1,100 female pilots who flew for the United States Army Air Forces during World War II to release male pilots for combat duty in two theaters of war. Despite opposition from narrow-minded bureaucrats and archaic military leadership, these women were ultimately able to secure veterans benefits, be awarded the Congressional Gold Medal, and [be buried] at Arlington National Cemetery with military honors. And they're the reason women fly for the United States Air Force today. Mom taught me the value of tenacity and resilience in the face of overwhelming odds. —Lindy S.


If you feel the need to blow your nose, do it super forcefully so you won't need to again anytime soon. —Roy K.


"Dust the bottom shelf." She must have given that advice a thousand times. —Brandon S.


My mother loves to share her wisdom with me and my two older sisters. Most of the time her advice makes us laugh and is often questionable, but one of my favorite little tidbits from her has to be, "If an MUSC student ever asks you to go back to his room to watch Westerns, don't go because all he'll want to do is smooch." This still makes us laugh! —Katie G.


My mother was the ultimate entertainer. Whenever there was a question about who should be invited, she always included them. She felt no one should be left out. My beautiful bride and I have always followed this policy and it has worked. —John H.


My mother (a lifelong equestrian) taught me how to ride horses. She always said, "If you fall off, get right back on so you won't be afraid." To me, that advice carries over to other aspects of life, too, and I've heeded it ever since. —Emily D.


Always send a thank you note. My handwriting is so poor now that I send a brief note, but that's okay. Always write  out a condolence letter. And when you receive one a handwritten note is mandatory. —Debi J.


Although my mother's time was divided amongst her nine children, she taught me that life requires some things. Never stop learning, no one likes a whiner (especially if there were nine of them), and if you lie and cheat you may no longer use our family name. It was startling to a young child to hear that, but it left such an impression that's lasted me for the last sixty-six years. —Michael B.


"Son, they all put on their pants one leg at a time." —Roger B.


My mom taught me that I should marry someone made from the same "cookie dough" as me. That means someone that has the same beliefs, approach to life, and needs as you. She was so right—I'm one of the most happily married guys I know. —Rusty M.


Mom taught me how to use the pronouns "I" and "me" correctly. I try not to flaunt it. —Jere B.


"Never leave the house without a little lipstick." After all, you always want to appear groomed and ready for whatever the world brings. —Cynthia G.


"Good manners never go out of style" and "a girl can't have too many things monogrammed." She died a long time ago, but I think of her every day and remember these words. —Suzanne S.


How to cook delicious fried chicken. —Tammy T.


One of the most helpful things my mother taught me was "to have a friend, you have to be a friend." Now at my current age of sixty-eight, I can confidently say that this advice proved to be valuable in all stages of life. —Antoinette C.


As she got in the car after unloading me and my trunks at Oxford College dorm at Miami University in Ohio, she leaned out the window and said, "Remember, don't ever loan or give away anything you can't get back." —Julie F.


If you're angry or annoyed, don't put it in writing. If you do, put it in an envelope in your drawer and burn it tomorrow. That advice kept me out of a lot of trouble. Of course, she didn't tell me until after I made the mistake that one time. —Ann M.


Mom always said, "If in doubt, don't." I didn't adhere to that much when I was young, but I learned over the years it's true. Listen to your gut when you hear that little voice of Mom sitting on your shoulder. —Annette H.


Be kind to senior citizens. You'll be old one day. —Cate P.


My mom taught me to always write a thank-you note. It did not matter if I was able to thank someone in person; I was always to follow up with a note containing at least one personalized detail. I passed that lesson to my daughter as well. —Shannon Z.


How to curl up on the couch and read till someone insists you go to bed. Or how to always give your mean brother the bent fork. Or how to memorize poems and repeat them as you fall asleep each night. —Nancy H.


"Don't be prejudiced. We're all the same—we've just been through different things." —Valerie W.


My mother always had the ability to have a sense of humor under any circumstance. When my dad was diagnosed with Alzheimer's, and had Parkinson's concurrently, it stood her in good stead. As you know, Alzheimer's is a cruel, evil disease with no hope—only the promise of everything getting worse. That being the case, she found things to laugh about and memories to cherish all along the way until his death twenty-eight years after he was originally diagnosed. His doctors said he was in 1 percent of 1 percent of patients who lived that long with both diseases. I have always felt that she was the miracle, not him. She changed many people's lives by her attitude of never giving in to depression or hopelessness, but maintaining a positive and humorous outlook until her own death. —Rebecca F.


Save it and use it up! No mother who lived through "The War" and the Depression could do otherwise. Coffee cans. Mayonnaise jars. Rubber bands. Shoe boxes. Thumbtacks. Newspapers. What a drag then, but what wisdom now. Green before it was fashionable. —Anne P.


"There are worse things than being alone." —Nora S.


"Be careful who you date, you never know who you will fall in love with." Needless to say, that was advice that I did not heed and should have. —Rebecca D.


When they deserve love the least is when they need it the most. —Cal W.


My mom taught me, by example, how to go on after losing a spouse. Dad died at age sixty-three, after forty-one years of marriage. Years later, my husband died at age sixty-three. We, too, had been married forty-one years. Being a widow is hard. But Mom showed me there is life worth living, even if it's alone. Mom leaned on her faith in Christ. She continued to give and serve others. She traveled with a gun in the glove compartment and a machete in the trunk (for whacking weeds in backwoods Georgia graveyards on her genealogy quests). I don't carry a gun or a machete, but I've traveled alone, with my dog, Ruby. I like to think Mom would have been pleased. —Angie B.


From the time I was a little girl in the 1960s (way before the internet or social media) my mother taught me not to write anything down that I would not want everyone to read. I have always tried to heed this advice and it has stood up to the test of time. In fact, it has saved me from embarrassing situations over and over. —Mary L.


Growing up, whenever I would try to defend some less defensible position, my mom would look at me and say, "Don't go so far out on that limb that you can't get back." —Peter H.