The newly opened Leroy's Tacos and Beer in Durham, North Carolina, has a cheesy, beefy, and wildly popular dish to thank for its inception—a smoked brisket quesabirria, created by chef and pitmaster Jake Wood. The demand for the taco overwhelmed the staff at Wood's other spot in town, Lawrence BBQ. "It got so out of control we had to stop making them," Wood admits. As luck would have it, a location two doors down became available, and Wood jumped at the opportunity to expand.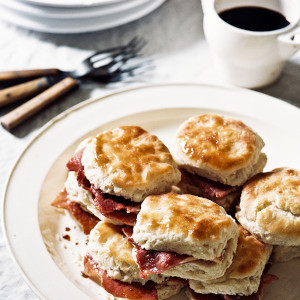 At the end of March, Wood and his team officially welcomed customers to the vibey taqueria, filled with Instagram-worthy nineties nostalgia—Ninja Turtle action figures, a Barbie collection, Nickelodeon throwbacks on the television, all harking back to Wood's own childhood. "We loved making fun specials when we first opened Lawrence BBQ, and this particular special turned into a new concept," Wood says. "I wanted the space to be welcoming to all ages with the colors and fun action figures."
Drawing from the popularity of the signature birria, the menu features other Mexican-American-inspired dishes, such as pulled pork carnitas, carne asada, crispy fish tacos, stewed hominy, poblano cheese dip, and plenty of salsas. Besides their savory offerings, Wood and one of his chefs, Darrus Clay Evans, created a recipe for a Southern twist on a classic tres leches cake featuring a cornbread-style sponge cake. "It started at first as just our cornbread soaked and topped off, and then it continued to transform into something way more airy and delightful," Wood says.
Below is Wood's recipe, which is drizzled with a decadent dulce de leche sauce and topped with whipped cream and macerated strawberries.