Simply put, Marcus Bar & Grille is a vibe.
This comfort-food destination is the first Atlanta-based restaurant in the empire of award-winning author, TV host, and chef Marcus Samuelsson. Before you even step inside, lush plants and a spacious patio beckon. Bar shelves lined with old-school speakers, roller skates, and cassette tape players pay tribute to Atlanta's hip-hop roots. Beautiful people try not to stare when servers glide through the room with plates of ribs, crab cakes, and other craveable menu options.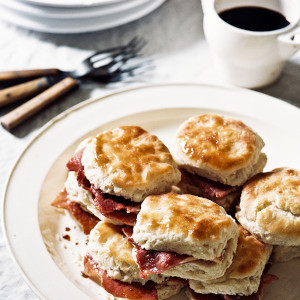 "I've always been intentional about placing my restaurants in historically Black communities," Samuelsson says. Located in the city's historic Old Fourth Ward, Marcus Bar & Grille is just a few blocks away from Martin Luther King Jr.'s family home.
His intentional approach goes beyond the restaurant's location to its Atlanta-flavored assortment of Southern fare, including Roller Skate Ribs, brisket, and smokey Bankhead BBQ chicken. Especially hungry patrons may opt for King of the South, a shareable entree of rice and peas, grilled shrimp, barbecue brisket, fried chicken, beans, salsa verde, and an optional "baller upgrade" to add jerk pork and ribeye. True standouts on the menu include a fried green tomato and burrata salad made with local burrata, basil, and pickled watermelon; jerk cauliflower in curried coconut; and the fried chicken and cornbread waffle with chili butter.
The formidable cocktail lineup includes the mysterious James Baldwin, which mixes bourbon, espresso, Kahlúa, and demerara syrup. Those who can handle the heat may be enticed by All the Smoke's potent mix of jalapeño syrup, mezcal, and lime juice mixed with pineapple juice. If you aren't heading to Atlanta anytime soon, Samuelsson offers his crowd-pleasing recipe for A-Town Deviled Eggs topped with shatteringly crispy chicken crackling. (While the garnish isn't required, it definitely adds that "extra" element.) Set some water to boil, turn up the classics, and create your own vibe at home.