"Tea, it would seem, is the drink that leads to a temperate life."
So proclaimed one newspaper in 1941, at what might be deemed the tail end of an epoch when the sober-minded billed tea as a wholesome alternative to spirituous beverages. This had been the message for at least a century—in the 1800s, popular social gatherings called temperance tea parties started in Britain and spread across the United States.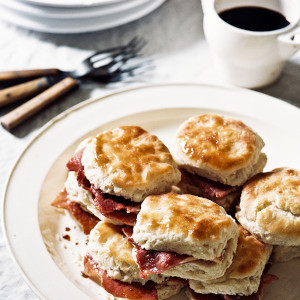 Yet tea does not always keep its top collar button buttoned—in fact, the brew has long found a way to slip out of the temperance halls and into saloons, happily fraternizing with spirits since at least the eighteenth century. It proved especially keen at finding its way into punch, including in such notable potions as Fish House Punch and Chatham Artillery Punch.
The recent cocktail revolution has also invited tea in for a seat in the barroom. Modern mixologists appreciate the brew's tannic, drying quality, which can add the complexity of a barrel-aged spirit to drinks made with more callow booze. Matcha brings an herbaceousness to the glass, and a chai-infused simple syrup delivers a dash of exoticism. Smoky Lapsang souchong can even stand up to bossier spirits like rum or rye.
Some bartenders have discovered they can infuse tea directly in spirits and transform it, using a sort of bar-top alchemy. To create the Earl Grey MarTEAni, one of the more enduring tea cocktails, the pioneering bartender Audrey Saunders infused the bergamot-forward tea into a botanical-forward gin.
In the South, tea of course goes naturally with ice, as the Richmond druggist S. P. Semple noted in 1856: "The exhilarating effects of a glass of ice tea…will speak for themselves." The region also offers a more than suitable climate for growing tea, as it lies at the same latitude as areas that grow some of the most noted teas in China and India. Yet tea farms only started to blossom here toward the end of the last century.
One of them, the Great Mississippi Tea Company, located deep in Brookhaven's timber and cattle country, opened just a decade ago. Today about forty thousand tea plants grow there in a former cow pasture, which the owners shifted to tea when they realized it promised fewer headaches and higher returns. ("Tea doesn't walk off the farm," explains farmer, co-owner, and tea processor Timothy Gipson.) The spread produces black, green, and oolong tea, plus some intriguingly flavored options (chai, mint, pine needle).
The company's grilled peach tea, available seasonally, features oolong and black tea blended with peaches cold-smoked over pecan wood, which results in a beguiling marriage of smokiness and sweetness. A simple syrup made by substituting a strong batch of tea for water will enhance many a cocktail, particularly a classic mezcal sour. The brew takes the already smoky flavor of the mezcal and lends it a wily Southern twist so good even the temperate might be tempted.