Chef Jacob Sessoms, the two-time James Beard Award nominee behind Asheville restaurants Table and All Day Darling, has a passion for sorghum that can be traced to his childhood in southern Arkansas, when money was tight. "I grew up without maple syrup or molasses. Everything that required sweetening at the table was finished with sorghum," he says. Then and now, his favorite way to savor sorghum's sweetness is atop a corn pone, a round, skillet-cooked variation of cornbread.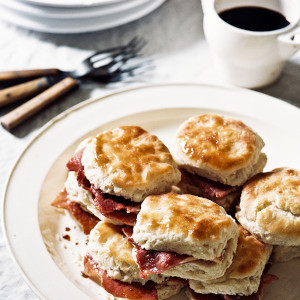 "My dad's all-cornmeal, no-sugar corn pone with sorghum has always been the olfactory experience that reminds me of childhood," Sessoms says. "My late father's favorite thing to say—when it was time for cornbread with a giant smear of butter and sorghum, and I asked for the sorghum molasses—was, 'Now Jaaaaaacob, how can you have mo'lasses if you ain't yet had no lasses?' What a ridiculous dad joke! I miss him every time I sit down to dinner."
The dish, featured below, was the first recipe Sessoms's father taught him. Since Sessoms's paternal grandparents were sharecroppers, they made the dish with coarse, stone-ground, unsifted cornmeal near the consistency of grits. Today, he uses cornmeal from local farms, such as Edwards Farm in North Carolina, and finishes it with sorghum syrup purchased from Tennessee's Muddy Pond mill.
Sorghum is not processed commercially on a large scale, Sessoms explains, but its syrup—lighter than molasses in color and flavor—is available from small farms across the central belt of the South. "It has an earthy, funky flavor as opposed to the bitter, burnt-sugar flavor of blackstrap," he says.