In a small painting room in central San Antonio, Brenda Kingery dances with her heritage. Like fallen feathers, photographs of Indian powwows lie scattered around the studio. Sunlight sifts through the louvered window shutters, brightening a table covered with Japanese brushes and acrylic paints. Here in this peaceful place, the eighty-three-year-old Chickasaw painter communes with her Native American identity, telling the stories of her ancestry and artistry through ribbons of color and washes of ink.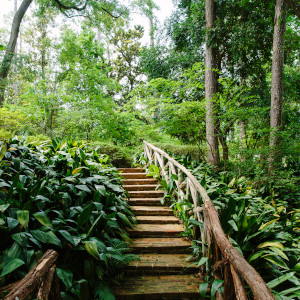 While growing up in Oklahoma City, Kingery loved art, and she recalls drawing on the walls of her bedroom late into the night. That creative energy eventually led to a scholarship at the University of Oklahoma, where she studied fine arts and art history. By graduation, the young artist had married her husband, Tom, and they had one child and another on the way.
Tom's job as a fighter pilot in the U.S. Air Force meant the Kingery family traveled frequently after that. Some of Brenda's fondest memories formed in Okinawa, Japan, where they were stationed on two separate occasions. In the late 1960s, the couple purchased a house in Kakazu, a famed World War II battleground. Over time, she immersed herself in the local language and culture with the help of Nobuko Shimabukuru, her maid and close friend.
Kingery's relationship with Shimabukuru's family led her to discover the capital city of Naha's Tsuboya district, known for its centuries-old ceramic traditions. Fascinated by what she'd seen, she decided to study ceramics, along with sumi-e, or Japanese ink painting, and eventually wrote her master's thesis on the origins and influences of Ryukyuan folk art. After a sojourn in Texas, she returned to Okinawa around 1979 to teach drawing, painting, and Okinawan cultural history at the University of Maryland's Asian division. Along the way, she became increasingly interested in how Okinawans held onto their culture, despite the various occupations and conflicts they'd endured.
In the early 1990s, Kingery attended one of the first Red Earth powwows in Oklahoma City, where tribes from across the country gather in celebration and competition for prize money. The sound of bells lured her in as she stepped from the car. "It was glorious," she remembers. "To see the warriors in their regalia, and all the dances, textiles, and sounds in one place, will tear you in pieces."
Though Kingery was already painting at the time, visiting the powwow marked a turning point. She began seeing parallels between the Okinawans and her own Native American ancestors. "It dawned on me that we were occupied, and how did we keep our cultures?" she says. "I had all this background I realized I could use." Awakened to her heritage, she started interpreting her Indian identity through a contemporary lens.
Today, the artist's aesthetic is a distinctive blend of Japanese and Native American influences. "Her work has a dreamlike quality to it," says Michael Duchemin, the president and CEO of the Briscoe Western Art Museum in San Antonio. "Movement is a major feature, whether seen in 11 Blue Blessings 2022, with its dynamic convergence of energy, or the more calm and serene Winds and Smoke 2022." This spring, the museum will showcase some of her original works, including the two aforementioned paintings, alongside pieces from eighty other leading Western artists as a part of its prestigious, invitation-only Night of Artists event and art sale.
Kingery's paintings, including this new work for the Briscoe, are often inspired by photographs she's taken at powwows. The images inform a process that the artist likens to solving a complicated puzzle. After deciding on the composition, she begins by using a fude brush to wash her canvas with ink, a technique she learned in Okinawa while studying Japanese ink painting. "I have no preconceived idea of where it's going to go," she says of the fluid. "I let the shape talk to me." Then, she takes fragments of the figures and regalia in the photographs and paints the story abstractly, from left to right, like a scroll. Between the ink washes, opaque forms, and rigid ribbons of color, any one canvas features twenty-five to thirty layers.
Despite being Chickasaw by blood and honoring the tribe in her work, Kingery also creates homages to other tribes and the greater Native American narrative, each work striking a balance between elements of chaos and control. Stories and symbols seem to whisper from the layered colors, expressive brushwork, and geometric details. Like a mirage, circular shapes suggest the faces of dancing warriors, while woven textiles emerge from a labyrinth of fine lines.
In 2007, President George W. Bush appointed Kingery to be a trustee of the Institute of American Indian Arts. Currently, students from more than ninety tribes attend the school in Santa Fe, all of whom she considers members of her family. Many of the young people she works with feel residual anger, resentment, and frustration over the historical treatment of Native Americans—emotions Kingery chooses to interpret through acrylic and ink.
"All of this is story for me," she says, pointing to the brushstrokes. "My work is very peaceful, but it's full of energy and message. Indians tell stories, and I have a lot to tell."