One afternoon in the late nineties, about a year after Laura Vinroot Poole had opened Capitol, her trailblazing boutique in Charlotte, "the sunniest, most charming, and most radiant girl walked in and asked if I was hiring," Vinroot Poole recalls. She was not, in fact. The shop was just getting off the ground and Vinroot Poole—owner, founder, and sole employee—could barely pay herself. But something about the woman, with her savvy fashion sense and effervescent British lilt, made her say yes.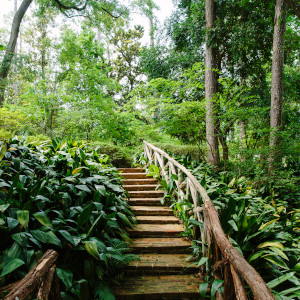 In turn, that staffer, Wiggy Hindmarch—a British national born in Singapore who had recently graduated from performing arts school, rebuffed a gig as a backup dancer for Prince, and moved to Charlotte from her family's home in Newport, Rhode Island—soaked up everything Vinroot Poole had to impart. "She taught me how to take any woman who walked through that door and have her leave looking ten million times more beautiful and more confident in herself," Hindmarch says. "I really don't think I'd be doing what I'm doing today without Laura."
That would be running Wiggy Kit, her line of luxury women's wear designed to flatter all shapes, sizes, and skin tones no matter the season or occasion. She founded the company in 2015 after moving back to the U.K. and spending the early aughts working various fashion-world jobs. "For me it's about playing with proportions—where you might place the waistband, or how open you make a neckline, or where you put a seam," she explains of her styles. "If you place a strap at an angle, for example, it makes the shoulders more expansive and narrows the waist and the hips," a design seen on her beloved Apron Dress, which features scalloped straps that float down the bodice and over the skirt. "You can completely and utterly trick the eye and emphasize the physique to the wearer's advantage."
"Her clothes are easy and flattering and fit just so," says Vinroot Poole, now one of Wiggy Kit's primary retailers. (Hindmarch will travel to Charlotte and Charleston, South Carolina, this spring for trunk shows.) They're also versatile, thanks to the time the designer splits between her home in London and another on Harbour Island, in the Bahamas. "My wardrobe used to be so chaotic: I had one [set of clothing] I could wear lying barefoot on the beach, where it didn't matter if the pieces were see-through or short, and another for London, a city where it's completely inappropriate to go to your child's school gates dressed in something like that," she says. "I started thinking: Why can't I have things that work in London that I can also take abroad? I think I've now managed to create something that can do both."
When conceiving her looks, Hindmarch imagines each outfit at a Bahamian dinner or on a Thames-side stroll. But she also considers what Vinroot Poole would sell to her clients. "In the South, women aren't ashamed of taking care of themselves," she says. "They're not afraid to be pretty, and I learned a lot from that. The U.K. and Europe as a whole are slightly grittier and edgier, with a bit less print and color. I've sort of melded the really flattering aesthetic that the Americans have—especially those beautiful women in the South—with a bit of the humor and edgy detailing that come from European style."
Her new spring and summer collection nods to pastoral bliss, a feeling she's also found in the South. "I've been really inspired by places like Blackberry Farm that connect to nature and provide a lifestyle I want to have," she says. That ethos manifests in a dazzlingly slouchy blue jumpsuit; a handful of matching sets—a square-necked top, for instance, meant to pair with complementary gingham shorts or a gaucho skirt, or to get tucked into a favorite pair of jeans; a Chinese-red Eden Dress with ecru rickrack; and flowing blouses in prints derived from a piece of eighteenth-century fabric, "like something you'd find in a Provençal attic," Hindmarch says. Her first-ever jacket designs will debut this season, too. Quilted and reversible, the cocoon jackets are cropped so as not to "kill the outfit," as Hindmarch puts it—an answer to an age-old dilemma faced by women on both sides of the Atlantic.