photo: JACQUELINE MARQUE
In her Uptown shop, Eclectic Home, the New Orleans designer Penny Francis has built a decorator's wonderland, where shoppers can meander through ivory bouclé swivel chairs, poppy-pink tempered-glass end tables, and Moorish throne chairs from Syria. The showroom reflects her design philosophy: a riot of color moderated by a sliver of restraint that renders harmony rather than chaos; a conversation-inducing stew of styles nearly impossible to replicate that has attracted the city's risk-taking tastemakers for twenty-two years. "Sure, everyone loves a big, heavy European antique, but I also wanted midcentury-modern coffee tables and art deco sconces," she says. Above the boutique, Francis's firm guides clients tackling projects ranging from French Quarter manses to the brand-new Four Seasons residences.
The shop also serves as a laboratory for her own constantly evolving home, where you're as likely to find her moving a sofa as throwing a party. "New Orleans has been home since I was eight years old," Francis says as she sits in her kitchen on a dove-gray velvet high-backed chair. Nearby French doors usher in afternoon light, which slices across a wide porch and an electric-blue swimming pool beyond.
photo: JACQUELINE MARQUE
"My husband is an avid hunter and gardener. He wanted a yard and a garage," she says. "I laughed. There are no garages in Uptown, but he bet me a thousand dollars he could find one." In 2012, Francis lost that wager when they ran across the 101-year-old, five-thousand-square-foot double just a block off Audubon Park. Inside, however, awaited a challenge fit for a designer: an interior stalled in the eighties, burdened by lowered ceilings and wing walls in the kitchen.
"So many rooms were cut off from others and forced you to backtrack," she says. "That first look, I thought, what a project." A year of renovations yielded a three-bedroom, five-bathroom house with a pleasing flow, and luxe additions such as a gym and a petite home theater.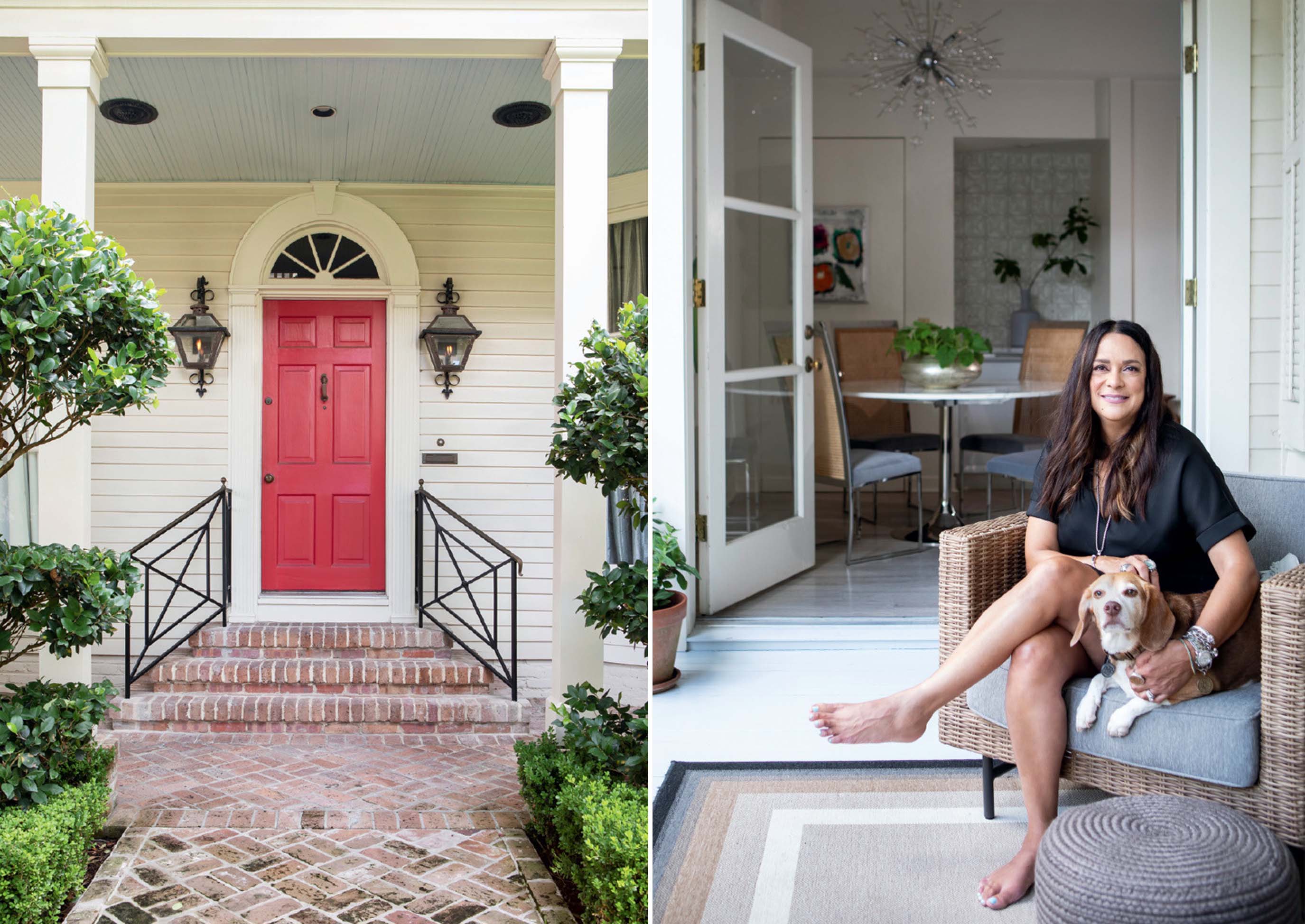 photo: JACQUELINE MARQUE
A few historic touches plucked Francis's heartstrings, though, including the living room's commanding bay windows, which she kept and countered with a moment of midcentury romance: a lavender Italian velvet sofa. She repeated that color in Gustavian-style chairs decked in Kravet velvet in the dining room and grass-cloth wallpapers by Phillip Jeffries and Schumacher throughout the house. Her living room, anchored by a 1930s-inspired Arteriors chandelier, exudes contradiction. "I think there's real fun in intentionally mixing materials," she says, smiling down at a 1970s coffee table with Lucite legs. Six-foot Italian lamps with chrome bases and towering shades flank a stunning black-lacquer glass console with silver hardware.
A lesser talent might opt for either bold art or bold furnishings, but Francis knows no fear. "This one is special," she says of the Mississippi artist Kennith Humphrey's The First Date, an abstract nude she's had for decades, now hung on her living room wall. It juxtaposes Francis's favorite lilac hue with intense swaths of red and black. "During Katrina, the water came just below the frame, but we were able to repair the damage."
photo: JACQUELINE MARQUE
Every piece in the home bears meaning for Francis, whether it's Depression-era decanters inherited from her grandfather in the dining room or the photographer Clifton Henri's image of a young boy standing on a bike tire in the powder closet. A Jackson Pollock–style Frederick Brown painting dominates her cozy den—the family's favorite hangout—where dark blue walls and original built-in bookshelves evoke an admiral's cabin on a ship. The ceiling draws the eye with another grass-cloth paper, this one mimicking denim.
photo: JACQUELINE MARQUE
The upstairs decor is even more personal. Francis and her husband revamped the landing as an office space, removed a bedroom to create a spa-style bathroom and a dreamy walk-in closet, and adorned the walls with works by their daughters, both graduates of the Savannah College of Art and Design.
On the way down, Francis stops on the staircase and points to a sepia photograph of a low-slung building. "I've been a fan of the New Orleans photographer Lee Crum for a long time," she says. "I found this image of an old juke joint called Little Rumboogie. My dad used to love going there." Francis purchased it as a Father's Day present, but her father died before she could give it to him.
"He loved telling stories of these old New Orleans bars back in the day. It's an homage now," she says. "Although it's almost hard to have it hanging here, I believe art and design should do that. It should make you feel something that deeply."
photo: JACQUELINE MARQUE