photo: Howell Conant © Howell Conant / Bob Adelman Books, Inc.
An ongoing Christie's auction in Palm Beach, Florida, (and online) is bringing into focus rare and colorful works from the beloved clothing brand Lilly Pulitzer—and it's also giving credit to one of the behind-the-scenes artists, the late Suzie Zuzek, who created some of the company's wildest patterns for more than twenty years.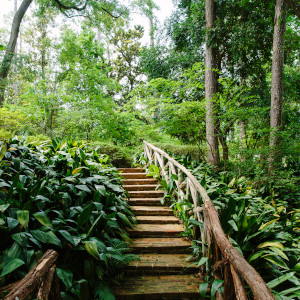 When the art historian Linda Nochlin asked the world in 1971, "Why have there been no great women artists?" Zuzek was holed up in a second-floor studio at Key West Hand Print Fabrics, creating many of the designs we know by the name Lilly Pulitzer. The namesake of the company, Lillian Pulitzer Rousseau, launched the line in 1959 and began sourcing her fabric from Key West Hand Print Fabrics in 1962. She was smitten with Zuzek's whimsical designs.
photo: Christie's, 2023
It was the beginning of an incredible partnership, although the two would never meet in person. Zuzek designed the fabric, Rousseau took her pick, and Zuzek added the Lilly Pulitzer name into the designs, which then splashed across popular shift dresses all over America. Yet the artist remained anonymous during her lifetime and received no royalties. When the Lilly Pulitzer company filed for bankruptcy in 1984, new owners forged ahead without the previous designs. (In 2008, the New York Times noted that Rousseau had thrown out most of the design archives in 1984.) At the time of Zuzek's death in 2011, she believed most of her work for the brand had been lost forever.
Enter a former lawyer from St. Louis, Becky Smith, who met Zuzek in 2007, just a few years before her death. On a trip to Key West, fabric-hunting for a reupholstery project, Smith met Martha de Poo, who introduced her to her mother, one Suzie Zuzek. Smith visited Zuzek's house in South Florida, and a peacock came out to greet her.
Under a banyan tree, as Smith tells it, the two talked about Zuzek's work at Key West Hand Print Fabrics, how as a single mother of three she designed fabrics on a work-for-hire basis and painted the Lilly signature into every print. "Think about if it was your mom who sat on the second floor of an art studio for a quarter century and created an identifiable look that brought so much joy to so many people, and nobody knew her name?" Smith says. "I felt compelled to at least follow through with the research." 
photo: Courtesy of Jacq Staubs
After the visit, Smith hopped on a flight to D.C. that same week and combed through the Library of Congress's records to confirm everything she'd learned. Of the 2,109 designs Key West Hand Print Fabrics copyrighted from 1962 and 1985, 1,550 were Zuzek's; at the time, Rousseau had exclusive buying rights to Zuzek's patterns. By 1966, the Key West company was supplying Pulitzer with more than 5,000 yards of fabric per week, according to the book Suzie Zuzek for Lilly Pulitzer: The Artist Behind an Iconic American Fashion Brand, 1962-1985.
Smith made it her mission to bring the artist more recognition, gathering a group of investors from St. Louis who acquired the art and copyrights of Key West Hand Print Fabrics. As it turned out, Zuzek's original artwork had been boxed up and forgotten in a section of attic flooring at the fabric shop for two decades. Smith was determined to not let a huge piece of design history go by the wayside. "Even though it began its life in the fashion world, I want everybody to step outside of that box with me," Smith says. "I want everybody to view this as art and focus on the artist."
The book Suzie Zuzek for Lilly Pulitzer shares the full story and much of Zuzek's artwork, and a 2021 exhibition at Cooper Hewitt Smithsonian Design Museum further honored Zuzek's contribution to design history. The current Christie's auction (through April 17) puts Zuzek's original artwork on sale for the first time. "The works really reward close looking—they are not just flowers, there are jokes hidden inside," says Nathalie Ferneau, the auction's head of sale. She calls Zuzek's watercolors "incredibly nuanced."
Zuzek, who grew up on a farm in upstate New York, included animals—all with their own personalities—throughout her work. Take the design called "Trinket," modeled after her pet monkey of the same name, who holds a martini glass.
Upon closer inspection, stripes turn to zebras and a paisley pattern dissolves into elephant trunks curly-queuing across the surface of one pattern. After moving to Key West later in life, Zuzek was inspired by her new South Florida surroundings. The sunshine motif, a nod to the "Sunshine State," appears in many of Zuzek's designs, as do conch shells, flounder, and angelfish—all sea life found around Key West. 
In patterns like "Meeow," Zuzek's playful hand shows in the cattail plants foregrounding the feline faces of Siamese cats. Ferneau also recognizes Zuzek's influence on American style and how her designs are especially "emblematic of Southern and coastal sensibility."
photo: Christie's, 2023
photo: Courtesy of The Original I. P. LLC, 2020
Caroline Rennolds Milbank, a Charleston-based fashion historian and the co-author of Suzie Zuzek for Lilly Pulitzer, says Zuzek played an important role in fashion history, helping to guide the colorful wave of men's fashion in the late 1960s and 1970s. Then-mayor of New York John V. Lindsay sported a Zuzek "Crazy Quilt" blazer in 1970, and a 1968 issue of Rudder Magazine included the line, "If you're a serious racer, don't let your crew wear [Pulitzer Jeans]—they attract girls like crazy." 
photo: Courtesy of The Original I. P. LLC, 2020; Christie's, 2023
The auction includes forty-three original Zuzek watercolor and gouache drawings, framed with lucite on the verso to show the names and marks of those involved in the screen-printing process, making the works both fine art objects and working historical documents. "I think it's a special opportunity for people to acquire a real talking piece," says Liz Seigel, head of private and iconic collections at Christie's. "I can just picture someone saying, 'Oh yes, isn't it beautiful? Well, let me take it off the wall and show you the back!'"
For Smith, satisfaction is coming full circle. "Suzie can be put back into the story, only now as a central figure," she says. "She can be connected to her works of art for the first time, under her name—that is what is so wonderful about this story."