Long before Netflix and YouTube were even thought of, Southerners sought entertainment in flamboyant theatrical halls and ornate opera houses. Through a combination of talent across their stages, ingenuity, and good luck, these seven theaters are still entertaining audiences long after most of their kind have seen their last curtain call.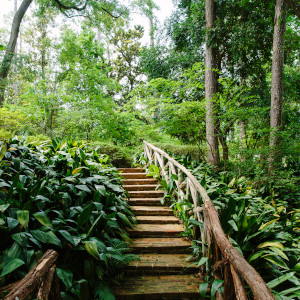 Abingdon, Virginia
The State Theatre of Virginia and a true Appalachian treasure, Barter Theatre marks its ninetieth anniversary this spring. Founded in the Great Depression at a time when local audiences couldn't afford to purchase show tickets and bartered for admission with produce and livestock from their farms, Barter still draws travelers to Abingdon. One of the nation's longest running professional theaters, Barter's way of play-making is a throwback to the old European "repertory" model, in which multiple productions are presented in rotation at one time. This April and May, audiences can take in two, three, or even four unique shows, including The Last Romance, Keep on the Sunny Side, and Macbeth, in a single weekend.
---
Wilmington, North Carolina
The last surviving theater designed by famed nineteenth-century architect John Montague Trimble, Thalian Hall had the unusual distinction of serving as both the area's cultural center and City Hall when it opened in 1858. At that time, Wilmington was the largest city in the state and an entertainment hotspot, with artists like Lillian Russell, Buffalo Bill Cody, and John Philip Sousa performing in the theater's early days. Today the Legends and Main Attraction series provides Wilmington residents the opportunity to see touring artists from around the world, and more than thirty organizations use the stages for community theater and film festivals. Thalian has the distinction of housing the only operational Thunder Roll in the United States, a system used to create the sound of thunder indoors before today's modern sound effect systems.
---
Charleston, South Carolina
America's first building constructed for theatrical performances, the Dock Street Theatre opened in Charleston's French Quarter in 1736 and hosted the nation's first opera performance. The current structure with its famous wrought-iron balcony was built as the Planter's Hotel in the nineteenth century. A frequent stop on city tours, today the theater hosts Spoleto Festival USA events, and visitors and locals can regularly see musical, non-musical, and family productions, like JFK and Inga Binga and Charlotte's Web.
---
Birmingham, Alabama
Paramount Studios built the 1927 Alabama Theatre as a "movie palace" to showcase the studio's films, its primary use for fifty-five years, with the exception of the annual Miss Alabama pageant and the weekly Mickey Mouse Club. One can't-miss feature is the Wurlitzer Opus 1783 pipe organ, laid out by the theater organist Jesse Crawford. The organ's four keyboards, twenty sets of pipes, and eight percussion units were used to provide sound effects for silent movies, played by house organist Gary Jones. Big Bertha, the ninety-five-year-old organ, is currently undergoing a restoration.
---
New Orleans, Louisiana
Opened in 1921 as a grand vaudeville showplace, the Orpheum's ornate, vertically designed hall distinguishes it as an architectural marvel. Today the Orpheum is still an epicenter of the arts in New Orleans, and home to Louisiana's Philharmonic Orchestra, which performs on the recently renovated adjustable floor. All-night concerts after Jazz Fest, premieres of Oscar-winning films, and Mardi Gras balls keep the theater alive and vibrant.
---
Atlanta, Georgia
Designed as a home for the local Shriners organization, in a Far Eastern style reminiscent of mosques, the Fox's elaborate construction became a financial burden for the group. They leased the theater to movie mogul William Fox, known for his "movie palaces." Opened on Christmas in 1929 and premiering "Steamboat Willie," the first Mickey Mouse cartoon, the theater was then—and still is—home to "Mighty Mo," a 3,622-pipe Möller organ. The massive 4,665-seat theater hosts over 150 events each year, including Broadway tours and comedy sets.
---
Southport, North Carolina
Dating back to 1913, the Amuzu (pronounced "a-MUSE-u," as in "entertain you") is perhaps best known as the location where Sarah Michelle Gellar's character was crowned Croaker Queen in the teen horror classic I Know What You Did Last Summer. After sitting dark for many years, the theater reopened for a series of plays and concerts in 2005, raising money for a renovation in 2012. Today, the vintage blue and gold metal theater sign and arched doorways still beckon patrons to the family-owned theater, which hosts community performances, concerts, and special events, including a screening of I Know What You Did… with an appearance by actor Muse Watson.