I've traveled a lot in my twenty-year tenure as an editor, and there's nothing more inspiring or transportive than crossing the threshold of a truly singular home and garden shop. Creating a mood and aesthetic that will spark ideas, using thoughtful settings and covetable goods, is an art form. Luckily, plenty of these types of compelling spots have popped up across the South in latter years—ones worth seeing in person. Here are some of my favorite new (and new-ish) additions.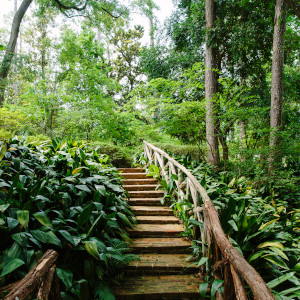 Nashville
The Music City interior designer Stephanie Sabbe opened the doors of her first retail venture this past December in the Belle Meade neighborhood to bring her look to life. She loves brown furniture like I do, and the shop displays a treasure trove's worth of one-of-kind pieces. I particularly appreciate the oddities she stocks, such as candle chasers (essentially shades that move down a candle pillar as it burns)—a super-original hostess gift.
---
Charleston, South Carolina
A visit to this brand-new space—tucked on a block of Market Street that manages to feel both in the middle of the action and pleasantly quiet—offers retail therapy in lampshade form. The shop feels a little like a haberdashery, with trims and fabrics and shelf upon shelf of all makes and models of custom pieces by the South Carolina sisters behind Sorella Glenn. Not to be missed: their overscale hexagonal shades.
---
West Palm Beach
I'm already feeling the springtime itch to get lost in my garden, but the answer to that urge lasts all year long at the new outpost for Authentic Provence in West Palm Beach. If you're already a devotee of the company's antique reproduction garden creations, you'll likely swoon over the staggering 45,000 square feet of space devoted to one-of-a-kind statuary, hand-carved fountains, greenhouses, and even reclaimed flooring, from all over the world.
---
Birmingham, Alabama
It's a happy day when two very talented interior designers like Marguerite Johnson and Anna Still decide to share the artists and artisans they collaborate with on their residential projects with the rest of the world. Their curated mix makes the boutique feel like equal parts art gallery and an essential spot for browsing for splurges and small gifts alike. You can read more about Still Johnson in Garden & Gun's profile here.
---
Nashville
This shop is the living legacy of the late G&G contributing editor Julia Reed, who opened Reed Smythe with her dear friend (and our 2022 Made in the South Award judge) Keith Meacham. It is, as you might imagine, like stepping into a combination of both of their homes. Everything looks beautifully collected, thoughtful, and imaginative, and for spring I can't get enough of the wood-block botanicals by the Tennessee artist Aretha McKinney (at left in the photo).
---
West Palm Beach
Chris Briger, along with her sons Charles Peed and Pablo Briger, dreamed up this delightful emporium for the imagination, and you're as likely to fall for their fanciful hand-painted wares and mix of worldly discoveries as you are the vignettes that show them off. You can read more about Casa Gusto in this Garden & Gun profile.
---
Birmingham, Alabama
If you're into all things cottage-inspired and botanical, make an afternoon of perusing Shoppe in Birmingham. The garden gurus Mark Thompson and Jay Draper are the creatives behind the twenties house turned plant mecca, which also features a seriously idyllic greenhouse out back. Stop next door for lunch at their sister spot, the General.