"If the history of Central Florida were charted out on a graph," writes Anne Hull, "it would start with primordial sludge and then curve toward the Paleo Indians, the Calusa Indians, the Tocobaga Indians, Ponce de Léon, runaway slaves, snuff-dipping white settlers, the U.S. Army, Osceola, the great Seminole warrior, malaria, cattle, citrus, and a dull heat that left it undesirable for much besides oranges until the early 1960s, when Walt Disney took a plane ride over the vast emptiness, looked down, and said, 'There.'"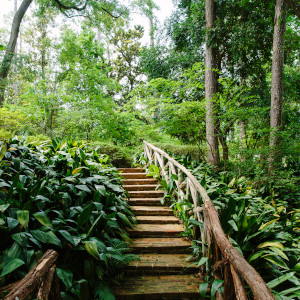 If Hull's history were likewise charted, it would start in Central Florida's orange groves ("one botanical grid after another, dark green regiments of trees marching up and down the middle of the state") and then wobble across several Florida towns before making a leap to Harvard, where Hull received a Nieman Fellowship, and later to Washington, D.C., where, as a Washington Post journalist, she was awarded, among other honors, the Pulitzer Prize for public service reporting. But Hull's warm and beguiling memoir, Through the Groves, focuses, like Disney, on that once-desolate sump of land in Florida's middle, as though the precondition to understanding her life is understanding the place she was born and raised. "There," it says.
Hull's ancestors arrived in Florida in the 1860s, establishing "God and oranges" as the cornerstones of a new if hardscrabble life. A century later, when Anne came along, not much had changed. "In the spring when the orange blossoms opened," Hull writes, "it was like God had knocked over a bottle of Ladies of Gardenia." Hull's father was a pesticide salesman turned citrus buyer—the archetypal career path of the midcentury Florida Man—who often had young Anne riding with him as he crisscrossed his four-thousand-square-mile territory, dirty oranges rolling on the floorboards, the dash covered in "cigarette ash and pesticide dust." Bringing her along wasn't his idea, or for that matter Anne's, but instead that of Anne's mother, who hoped that by assigning her husband a six-year-old sidekick he might better resist his "animal instinct for red neon signs." An attraction to barrooms, however, wasn't John Hull's only problematic instinct. A deeply melancholic man, "he had a nervous habit," Hull writes, "of doodling stick figures hanging by a noose." Once, when she asked him about it, he claimed to enjoy playing something he called "One Man Hangman." ("I was 95 percent sure there was no such game," Hull writes, "but not 100 percent sure.") One's neck hairs are correct to rise whenever the pistol in the glove box makes an appearance.
As for Anne, she grew up with "grub in my fingernails, ashy knees, and knotted hair that smelled like lake water." On summer evenings, she joined other children in waiting for the mosquito-control trucks as they drove through the neighborhood releasing a "marshmallow fluff of DDT," the kids reveling in a "mosh pit of fog, hollering because we couldn't see each other." She ate bologna sandwiches and cupcakes with "the Crisco frosting that put a two-day coat of Turtle Wax on the roof of your mouth." By eight, she was working at her extended family's fruit stand along State Road 60, bewildered by the tourists stopping to marvel at the endless rows of orange trees. "The child Yankees were the ones I felt sorry for," she writes. "Their parents had slathered white stuff on the tops of their ears…Some wore hats and sunglasses. I had never seen children in sunglasses. They looked like small blind adults."
The reviewer's temptation is to keep quoting like this; it's a zone easily flooded. The wit and shimmer of Hull's prose remind one often of Eudora Welty, as does the deft way she shifts registers when grappling with deeper, sometimes darker matters: the casual racism of rural Florida in the 1960s; her father's eventual crack-up and their subsequent estrangement; her mother's foredoomed second marriage; her own sexual awakening; and, with the orange groves replaced by subdivisions and the dirt roads paved into four-lanes, the vanishing of the Florida that shaped her. "Almost nothing in Florida stays the way it was," Hull writes. "It's bought, sold, paved over, and reimagined in a cycle that never quits." Through the Groves might be a tender evocation of change at the speed of Florida, but it's one that rewards slow savoring. You may be inclined, as this reader was, to read it the way the eight-year-old Hull observed the Strawberry Festival parade and its spectators in Plant City as it rolled beneath archways of Spanish moss: "There was no hurry. Go on and make it last forever."