WHY WE LOVE IT
The charms of the Holy City's steeple-dotted skyline, cobblestoned streets, colonial mansions, grand oaks, and pristine beaches would be reason enough to visit. But while history hangs as thick on the air as humidity in July, Charleston is no museum. Sites in and near the city are pushing to tell fuller, more complete stories that explore the South's complicated legacy. And an international arts scene, lauded restaurants reshaping the city, and decidedly twenty-first-century locals are luring travelers from every corner of the world.
---
NEIGHBORHOODS TO KNOW
Thanks to enterprising artists, chefs, designers, and entrepreneurs, the peninsula's northern districts are booming—Cannonborough-Elliotborough and North Central are now two of the city's hottest food hubs—and are worth the quick drive from the historic center for lunch or dinner. Here's more about the buzzy Charleston neighborhoods you'll want to check out.
Cannonborough-Elliotborough
Hemmed in on the south by Bee Street and on the north by Septima P. Clark Parkway (known to locals as the Crosstown), this emerging district hops with restaurants, bars, and shops. Start the morning with a sticky bun from Brown's Court Bakery or a latte from Sightsee before stopping in for local produce at the Veggie Bin or stylish menswear at Indigo & Cotton. Order an Aperol spritz at Babas on Cannon or a local beer at the cozy and casual Elliotborough Mini Bar before venturing to dinner at Chez Nous, which serves simple and elegant European dishes.
North Central
Don't miss the main drag of King Street, with its beloved Blue Bicycle bookstore, shops, and bars, but head just north of Line Street to find local favorites including restaurateur Brooks Reitz's trifecta: Leon's for peel-and-eat shrimp and soft-serve ice cream; Melfi's for pizza; and Little Jack's Tavern for classic cocktails and a tiny, perfect cheeseburger. Order a glass or take a bottle to go from Graft wine bar, and ask co-owner Femi Oyediran for the link to the bar's latest Spotify playlist. Spin through Redux Contemporary Art Center to meet local artists at work, and then pop into the Artist & Craftsman Supply for creative souvenirs and gifts. Nearby, Goat Sheep Cow North sells elevated pantry goods and grab-and-go snacks.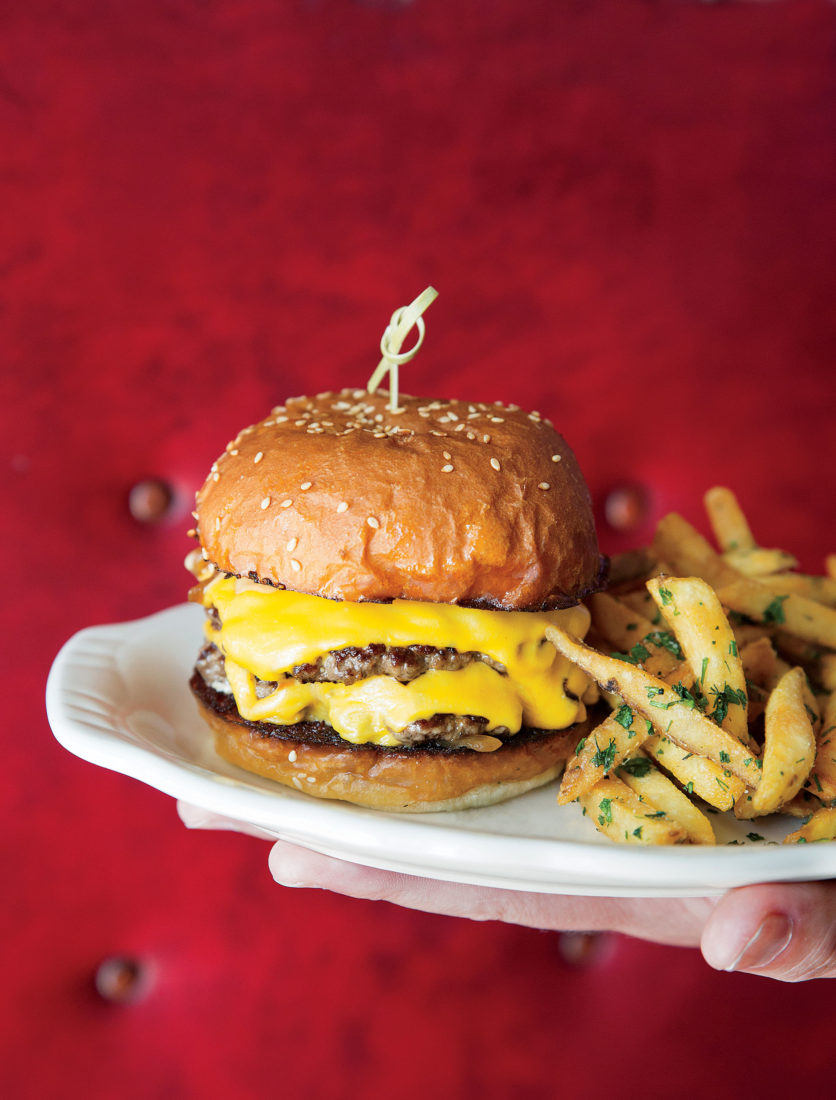 East Side
Begin the day with a cathead biscuit or grit bowl at Big Bad Breakfast, the latest iteration of the Oxford, Mississippi–based chef John Currence's franchise, before wandering the Charleston Museum, which showcases the natural and cultural history of the Lowcountry, and the nearby Aiken-Rhett House Museum, a preserved urban plantation that illustrates the life of the enslaved people and wealthy governor who once lived there. The Cigar Factory, a refurbished industrial plant, now houses restaurants such as the casually elegant Rappahannock Oyster Co., plus shops, including the design staple Fritz Porter. Across the street, Hannibal's Kitchen makes the best crab rice lunch in town.
South of Broad
This is the Charleston of postcards and guidebooks, the southern tip of the peninsula where stately historic homes with walled gardens line shady cobblestoned streets and church bells mark the hour. Pop into Gaulart & Maliclet, a tiny French bistro on Broad Street for gazpacho. Tour the Historic Charleston Foundation's Nathaniel Russell House, built in 1808, to see recent preservation work on the kitchen house, where enslaved men and women lived.
The French Quarter/Harleston Village
Named for the French Huguenots who first settled here, the small French Quarter neighborhood attracts art lovers with its plethora of galleries. Start with an iced coffee at the chic Harken Cafe, and then block off the morning to meander the internationally renowned Gibbes Museum of Art in a recently renovated Beaux-Arts building. A friendly and independently run standout for its contemporary Southern art, Miller Gallery, lies just a short walk east. Or, you might ramble west to the Harleston Village neighborhood to stroll the College of Charleston campus and visit the Avery Research Center for African American History and Culture. When you've had your fill of art and history, grab a cocktail at Blind Tiger pub, order ceviche and oysters at 167 Raw, or take a short jaunt up into the Ansonborough neighborhood to try to snag a bar seat at what's widely considered one of the best restaurants in the country, FIG. Order the ricotta gnocchi and whatever seafood is on special.
CLICK HERE FOR MORE RESTAURANT RECOMMENDATIONS
---
MUST-DO
Walk. Walk. Walk.
Throw a pair of tennis shoes into your suitcase. The best way to see Charleston is on foot. Hike the Arthur Ravenel Jr. Bridge at sunset; get lost South of Broad; stroll historic Magnolia Cemetery on the banks of the Cooper River (tip: Go when the graveyard's abundant azaleas are in bloom); pack a picnic for an afternoon in the Olmsted brothers–designed Hampton Park.
Explore the Barbecue Corridor
Although shrimp and grits and she-crab soup have long defined the Charleston culinary scene, in recent years, the city's barbecue business has staked its claim. Begin at Rodney Scott's Whole Hog BBQ, helmed by its namesake and James Beard Award–winning pit master, who became famous for smoking whole hogs at his family's joint in Hemingway before opening up shop here. Hit up Lewis Barbecue for unbelievably tender brisket turned out from custom-designed smokers, and then round out the tour at Home Team BBQ, a favorite hangout among locals that serves smoked, dry-rub wings and the signature Gamechanger, a nutmeg-dusted frozen mix of pineapple, coconut, and rum.
Seek Out Seafood
Surrounded by water on three sides, Charleston is flush with fresh seafood. Order stone crab by the claw, when in season, at the Wreck of the Richard and Charlene, tucked away on Shem Creek in Mount Pleasant; down a dozen local Caper's Blades oysters at the Ordinary; head to Bowens Island for a plate of peel-and-eat shrimp; and experience fried flounder done right at Dave's Carry-Out.
Island-Hop
There's a good chance that a trek to one of Charleston's barrier islands will be the highlight of your trip, whether you're sunning on Sullivan's Island; hunting for sharks' teeth on Morris Island with Charleston Outdoor Adventures's fossil maestro Cade Kaufmann; watching surfers at the Washout on Folly Beach (or booking a lesson of your own); or hopping the Coastal Expeditions ferry to Bulls Island to see the Lowcountry in all its natural glory.
---
WHERE TO STAY
Downtown, you might book a bed at the new and stylish hotel Emeline or 86 Cannon, a charming circa-1860 single house updated with midcentury and French-inspired details by the local designer Betsy Berry. Or check-in at the luxurious Dewberry hotel (don't miss Garden & Gun's jewel-box of a store, Fieldshop, in the lobby); Zero George, where guests sip happy-hour pours on a sunny, historic patio; or the Renaissance, where the North Carolina chef Vivian Howard just opened her newest restaurants—Lenoir, which pays homage to the agrarian South, and Handy & Hot bakeshop. Just across the bridge in Mount Pleasant, the charming Post House Inn recently opened in the quiet and leafy Old Village. And if you're game for a drive, the Sanctuary at Kiawah Island Golf Resort, just twenty-five miles from downtown, offers beachfront views, five-star dining, and world-class golf courses.
---
WHEN TO GO
Spring and fall are generally considered the city's best seasons, but with the ocean breeze and plenty of waterfront hangouts, even the sweatiest dog days of summer hold their own appeal. If you would still like to hook your trip to a happening, though, these events—occurring in typical, non-COVID times—deliver:
Spring
Beginning in March, explore the city's history during the Festival of Houses and Gardens. Every year, tens of thousands of participants descend on Charleston to run the Cooper River Bridge Run (though in 2021, the race will take place in September). Organized by local band-gone-big Shovels & Rope, High Water Festival recruits world-class performers to Charleston every April.
Summer
Spoleto Festival USA is one of the country's premier international performing arts festivals, bringing ballets, orchestras, plays, and other acts to Charleston each year. Surrounding Juneteenth, Root of Soul celebrates African American emancipation with panels, parties, and performances, and in 2021 will be headlined by the Grammy-winning local band Ranky Tanky. Concerts at Around the Bend, organized by the Charleston Music Hall, provide socially distanced outdoor entertainment.
Fall
The Preservation Society of Charleston's Fall Tour of Homes, History and Architecture takes visitors inside houses, churches, and gardens throughout the peninsula. In November, the Charleston to Charleston Literary Festival celebrates the arts and humanities in the American South and the United Kingdom with panels and events helmed by novelists, politicians, scientists, and other great thinkers.
Winter
During the winter in Charleston, oyster season is in full swing—don't miss Boone Hall's annual Lowcountry Oyster Festival. In February, the Southeastern Wildlife Exposition showcases the best of the sporting South. And on any crisp winter day, warm up with a walk through Hampton Park, Magnolia Gardens, and Middleton Place, or peek into private gardens throughout the city to see colorful camellias at peak bloom.