SIZE OF DOMINICA: 290 square miles, about the same size as Memphis
LENGTH OF THE WAITUKUBULI NATIONAL TRAIL: 115 miles, the Caribbean's longest walking path


If you're the type of person who'd enjoy hiking several miles into an overlush Caribbean rain forest, tramping up and down enough mountains and ridges to make your route resemble a seismograph reading, then wandering an ashy, hissing ruinscape where you ford streams of boiling water (carefully, carefully, rock by rock) until at last you come to a bubbling blue-gray cauldron of a lake, about two hundred feet across, that seethes and swirls and steams like something out of a 1950s sci-fi B movie…well, better get a move on. That's because construction of what's being billed as the world's longest cable car system has begun on the tiny, underknown, and ravishingly beautiful island of Dominica, in the Lesser Antilles, to ferry visitors to what for decades has been a hard-won grail for hikers: Boiling Lake, a flooded volcanic fumarole that's one of the Caribbean's most surreal spectacles. Backers say it will allow many more people to see the bizarro lake while critics wince at the intrusion of concrete and cable into an otherwise unspoiled landscape.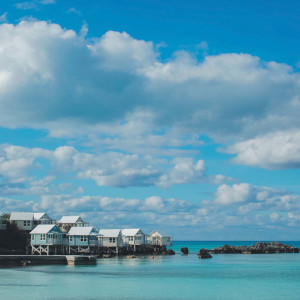 What most everyone can agree on, however (and what this winded traveler can testify to), is that Dominica (pronounced dom-in-EE-ka, and no relation to the Dominican Republic) remains as far from spoiled as any island in the Caribbean, if not the world—and because roughly 60 percent of it is forested, with a quarter of the island protected as park or reserve, it's likely to hold fast to its longtime designation as the Nature Island of the Caribbean. "Dominica is an island for travelers and adventurers rather than for those who like their pleasures manicured and tamed," a Dominican historian named Lennox Honychurch wrote in 1998. A quarter century later, despite the looming cable cars, his sentiment still stands. Dominica has no high-rise condominiums, no four-lane thoroughfares, no designer outlets, and hardly any of the palm-lined, soft-sand beaches we associate with piña coladas. What it has instead—within an area about the size of Memphis—is more than three hundred rivers, nine volcanoes, the Caribbean's only thru-hiking trail, almost two hundred species of birds, and so many shades of green that writers from Alec Waugh to Jean Rhys to this one have found themselves flummoxed trying to describe them.
For one additional writer, the nineteenth-century English novelist Anthony Trollope, the mere sight of Dominica provoked "an ardent desire to be off and rambling among those green mountains." Which is a decent summary of my itinerary as I land at Douglas-Charles Airport, which only started receiving direct flights from the United States in 2021. My weeklong base will be Jungle Bay, an eco-luxe resort on the island's southwestern coast. Tucked into a slope amid exuberant tropical landscaping are sixty rustic-chic, bay-scented villas along with wellness studios and a spa. The crowd leans young, fit, and yoga-minded; I can tell, from the first night, that I'll have the bar to myself for the week.
Finding places to ramble is an easy feat on Dominica, with myriad trails veining the mountains and forests. Chief among these is the Waitukubuli National Trail, a 115-mile footpath, divided into fourteen segments, that goes squiggling up and down the island from south to north. Christened in 2013, the Waitukubuli is the Caribbean's longest trail and its only thru-hiking opportunity. (Hiking the entirety takes about two weeks; camping options are limited, but every segment is bookended by guesthouses and rental bungalows.) The only caveat is that, no matter where you walk on Dominica, you'll almost always be going up or going down. When Christopher Columbus returned to Spain after exploring (and naming) the island in 1493, Queen Isabella supposedly asked him to describe it. Columbus crumpled a sheet of paper and dropped it onto a table. There, he told her. That's Dominica.
Yet after a day of rain forest meandering, I'm keen to ramble slightly deeper. The narrow canyons of Titou Gorge, in the central part of the island, were formed by torrents of molten lava cooling and cracking open and being inundated with cool spring water. They feel like a giant staircase back in time, back to a mossier, fernier, more primordial Earth, one velveted with green. You can hike to the edge of some of the canyons, to gape down the thirty- and forty-foot cliffs, but the far superior view is from down in the water, looking up. That's where Benison "Benny" Bellot and Berani Rolle come in. Benny and Berani are canyoning guides with an outfitter called Extreme Dominica. Early one morning, with mist still wafting across the jungle floor, they click me into ropes and instruct me to lean backward over the edge of a cliff, as though taking my seat in an invisible chair. Four stories below me is a boulder-strewn, emerald-colored pool, but frankly I'm not looking at that, focusing instead on synchronizing my hands and feet as I dole out rope and begin rappelling down the cliffside, the first of about a dozen. This'll pit your stomach a bit, if you're leery of heights, but Benny and Berani swear that ten minutes of training is all it takes to get rank amateurs abseiling into the canyons. And while gusts of adrenaline are a fine motive for canyoning, the much more lasting reason is that bottom-up view. Float on your back beneath the wet shadowy crags. Tune in to the wild cacophony of tropical birdsong and parrot squawks. See the sunlight seeping through the luscious green-gold canopy high above. A dinosaur, peering down, would not look out of place. Shiver at its warm breath.
The trek to Boiling Lake, a UNESCO World Heritage Site, is ten miles round trip, and takes the better part of a day. It's doable without a guide but not recommended. Two weeks prior to my visit, a foreign hiker veered off the trail into a geothermal pegboard of sulfurous vents and boiling hot springs and scalded his foot so badly that his sock…well, let's skip the details. Depending on your fitness level, it can be a challenging hike or an unbearable one. (My iPhone's "Floors Climbed" meter clocks 230, the equivalent of more than two Empire State Buildings.) The trail begins in a jungle setting straight out of Jurassic Park before transitioning to one from The Lord of the Rings. As you approach the Tolkien-ishly named Valley of Desolation, where the earth simmers underfoot, the sights get weird. The water in the streams, stained blue-gray from sulfur, looks like someone's been cleaning watercolor brushes in it. The rocks are rust-colored, the mosses black. It's difficult not to lose your bearings. This is the Caribbean?
It is. For proof, slide down to Champagne Beach on the southwest shoreline. It has all the qualities we cherish about the Caribbean, albeit in shaggy style: sun, sand, aquamarine surf, rum drinks. (The Dominican specialty is bush rum, which is rum infused with a wide variety of island herbs and spices. No one seems willing to cop to precisely what leaves are steeping in the variety called Happy Rum, but one considerate beachfront vendor does ask if my job requires drug testing.) Even here, however, Dominica throws a quirk. Venture into the water, with either snorkel or scuba gear, and you'll soon find yourself finning your way through a million warm bubbles rising from the reef in thin, elegant geysers, as though you're swimming in champagne. (Hence the beach's name.) The fizziness is the result of geothermal activity, from hot gases venting through the seafloor. I've never giggled underwater before, at least that I can recall. But what other reaction befits trailing a hawksbill sea turtle through a carbonated sea?
What I'm describing, I suppose, is enchantment. It's the spell Dominica casts. One morning I set out on a trail named Perdu Temps, French for "lost time," sploshing through a half dozen or more streams and rivers as I traverse the juicy rain forest. I push past tattoo ferns, whose fronds will leave a perfect imprint on your arm if you press them to your skin, and through a fruit salad landscape of guava, breadfruit, and papaya trees, wild eggplant, coconut palms, spiky stands of lemongrass, and paddle-leafed banana trees.
When I stumble upon a cow, idly grazing trailside, I know I am close to the man I've come to see. His name is Leonard Laville, though everyone, since he was a child, has called him Pump. Almost a half century ago, Pump, now seventy-three, found a small secluded vale in the jungle and, with just an axe and a machete, began clearing it for a homesite. The trees became boards; the boards became a house; and, as the years passed, the house became the place where he helped raise a family and where he later began welcoming visitors and students and pilgrims (like me), who are drawn to the hand-hewn philosophy he not only espouses but embodies. "The only thing I brought up here," he tells me, "was the zinc" for his roofing, which, like everything still, had to be carried by hand an hour and a half's hike from the closest road. For forty-six years, on roughly twenty-three acres, Pump has found a way to sustain most of his and his family's needs. "Anything I can lay my hands on," he says, "I try to grow it." Part of his extensive terraced gardens, "the pharmacy," is devoted to medicinal plants. At any spot on the property, ripening fruit feels to be hanging within reach. One apricot tree stands as tall and broad as an ancient bigleaf magnolia.
For the past twenty-three years, Pump and his family have practiced veganism, or the Rastafarian variation known as Ital. Pump's eight cows are for keeping the trail mowed, and for producing manure. Likewise his chickens, for whom old age is the primary mortal threat. Sitting with me under the shade of a giant Norfolk Island pine, Pump, wearing a red gingham shirt and a blue kerchief on his head, sketches his views on everything from modern agriculture to international relations to the theory and practice of living. "Walk a lot, work hard, sleep well, and don't hate each other," goes his credo, the corners of his mouth rising into a smile. "Die in peace." When he was a young man, everyone thought him crazy, withdrawing into the jungle the way he did. Now the prime minister visits. By and by, as we sit eating a taro-root-and-coconut-milk stew out of calabash bowls, the conversation keeps alighting on his native Dominica, on its teeming enchantments. Pump left the island once, in his early twenties, when he briefly moved to the U.S. Virgin Islands. He's never left it again. "Here on Dominica, we have no skyscrapers, no kidnappings, no wars," he says, waving a hand at the valley, too green for words. "What we have is Mother Nature."
---
Discover more off-the-beaten path Southern adventures from our June/July 2023 issue.