After watching the Run for the Roses (and the royal coronation) on the first weekend in May, what's one to do with all that free streaming time the rest of the month? Have no fear, your G&G editor with too much TV (and podcast) time on her hands is here!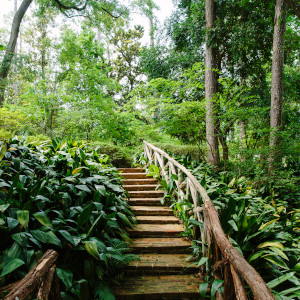 Friday Night Heights
Algiers, America, Hulu
In this inspiring and heart-rending five-part docuseries that debuted in late April, the New Orleans filmmaker Jackson Fager follows the football team of Edna Karr High School, in the Crescent City's Algiers neighborhood, as they strive for their fourth-straight state championship. Led by Algiers native and coach Brice Brown, the Edna Karr team has historically produced many top college and NFL athletes, all while enduring and attempting to overcome the effects of crime and gun violence.
---
A Death in the Family
Witnessed: Devil in the Ditch, Campside Media
For this engaging podcast, the journalist Larrison Campbell returned to her hometown of Greenville, Mississippi, to try to get to the bottom of an unsolved crime she's unusually close to: that of the 2003 murder of her eighty-five-year-old grandmother, community pillar Martha "Presh" Campbell—a violent death her family alleges was brought about by Campbell's cousin.
---
Simply Mer-velous
MerPeople, Netflix
Perhaps riding on the fishtails, ahem, coattails of Disney's live-action The Little Mermaid out this month, Netflix is releasing this docuseries on May 23 highlighting "mermaid enthusiasts" who have turned their passion for les poissons into a business—including, naturally, the beloved performing mermaids of Florida's Weeki Wachee Springs.
---
"Bad Girls," Good Times
Love to Love You, Donna Summer, HBO Max
The disco diva may have gotten her start in Germany and made her name in New York, but at the end of her extraordinary life, she called Naples, Florida, home (and was buried in Nashville). To show the highs and lows of Summer's life as a global superstar, the Oscar-winning documentarian Roger Ross Williams partnered with the "Last Dance" chanteuse's daughter, Brooklyn Sudano, who offered personal photographs and home videos for this documentary, out May 20.
---
Bluegrass Winner
The Grinnin' Possum Podcast, Apple, Spotify, et al.
Heralded Kentucky poet (and G&G contributor) Maurice Manning spent a year with his producer, Steve Cody, bumping down rural backroads to sew together this delightful quilt of a podcast on the hidden gems of Kentucky—Penn's Store and Colville Covered Bridge, among them—embroidered with poems and banjo-pickin'.
---
Palmetto Patrol
Missing: Dead or Alive?, Netflix
When people go missing in questionable or dangerous circumstances, who goes searching for them? This pulse-pounding docuseries, which drops May 10 and follows investigators from South Carolina's Richland County sheriff's department, attempts to shine a light on those with that harrowing job.
---
Back on the Road
Wynonna Judd: Between Hell and Hallelujah, Paramount+
The country juggernaut known as the Judds came to a close in 2022 when mother Naomi died (G&G contributor Silas House wrote his own lovely tribute to her here). Daughter Wynonna, though, carried on, and this documentary from Reese Witherspoon's Hello Sunshine depicts her as she processes the loss of Naomi and starts touring again with the help of fellow superstars such as Tricia Yearwood, Ashley McBryde, and Brandi Carlile. As Wynonna recalls Naomi saying, "Rub some dirt on it and get back in the game."