Victoria Cummins first learned about afternoon tea during trips to England with her family. "We just loved that tradition because people literally stop what they're doing, sit down, have a cup of tea, and have a chat," Cummins says. These intentional moments inspired Cummins and her mother, Lesley Shipley, to open the Book & Bee in Hendersonville, North Carolina.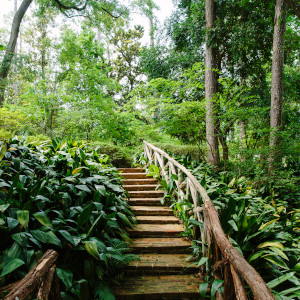 The mother and daughter duo formerly ran a travel agency, but when the pandemic put that on hold, their office space sat empty—so in 2021, they converted it to a literary-themed café. There, in the dining rooms that pay homage to Shakespeare and Alice's Adventures in Wonderland, they serve breakfast and lunch sandwiches as well as tea with scones and clotted cream. People were hungry for fellowship and communing with friends, Cummins says. "Slowing down and having a cup of tea is a nice way to do that."
Afternoon tea is a welcomed midday pause, whether at home, in a grand hotel lobby, or in a quaint teahouse. Here are seven places in the South to partake in this refined ritual.


Café des Beaux-Arts at the Flagler Museum
Palm Beach, Florida
Visitors to the Flagler Museum in Palm Beach, Florida, can enjoy afternoon tea in the cooler months of November through April. In a glass-enclosed pavilion with views of Lake Worth Lagoon, the café serves a special blend of black tea made by Harney & Sons that emulates what might have actually been served to guests visiting Whitehall (the name of the estate) in its Gilded Age heyday. The affair also includes a tiered tray of sandwiches and pastries as well as a glass of pink lemonade.
---
Cary, North Carolina
Subtle elegance is the vibe of this afternoon tea, explains executive chef Steven Greene at the Umstead in Cary, North Carolina. Served in the sunroom, also known as the Chihuly room thanks to the namesake artist's sculpture that graces it, the event comes accompanied by a harpist. The hotel serves black, green, and herbal teas alongside chicken salad sandwiches, lobster rolls, and macarons.
---
Hendersonville, North Carolina
The cozy café in downtown Hendersonville, North Carolina, offers a dozen tea options, each with names in keeping with the restaurant's literary theme, including "The Austen," a rose-infused black tea. A "cream tea," a pot of tea served with two scones, Devonshire cream, and lemon curd, can be ordered at any time without a reservation. Afternoon tea, served with a three-tiered tray of sandwiches and sweets, such as cheesecake-stuffed strawberries, must be booked ahead of time.
---
Atlanta, Georgia
Known as the Astor Court, the posh upper lobby of the St. Regis Atlanta plays host to afternoon tea every Saturday and Sunday. The chairs are plush in the magenta and green-hued lobby, where a live guitarist sets a calm mood. Warm and fluffy lemon poppy scones might start the service, followed by sandwiches and pastries.
---
Le Salon at The Windsor Court
New Orleans, Louisiana
Those seeking respite from the hubbub of New Orleans can find it in Le Salon, located in the lobby of The Windsor Court hotel. The downtown spot (just a block from the French Quarter) offers afternoon tea Friday through Sunday and always welcomes guests with a sparkling refreshment or light cocktail such as a mimosa. Le Salon also hosts themed teas throughout the year, ranging from family-friendly holiday tea in November and December to the adults-only Prohibition tea in June.
---
Nashville, Tennessee
The recently opened Conrad hotel in Nashville serves afternoon tea in its sophisticated lobby bar called the Lounge at Blue Aster. Loose-leaf tea steeps alongside morsels such as the lobster roll topped with roe, a cucumber with yuzu and chive butter sandwich, and chai-spiced macarons. In addition to black and green teas, herbal teas with whole chamomile and hibiscus flowers are available.
---
Austin, Texas
Mark your calendar for afternoon tea service on select Saturdays and Sundays at this stately Austin hotel. Each course of finger sandwiches, pastries, and petit fours comes with cups of the Austin-based tea brand Zhi, as well as sparkling wine. (And you might find yourself eyeing the kids' menu's banana and Nutella sandwich, too.)