photo: BRENT HUMPHREYS
One sunny morning last fall, Chuck Charnichart—arguably the top brisket cook working in Texas today—walked into Kreuz Market in Lockhart in a Lady Gaga T-shirt.
Among the Texas barbecue faithful, Kreuz is well known as one of the no-frills German American meat markets where Hill Country–style barbecue originated. It's an institution built on greasy butcher paper, along with the likes of the iconic Southside Market & Barbeque in Elgin and Louie Mueller Barbecue in Taylor. Opened in 1875 in Lockhart as Jesse Swearingen's meat market, Kreuz moved to its current location—a barnlike building where smoke hangs over old-style brick pits—in 1999, after a dispute between siblings. Like other early Texas barbecue joints, Kreuz began as a grocery store where the owners smoked the meats they couldn't sell, offering them by the pound.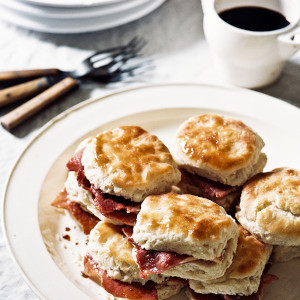 Today it stands as one of a handful of barbecue pillars in Lockhart, a charming small town of some fifteen thousand people that the Texas legislature named the state's official barbecue capital about twenty years ago. And Lockhart will soon be home to a new entrant in the state's long barbecue history. Charnichart has been visiting often lately, looking at locations for her first barbecue joint, driving three hours down from Fort Worth and bringing friends from Austin and her hometown of Brownsville, about three hundred miles south on the Mexican border. 
Until a decade or so ago, serious Texas barbecue fans made pilgrimages to Lockhart the way their Eastern counterparts might spend time in Lexington, North Carolina, or small towns in the South Carolina Midlands. Many still do. But things started to change in Texas around the time a thirty-something in a white V-neck and thick-rimmed glasses named Aaron Franklin opened a barbecue trailer by an interstate highway in Austin in 2009. Franklin was—is—the Elvis Presley of Texas barbecue, packaging generations of Hill Country tradition in a way that energized countless pitmasters in other parts of the country and the world. In 2015, he became the first pitmaster to win a coveted James Beard Award for Best Chef.
photo: BRENT HUMPHREYS
Thanks in part to Franklin's success, these days you're as likely to find top-ranked barbecue in Austin, Fort Worth, Dallas, or Houston as in Lockhart or Taylor, often prepared by people who look a lot like Franklin. Depending on whom you ask, you might be more likely. In 2018, Austin American-Statesman reporter Matthew Odam caught flak after he wrote an article calling Lockhart—about thirty minutes from Austin—an "overrated" barbecue destination. "I'll be back to Lockhart, even if the city puts up a sign that reads 'Big-city critics no longer welcome,'" he wrote. "But I'll be doing it more for the ritual and the tingle of nostalgia than the brisket."
At Kreuz, Charnichart walks up to the counter and quietly orders a taste of almost everything—a quarter pound of brisket, turkey, chicken, shoulder clod, jalapeño hot guts. "Prime rib?" asks a white-aproned pitmaster. "Sure!" she says. Pile it on. She hasn't been to Kreuz in a few years, and this is essential eating for any Texan, much less a pitmaster.
Sitting at a table in the cafeteria-style dining room, she samples each of the meats as if she's writing her own review. She tugs on a slice of brisket, testing its tenderness. "That is good," she says of the smoked rib roast, taking a second bite. "I'm happy." Even after spending years in pungent clouds of brisket smoke—which can turn pitmasters into sushi-and-salad types when they're off the clock—she hasn't lost her taste for good barbecue, and she's impressed with Kreuz.
"I get why they say it's the best of the old school," she says. "I can see myself coming in pretty often when I move here." She finishes her lunch with a scoop of Blue Bell Cookies 'n Cream on a sugar cone. "Ice cream just pairs so well with barbecue."
---
At twenty-four years old, Charnichart is getting ready to open what may well be one of the most important restaurants in Texas: a woman-owned-and-operated, South Texas–inspired barbecue joint called Barbs-B-Q. The name is a pretty straightforward pun—"I can't believe no one else is using it," she says—but it's also not not a reference to Nicki Minaj, who calls her fans Barbz.
Seven years ago, Charnichart had never heard of Kreuz, Lockhart, or Aaron Franklin. Growing up in Brownsville, the state's southernmost city, as the first American-born child of Mexican nationals Bethoven and Francisca Charnichart, she was more familiar with barbacoa—traditional borderland pit cooking and its modern adaptations. "We'd heard of brisket, sure, but people made it in a slow cooker," she says. "We did have cookouts. My mom had a big family, and we'd get together on Sundays and have chicken wings, fajitas, ribs, rice and beans, green spaghetti." (More on that green spaghetti later.)
photo: BRENT HUMPHREYS
Charnichart grew up in a trailer park, sharing a king bed with her mom and three siblings until she entered middle school. "I thought my friends who had houses lived such nice lives," she says. "I was very embarrassed to live in a trailer. But we had a home. I realize that now. My parents tried to explain that. They'd say, 'Don't think about it too much.'"
Working at Taco Bell as a teenager, she realized that she and her dad, a cook on nearby South Padre Island, were earning the same hourly pay—minimum wage. Still, the family ate well. "We were lucky to have moms who cooked for us every single day," says Alexis Tovías Morales, Charnichart's childhood friend and now one of her partners in Barbs, who grew up in another Brownsville trailer park, raised by a single mother. "Breakfast, lunch, and dinner. Their whole lives revolved around their kids, so we were fortunate to have really, really good food."
photo: BRENT HUMPHREYS
Charnichart's parents wanted her to get a job after high school. But Charnichart knew what she wanted and went for it. She was offered a full ride at Texas A&M University but turned it down to attend the University of Texas, her dream school—where she ended up studying marketing and working three jobs (at a fast-food restaurant, at the campus basketball arena, and as a trainer for the women's basketball team) to pay her bills. Browsing Craigslist in Austin one night, she came across a job listing she had to investigate. It was a front-of-house position at Franklin Barbecue, not too far from the university. "I saw that it was twelve bucks an hour plus something like fifty in tips," she says. "I thought, 'What the heck? That's crazy!'" Tovías Morales joined her there a few months later.
---
Charnichart never worked the pits at Franklin. But she discovered that her own barbecue obsession was taking hold when she left Texas to study abroad in Norway her junior year—and ended up working at a (smokeless) barbecue joint in Oslo. "That's when I realized I was getting serious about this," she says. "I was asking myself, Why the hell am I working at a barbecue place in Norway? Maybe I should be thinking about this as a career."
That career would not be at Franklin. Ready to break out of the male-dominated institution and learn more, she and Tovías Morales left the restaurant after Charnichart graduated from college. "I'm glad that Chuck was able to take some things from Franklin and grow in a different direction on her own," says Mincho Jacob, the restaurant's former general manager.
For the past few years, Charnichart has been cooking at Goldee's in Fort Worth, a relatively recent entrant to the state's barbecue scene, which in 2021 earned the number one spot on Texas Monthly's reputation-making list of the state's best barbecue joints—turning heads all over the state. "I think she's definitely the best brisket cook in Texas," says Jonny White, one of the founders of Goldee's. "She's taken everything I've taught her and gotten better than me. You know, it's hard to cook fifty perfect briskets at a time—like, nearly impossible. But she's gotten the closest I've ever seen anyone get."
photo: BRENT HUMPHREYS
Charnichart had gotten to know White during her time at Franklin. A talented brisket cook seen as one of Franklin's protégés, he left the restaurant before she did to open Goldee's, a roadside joint in the Fort Worth suburb of Kennedale, with a group of friends who had worked at several of the state's top barbecue spots. When she joined him there in 2020, the restaurant was running on a shoestring budget, a year away from its Texas Monthly coronation. Since then, the lines have been wrapping around the parking lot, with people waiting for hours to taste Charnichart's brisket—whether they know it's hers or not. She began making her own name in the summer of 2021, when White and the other owners went on vacation and invited her to do something with the space while they were away. She put on a pop-up, serving smoked meats with aguas frescas and Brownsville-inspired sides. It marked the debut of Barbs-B-Q. Since then, Charnichart and the team she's assembled have continued to put on Barbs pop-ups, in Fort Worth, Austin, and Lockhart.
"Chuck is a product of Goldee's in some important ways," says the Dallas-based food writer Lisa Fain, the author behind the award-winning website the Homesick Texan. "Goldee's is very inclusive, and from the beginning, people from all walks of life were coming through the doors, not just your barbecue faithful."
photo: BRENT HUMPHREYS
White is all about opening doors. On YouTube, where he goes by the video-game-inspired name Jirby, he posts barbecue how-tos that are goofy, self-deprecating, and loaded with secret knowledge. (White is in large part the reason many home cooks now know that some of the most famous pitmasters in the "salt-and-pepper-only" state of Texas swear by Lawry's.) He and the other young pitmasters at Goldee's seem to take their barbecue a lot more seriously than they take themselves, a departure from the inflamed egos that have sometimes characterized the barbecue world. They recognized a kindred spirit in Charnichart. White even brought her with him to Egypt for a three-month consulting gig with a Cairo restaurant called Longhorn Texas BBQ, taking a major pay cut to ensure they earned the same amount. It was a tough experience, Charnichart says, in part because many of her Egyptian coworkers didn't care to work with a female pitmaster, but that only hardened her resolve to open Barbs.
"Chuck runs a very motley crew," says Joanne Irizarry, an Austin-based entrepreneur and Barbs investor. "It's not traditional people at all, but we all came together."
Tovías Morales, for example, is a member of Austin's trans community and a former vegan who still has a taste for meat substitutes. "Chuck told me, 'I want you to do a vegan sausage,'" she says. "Our thinking is, let's be special, let's be different, let's revolutionize barbecue. Let's figure out what really good vegan hot guts taste like." The Barbs team has talked about launching the restaurant with a dance show from House of Lepore, a group of queer performance artists that Tovías Morales belongs to and describes as a "chosen family." "We've created a safe space where we can come together and celebrate each other," she says. She could say the same thing about Barbs.
---
Thanks to the pop-ups around the state over the past year and a half, barbecue fans are taking notice of Charnichart and her team. "When I go out to barbecue events, I hear people saying, 'She's one of the Barbs!'" Irizarry says. That's in part because of Charnichart's skill with brisket, which is undeniable, but also a menu unlike any other in Texas barbecue.
Barbs already has a signature side: that green spaghetti, a dish from the Rio Grande Valley. Charnichart uses her mom's recipe, tossing warm noodles in a sauce of cream cheese, sour cream, and milk, tinted green and flavored by cilantro, jalapeño, and roasted poblano peppers. It eats like extra-creamy mac and cheese with a chile bite. "Not even North Texas or Central Texas knows about it," she says, stirring the dish together in Irizarry's house in suburban Austin on a recent morning. "That's so crazy to me, because we ate it all the time. We were so lucky!"
photo: BRENT HUMPHREYS
Also on the menu: "cacti de gallo," a riff on a classic salsa dotted with tart, crunchy bites of salted nopal cactus; her take on slow-simmered charro beans, rich with onion, garlic, tomatoes, and bacon; and concha bread pudding, made from frosted Mexican sweet rolls. Like some other new-wave pitmasters, Charnichart bakes her own bread—though as you might guess, she departs from the classic white slices served on trays around the state. Hers is an earthy, spelt-fortified loaf swirled with cinnamon, like a raisinless cinnamon-raisin bread, and it pairs surprisingly well with smoked meats and green spaghetti. (Some customers like to make spaghetti sandwiches.) "It's good, right?" Charnichart says with a shrug. "And a little bit healthier, with the spelt."
Then there are the meats. "If you spend a shift with her and watch how she treats the brisket with such respect…well, I've never seen a guy do that," Irizarry says. "She literally mothers those. They speak to her, and she speaks to them. I've been with her at night, and the way she looks at them, you can see in her eyes that she's communicating with them. It's different from dudes who are just slapping them on the smoker." She serves her uniformly juicy and tender brisket—a testament to careful trimming—with two kinds of salsa and handmade tortillas, and she tops her ribs with a sprinkling of lime zest that brightens the sweet serrano sauce. It's her own combination of barbecue craftsmanship and borderland flavor.
"I think what really drives me is that I don't think brisket has been perfected yet," Charnichart says. "Every time I cook brisket is different and comes with its own unique challenges. There's so much to learn." And so many variables—the smoker, the beef, even the weather. "Barbecue is a job that requires a lot of patience, and I am extra-extra-extra patient."
---
Before Chuck was Chuck, she was Terry. Born Teresa Charnichart, she adopted "Chuck" relatively recently, as her own sort of nom de 'cue. The moniker is a tongue-in-cheek commentary on the challenges of making a name as a woman in Texas barbecue—Maybe they'll take Chuck more seriously!—and a roundabout reference to Lana del Rey, another one of the pop star inspirations behind Charnichart and Barbs. "She's big in the Valley," Charnichart says. "Maybe because people think she's Latina." Del Rey has a photographer sister named Chuck. "I thought that was cool—a woman named Chuck."
I ask Tovías Morales, who has known Chuck as Terry since they were kids, if she thinks there is a fundamental difference between the two personas. Terry is her old friend, she says, who stays out late drinking Red Bull–and–vodkas and dancing to Lady Gaga. Chuck is the quiet, hyperfocused pitmaster who hasn't had much of a social life since before the pandemic. (The personas do overlap at times. Charnichart took the Goldee's boys to a Lady Gaga concert last year.) She plans to change her name legally when she has time. Terry is out of the picture. For now. Charnichart is also determined to keep the spotlight on her collaborators. "She's creating space not just for herself but for her friends," Mincho Jacob says. "It's a beautiful, awesome thing."
photo: BRENT HUMPHREYS
In addition to Tovías Morales and Irizarry, the Barbs team includes Haley Conlin, a North Dakota native (and another former vegan) who fell in love with Texas barbecue while visiting a friend in Austin. In August 2021, after she'd spent seven years working in barbecue, Conlin posted on Instagram—where she goes by barbecuebaddie—that she was done with the industry. "I have been groped, stalked, cornered in walk-ins, harassed, fired for reporting misconduct, threatened, called a bitch, and talked down to by way too many men," she wrote. As she tells me, "I would not do this with anyone but Chuck."
photo: BRENT HUMPHREYS
If all goes according to plan, Charnichart and her partners will open Barbs-B-Q in Lockhart this year. She has good reasons for choosing Lockhart, even if it already has as many legendary barbecue spots per capita as any place on earth. It's a friendly town, she says, with a strong sense of community, and just a short drive from Austin and an hour from San Antonio. But you don't open a barbecue joint right in the barbecue capital of Texas—especially as a Charnichart from Brownsville, far removed from Lockhart's multigenerational barbecue families—if you don't want to make something of a statement. And if you push her, she'll admit that she wants to needle the Texas barbecue establishment just a little bit.
Kreuz Market isn't going anywhere. But if Charnichart represents the future, then it looks like a healthy one, with pitmasters who respect the heck out of Lockhart tradition—and who grew up in a world where high-quality brisket was a given—bringing their own influences to the plate. It looks like Khói Barbecue in Houston, where Don Nguyen serves an outstanding bowl of smoked brisket pho, and Distant Relatives in Austin, where Damien Brockway is exploring the flavors of the African diaspora with black-eyed peas seasoned with burnt ends and chicken legs dunked in a vinegar-based sauce. And it looks like Charnichart and Tovías Morales—in matching Lady Gaga T-shirts—trying everything on the menu at Kreuz and going back to their kitchens with fresh ideas.
"When Chuck puts her mind to something, watch out," Fain says. "She's going to take it as far as she wants."