It's one thing to share recipes across generations. It's another to discover a link between a recipe you made for dinner last night and one a cook prepared centuries ago.
That's, in part, the work Carla Burgos has taken on at the University of Texas at San Antonio. For the past three years, Burgos, a graduate student, has been transcribing historic culinary manuscripts contained in the university's Mexican cookbook collection. With more than two thousand titles in English and Spanish and some manuscripts dating back to 1789, the archive is considered the largest of its kind in the country.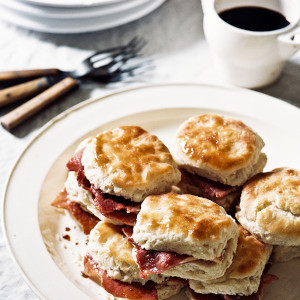 Born in Santiago, Chile, Burgos moved to Texas when she was ten. She began burrowing into the collection's handwritten recipes for her thesis and for the library, which is working to digitize the collection. "Each cookbook has its own history," she says. By deciphering old cookbooks, she can trace the evolution of cooking tools and the way Spanish and French ingredients made their way into Mexican dishes. Doodles and notes in the margins make the manuscripts come alive. "They teach us how cooking is connected to location, customs, traditions, and families."
The recipes also connect the past to the present. Take arroz con pollo, a dish Latin families have been making for centuries and a mainstay on countless modern Southern tables. Burgos found an early version, called Valencia Rice, in a cookbook handwritten by Manuela Heredia y Cervantes in 1886. In the recipe, chicken and rice are cooked with onions, garlic, and tomatoes, then stuffed into peppers and simmered in broth. Saffron gives the dish color.
It's a cousin to a more contemporary chicken and rice recipe from the British food writer Diana Kennedy, who died last July at ninety-nine. Kennedy spent decades living in Mexico, researching the culinary traditions of its many regions with the passion of a cook and the curiosity of an anthropologist. She donated her entire archive, which included thirteen linear feet of books and research and personal papers, to the university.
As in Valencia Rice, Kennedy's version relies on saffron for color, and she builds the dish from a sauté of onion, garlic, and tomatoes. But she also adds tomatillos, allspice, and clove. And she makes things a little easier, simply poaching the chicken, then simmering it with rice in the poaching liquid and serving it on its own. (You can brown the chicken first if you prefer, though it's not necessary.)
The recipe offers the reliable, comforting mixture of rice and chicken laced through with spices that bears similarities to Spanish paella. Kennedy's is a decidedly Mexican take, though variations abound across Latin America. Burgos says Valencia Rice reminds her of her mother's chicken and rice casserole. It reminds her of home. "I love food not only for the food itself," she says, "but also for how it allows people to join together, sharing what they enjoy."