Ask anyone with any knowledge of Lexington, North Carolina, to describe the town, and the word "barbecue" will surely cross their lips. The small former furniture and textile city in the Piedmont goes by the alternate nickname of the Barbecue Capital of the World, a claim it backs up with its many restaurants that serve a regional style of sauced pork barbecue, not to mention the annual Lexington Barbecue Festival. Preservation efforts are also inviting visitors to discover what locals knew all along—the small city is big on historic charm and lots of other flavors, too.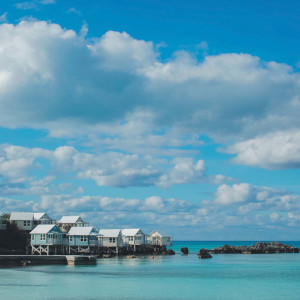 "Barbecue is the big draw, but I'm trying to convince them that pimento cheese is right up there with it," jokes Lee Hinkle, the fourth-generation owner of Conrad & Hinkle Food Market on Main Street. Conrad & Hinkle looks just about the same as it did when it opened in 1919. Visitors come in for the nostalgia of an old-fashioned corner grocery (and that signature pimento cheese, sold by the pound), but many locals shop on the same days each week for their fresh-cut meats and local produce.
"When visitors come to town, they come to see 'the big four' of Conrad & Hinkle, Lanier's, the Candy Factory, and Army Navy," Hinkle says, referring to longstanding businesses on Main Street. Here are the shop owner's must-visit spots in Lexington:


Lanier Hardware
If Lanier Hardware doesn't have it, you probably don't need it. Family-owned and operated since 1940, it's such a pillar of the Lexington community that when founder Ardell Lanier passed away in 2014, his visitation was held in the store, with friends and neighbors lined up for blocks. The store carries everything from bolts to gas grills to toys in an 80,000-square-foot building, and shoppers can get lost in the seemingly endless aisles of meticulously organized wares while munching on fresh, buttered popcorn.
---
The Candy Factory
"I'm a sugar addict; I like their fudge," Hinkle says of the Candy Factory's homemade batches. The business began in the front of the Piedmont Candy Company before moving to its current location, the circa-1890 Lexington Hardware building, in 1979. Current owners Wynn and Annette Conrad purchased it from the Ebeleine sisters after they retired in 2018. "We're in the people business; we just happen to sell candy," Annette says. Nostalgic treats such as caramel creams, chocolate drops, and their signature Red Bird Soft Peppermint Puffs line the shelves, along with toys like yo-yos and Slinkies.
---
Army Navy Store
"I still buy my work clothes at Army Navy," Hinkle says about the store with a misleading name. Second-generation Army Navy Store owner Frankie Nance says people sometimes come in "expecting ammo boxes, gas masks, and MREs" but instead find his shop filled with all kinds of rugged outdoor wear and casual attire. He remembers selling bell-bottoms, and the advent of Dockers—what he calls the death knell for dress pants. Today, Carhartt, Levi's, and Wrangler jeans are his top sellers.
---
Red Donut Shop
Brothers Saro, David, Vonnie, and Sanya Vay, sons of Cambodian immigrants, opened Red Donut Shop in 2015, starting with just morning hours, like a typical bakery. It didn't take long for them to realize that in Lexington, people don't just eat donuts for breakfast. Today customers can order coffee and from-scratch donuts and fritters Monday through Saturday until 7:00 p.m. "I like the ones with chocolate on top, but I enjoy all of them," Hinkle says.
---
See and do
Like many former textile towns, Lexington has more than its share of abandoned manufacturing buildings, but the city has lured new businesses to the historic depot district, and plans are underway to add a regular Amtrak stop. The district also hosts a Saturday farmers' market selling hand-crafted goods such as wooden spoons made by the former police chief Tad Kepley.
A little outside of town, High Rock Lake lures fishermen and outdoor enthusiasts to one of the best fishing lakes in the state, in Hinkle's opinion. Art enthusiasts come to see the works of a world-renowned native son at the Bob Timberlake Gallery.
---
More dining and imbibing
"My favorite breakfast is Southern Lunch. I like the western omelet with gravy, with a side of wheat toast for the healthy part," Hinkle says. "Rustic Roots and Sophie's Cork and Ale are a little more fancy and have great chefs. If I'm bringing someone from out of town and want to entertain them, I'd take them there."
The high ceilings and industrial vibe of Goose and the Monkey Brewhouse create an open, relaxed atmosphere where friends gather and dogs are welcome. Opened in 2017, the business wouldn't have survived a structural fire if it hadn't been for a quick-thinking fire chief and a red metal fire door. In honor of the firefighters' efforts, owner Ashlee Moore named the first craft beer Fire Door Red.
After its first taproom opened in Durham, Bull City Ciderworks owner John Clowney decided that the empty factory in his native Davidson County would be the perfect place for another location and production facility. Customer favorites include the Cherry Tart and the classic Off Main flagship cider. And ever since NASCAR team owner Richard Childress opened Childress Vineyards less than five miles from his race team shop in 2004, the vineyard has become a popular spot for wine tastings and relaxed vineyard tours.
---
Barbecue highlights
In Lexington, everyone has an opinion about the best barbecue, and Hinkle is no exception. Lexington Barbecue, a business established by Wayne Monk in 1962 and known by locals as "Honeymonk" or "the Monk," is his go-to when friends come in from out of town. His meal of choice is the "sliced plate," or the dark meat at the end of the shoulder, with baked beans, barbecue slaw, and hushpuppies. "If you have room, order whatever cobbler they have—peach, apple, or cherry. If you smile, you might be able to get them to put some ice cream on it," he adds.
In October, the whole town plus thousands of visitors go hog-wild for pork shoulders at the annual Lexington Barbecue Festival. "The Barbecue Festival is usually a big gathering time for a lot of people who used to live here. It's almost like Christmas," Hinkle says. "When I was young, I wanted to live in the big city, but I'm glad I came home. I'm happy where I'm at." And so is everyone else who stops in for a bite.