The passing of Jimmy Buffett hit me weirdly hard. For me, as with millions of others, his music was the soundtrack to summer—whether you were physically in July or, more often, longing for it. Pencil Thin Mustache takes me back to Monday bingo and cold Painkillers at the Flora Bama. Feeding Frenzy fueled road trips through the Mississippi Delta and my college years at Folly Beach, where I lived a lifestyle closer to broke pirate than attentive student.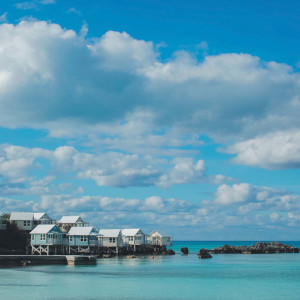 There's something I find darkly poetic about Buffett departing at the close of summer, on the tail end of a big hurricane. After hearing the news, I fired up Spotify, streamed Come Monday, and sourced an old paperback copy of Where Is Joe Merchant? I also reminisced about a recent trip to Key West, a place where Jimmy Buffett's memory was no doubt being ardently toasted by many a margarita.
Buffett had a long love affair with the Florida Keys. He was one of those lucky souls who discovered the island chain in a dreamier heyday in the 1970s, when it was more fishermen and wacky writers, less traffic jams and sunburnt snowbirds.
On a visit to its southernmost isle this summer, I didn't step on a pop-top, but I did cruise on back home with a belly full of great meals, fond memories, and a bit more Buffett on my playlists. If you're headed to its southernmost isle, Key West, any time soon, here's where to savor the local flavor.


3:00 p.m.
Check in to the Kimpton Winslow Bungalows, where you're just far enough removed from Duval Street to hear birdsong instead of bar songs. The hotel is a string of petite white cottages connected by lanes filled with flowers and towering palm trees. There's complimentary breakfast and not one but two swimming pools.
---
5:00 p.m.
Start on the corner of Duval and Louisa Streets and head north past a strip of great art galleries. There's Alan S. Maltz, a renowned photographer who captures the timeless light of Florida waters and landscapes. Archeo is next door, featuring tribal pieces like carved totems and woven tapestries. At Ilvedson Brothers, whimsical takes on life in the Keys arrive in the form of minimalist prints—like my favorite of an alligator eating a Key lime pie.
---
6:00 pm
As the sun slides behind grand Victorians, the filtered light turns Key West the sweetest amber hue. It's time for a beverage. General Horseplay is a saloon in appearance—dark curtains, leather stools, and a pool table—but a serious cocktail spot too. The Root of All Evil (absinthe, root beer, fernet, and mint) is divine, and at happy hour, they hand you dice. Certain rolls win discounted tabs.
---
7:00 pm
No shirt, no shoes, no problem. B.O.'s Fish Wagon is exactly the type of place you might run into Buffett himself. Greeted by an art-covered, rusting car, you enter an open-air bar decorated in fishing nets, graffiti, license plates, and likely some regulars with real good stories. Get an order of conch fritters and a cold lager.
---
8:00 pm
From there it's just a few feet to Pepe's. Open since the 1930s, Pepe's is the second oldest restaurant in Florida. It serves a mean ribeye—available since Teddy Roosevelt dined here—and does so correctly: salt and pepper, expertly charred on the outside, medium rare within, with a nice fat marble throughout. Get a few raw oysters, splash 'em with a little hot sauce…and that's just about heaven.
---
10:00 p.m.
The next time I get down to Key West, I'm heading straight to Frita's Cuban Burger for a traditional Cubanito sandwich. Frita's is also a favorite spot for tossing a few back after dinner, given the great selection of frosty Latin beers and the rotating house-made sangria. In the ramshackle courtyard, chickens root around in the dust and musicians cram onto a small stage area. The seating is mismatched, pillows are strewn on painted benches, and Frita's exudes a warmth and hospitality that's authentically "island."