"The house that gnocchi built" sits at Hassell and Meeting streets in downtown Charleston, South Carolina. Chef Mike Lata says he's heard this nickname for his restaurant FIG a time or two, and it makes him smile. Ricotta Gnocchi alla Bolognese has fueled many memories and happy return trips for diners at FIG, his much respected (and James Beard Award–winning) temple to Southern ingredients, which turns twenty this week.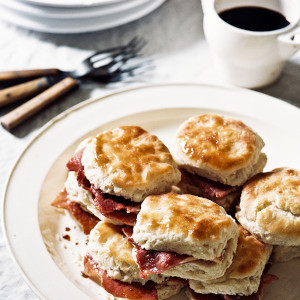 When I asked Lata to recall what he was doing twenty years ago, in April 2003, as he was about to open FIG (which stands for his motto: Food Is Good) with business partner Adam Nemirow, he said he needed to reflect back even further to the nineties, when he was a twenty-three-year-old chef de cuisine at Ciboulette in Atlanta. As a kid who loved food but hadn't gone to culinary school, he remembers struggling to figure out what set him apart. This was before "farm-to-table" was a hip concept. One day, a farmer came to the back door. "Her name was Lucy, and I just started trying each variety of lettuce, tasting them," he remembers. It was a light-bulb moment for both Lucy and Lata. "I pointed to one and told her, 'That's my favorite.' She told me, 'I sell to thirty restaurants, and here you are the only person who bothers to taste my lettuce right here with me.'"
The young Lata flashed back in time to childhood afternoons with his Polish grandparents, who grew a small garden in Massachusetts where he would pick beans and hoe potatoes. "My grandma would scrub potatoes in her porcelain sink, put them in a pot with water, take chicken stock and chicken, and make five meals out of it," he says. "It was like watching the transformation from garden to the table, and I realized then what I had to offer as a chef: I remember what a green bean tastes like off the vine. I know to dip a rhubarb stalk in a can of sugar. I have all these taste memories that are warm and fuzzy. Maybe I can find the best produce from farmers and give that experience, of bringing back a memory."
Lata went on to build relationships with farmers throughout Georgia and the Southeast, and the Anson Mills grain guru Glenn Roberts eventually convinced him in 1998 to move to Charleston and work at Anson Restaurant, where the Lowcountry's farms set his imagination abuzz. After creating a name for himself as a chef who deeply understood fresh produce, he started to think about opening his own place: "I thought, I'm going to open a restaurant where I don't import any seafood, but only use local catch, cook from the local markets, and let the menu breathe through the seasons."
He moved to France for six months to cook at a Michelin-starred restaurant, and then returned to Charleston, and to his business partner Nemirow, ready to rock. "It's funny to think about now, the idea of having no money and trying to finance a restaurant, but when you're twenty-eight or twenty-nine, you're like why not?"
When FIG opened in 2003, the kitchen didn't have a walk-in cooler. "So every delivery that came in from a farmer was going to be processed for that day's menu," Lata says. "We were a rag-tag team of cooks that would receive, process, write the menu, educate the back of house on how to cook it, the front of house on how to sell it, and then open for service."
The young chef and his team played and experimented. They bumbled along until in 2006, when "A guy named R. W. Apple from the New York Times put us on the front page of the food section," Lata says. The day the piece came out, Lata was in the kitchen by himself. "The phone started ringing. I walked over to the reservation book, which was all scheduled by hand at that point, and I sat on the phone for the next two and a half hours fielding calls from L.A., Alaska, Maine, everywhere. We filled up for the next two months." It was almost too much—"Out of the next fifty or so services, forty-five of them were disasters. We didn't have the means to store the amount of food we were serving." But the team created new systems and stayed afloat. In 2009, Lata won the James Beard Award for Best Chef: Southeast. "We had been living hand-to-mouth that whole time," Lata says. "I think we still didn't have a walk-in refrigerator when we won."
Lata credits farmers for FIG's success. The people who grow the food that brings up so many memories for his diners. He rattles off the purveyors who have paved his way with lettuce, shrimp, fish, mushrooms, and cauliflower: "The whole GrowFood family; Pete Ambrose; Celeste Albers; Spade and Clover; Clammer Dave; Barrier Island Oyster Co.; Tarvin Seafood; Crosby's, Abundant Seafood; so many others." He in turn found an outlet for these farmers and fishermen and raised up a new generation of chefs along the way. In 2015, the chef he trusted to take the reins at FIG, Jason Stanhope, won the James Beard Award for Best Chef: Southeast.
These days, Charlestonians don't always remember to make a reservation early enough, but they know they can still snag a bar seat and make a new friend over a cocktail and dinner. The dining room is usually booked and great for people watching—the night before his performance at Charleston's High Water Festival, locals saw the musician Beck there. When G&G editors host guests like last year's Made in the South Awards food judge Al Roker and his wife, Deborah Roberts, we take them to FIG. And as for the gnocchi that some say built the whole place, I know a Charlestonian who was proposed to just after finishing that dish; another who orders two as soon as they sit down; and one New York friend who, when I text him about coming back to visit Charleston, he responds with 🥲 to recall the single tear he spontaneously shed the first time that puff of ricotta melted on his tongue.
Here, from the vault, Lata shares three treasured FIG recipes, including Ricotta Gnocchi alla Bolognese.