This year marks the fiftieth anniversary of Secretariat's record-smashing Triple Crown win, which continues to capture the imaginations of spectators around the world. With a deep chestnut coat and three white socks, the Thoroughbred was once a clumsy and cocky colt before becoming an American icon, and his achievements stand as a testament to perseverance and determination. Want to relive his career highlights and raise a toast to Big Red? We've got a few ideas.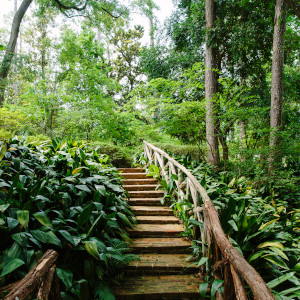 Explore the History
• Secretariat was born in Doswell, Virginia, at Meadow Stable, now The Meadow Event Park. The farm, which Secretariat's owner, Penny Chenery, revitalized in the 1970s, is now listed on the National Register of Historic Places and offers self-guided audio tours to see his stall, training barn, and other memorabilia.
• Endurance: Secretariat's Triple Crown at 50 is currently showing at the National Sporting Library in Middleburg, Virginia. The exhibition, which runs through May 14, features photographs, paintings, and prints that document the historic event.
• Located at Churchill Downs in Louisville, the Kentucky Derby Museum recently debuted a new immersive exhibit, Secretariat: America's Horse, which projects all three Triple Crown races in their entirety on a ten-foot wall. Included with a museum ticket is a guided historic walking tour of the track. 
• The new Secretariat Park in Paris, Kentucky, will be dedicated on November 11 (fifty years to the day he arrived at Paris's Claiborne Farm to spend his final years), but a three-story Secretariat mural is already on view downtown.
Honor Him From Home
• Watch the 2010 movie Secretariat starring Diane Lane and John Malkovich. Secretariat's owner, Penny Chenery, made a brief cameo in the film.
• Open up the new book Secretariat's Legacy by Patricia McQueen, which explores his role as a sire and the success of his descendants.
Raise a Toast
• The artwork of the 149th commemorative Kentucky Derby bottle from Woodford Reserve features Secretariat with the Garland of Roses.
• Ragged Branch Distillery in Charlottesville, Virginia, is releasing a special Secretariat Reserve bourbon made entirely of the corn grown at Meadow Stable, the farm where he was born.
Impress Your Friends With All the Fun Facts
• To this day, Secretariat holds the record for each race within the Triple Crown: the Kentucky Derby, Preakness Stakes, and Belmont Stakes.
• Secretariat's iconic royal blue and white checkered silks were a nod to Washington and Lee University, from which Chris Chenery, Penny's father and the founder of Meadow Farm, graduated in 1909.
• In Secretariat's Belmont victory, which secured his Triple Crown title, he won the race thirty-one lengths ahead of the second-place finisher.
• ​​Dr. Thomas Swerczek, the veterinarian who performed Secretariat's necropsy, reported that Secretariat's heart was the largest he had ever seen in a horse—two and a half times the size of a normal horse heart.
• He was the only non-human included on ESPN SportCentury's list of top fifty athletes of the twentieth century, and he became the first Thoroughbred to be honored with his own U.S. postage stamp.
Relive the Winning Moments
Rewatch his three record-breaking Triple Crown victories:
• Kentucky Derby
• Preakness Stakes
• Belmont Stakes