When he looks back, the San Antonio restaurateur Houston Carpenter credits his love of good food and gracious hospitality to his late grandmother, Claudine. "My grandma was the Golden Girl and queen of hospitality," he says. "She definitely made my childhood, and I've always wanted to honor her."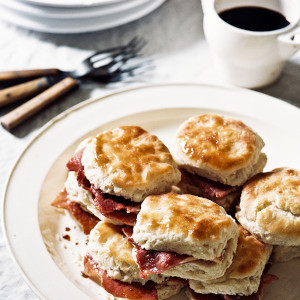 Late last fall, Houston did just that when he and his wife, Emily, opened Restaurant Claudine, an elevated Southern cooking destination that pays tribute not only to their Louisiana matriarch but to the Cajun-inspired dishes that flavored her life. The restaurant sits in an early-twentieth-century residence in San Antonio's Government Hill neighborhood. "It was very important to us that we keep the integrity of the bones and the exterior facade," Houston says of the space, which stood empty for a decade. "We wanted it to feel like it had always been there, just with a new paint job."
After a renovation spearheaded by their company, Carpenter Carpenter Hospitality, the property feels both nostalgic and new, with its painted porch and rocking chairs greeting guests off the street. Inside, the couple worked with Crystal Sinclair Designs to imbue the interiors with a sophisticated warmth and familial spirit: Details include chinoiserie patterns, vintage chandeliers, and oversized portraits of Grandma Claudine herself. The namesake's one-hundred-year-old china cabinet is also on display, revealing its treasures every weekend for the venue's afternoon tea service. Additionally, Chef Cassie Ramsey serves up lunch, dinner, and a coveted brunch menu filled with elevated family recipes, including crispy fried chicken, tender short ribs, shrimp and grits, and Houston's favorite hotcakes topped with powdered sugar and mixed berry compote.
Today, Restaurant Claudine has become one of the Alamo City's most sought-after dining reservations, which makes the Carpenters' professional story all the more enticing. Surprisingly, neither Houston nor Emily had any restaurant experience prior to the pandemic. Drawing instead from their careers in construction and retail, as well as their love of food, travel, and entertaining, the couple opened their first concept in December 2020 after noticing a void in the market. Their debut restaurant, Little Em's Oyster Bar, is located in the city's King William Historic District. "We live next door," Houston says, "so we wanted to improve the neighborhood."
San Antonio—and the greater state of Texas for that matter—has seen no shortage of new-build construction projects in recent years. From the beginning, however, the Carpenters have focused on preserving old, often forgotten properties and breathing new life into historic spaces. "With Little Em's, the spot we fell in love with was a shambled old shack," Houston says. "We really put time and love into it." Since then, the couple has introduced three additional concepts, including Claudine's, a fine-dining establishment in Southtown called Up Scale, and a new seafood eatery and wine bar in Tobin Hill named Go Fish Market. This fall, they'll unveil their most ambitious project to date with Nineteen Hyaku, a 5,000-square-foot Japanese restaurant near the city's bustling Pearl brewery complex. "The goal is to be the best Japanese restaurant in the state and the city's premier boutique restaurateur," Houston says. A tall order, but the Carpenters are ready to work for it.