It's the most wonderful time of the year…
Obviously, I'm referring to the return of Fried Ham Fridays at Fulks Run Grocery in Virginia's Shenandoah Valley. After a long winter hiatus, the rural, family-run country store is offering its beloved fried-ham sandwiches from now until late fall. This Friday I'll drive more than an hour to eat that sandwich, but even so I will arrive early to be on the safe side, given that savvy locals often order upward of a dozen at a time. Just how popular is this weekly lunchtime draw? Consider that the population of unincorporated Fulks Run is right around fifteen hundred, and the store regularly moves five hundred sandwiches.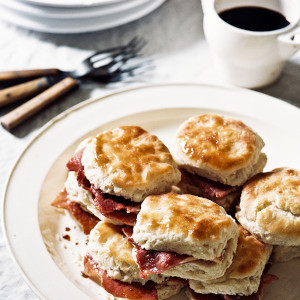 "I can't pinpoint exactly when we started doing Fried Ham Fridays, but it was more than ten years ago, and it certainly has grown," says owner Ron Turner, who runs the store with his wife, Peggie. "Time flies when you're having fun or you're just busy."
Don't get the wrong idea that this is a chefy, Instagram-bait take on country ham that incorporates microgreens or sriracha aioli or some such. It could hardly be simpler—just thick strips of sugar-cured country ham, dredged lightly in flour and fried in a bit of bubbling oil on electric griddles at the back of the store, past the aisles of jams, peanuts, and pottery. These warm strips are layered on plain white buns and unceremoniously wrapped in foil, no garnish, no condiments, five bucks a pop. Frankly, it's difficult to convey how meat plus bread can be so good. But it is—salty, sweet, chewy, and oh-so-gloriously hammy.
"We soak the slices in warm water for a few minutes, and pay attention not to over-fry, so the edges are just browned," Turner attempts to explain. "And we pile it on—it's not a skimpy sandwich."
A bit of the magic likely derives from the ham being cured just down the hill at sister business Turner Hams, using a recipe from Turner's great grandfather. The store itself was built in 1949 by Turner's mother and father, Garnett and Lena Turner. (The vintage photo of the handsome young couple beaming from behind their counter is priceless.)
That hyper-local supply chain is also the reason Fried Ham Fridays, despite the loyal following, takes a long break around the time the last leaves of fall drift to the ground. "Thanksgiving and Christmas are the busiest season for selling our hams," Turner says. "We can barely keep up with orders we have to ship out." With inventory depleted by the holidays, fresh hams are restocked in January to cure for about five months, hence the annual resumption of sandwiches sometime during May.
Take it from me: Even during the season, it's smart to call ahead before driving any great distance, just in case the store skips a random Friday to go fry ham at a local fundraising event. Also note that preorders are accepted in fifteen-minute time slots that sometimes fill up days in advance. So plan accordingly, and plan on ordering more than one sandwich.
"I remember telling this first-timer to go ahead and get two sandwiches, but he insisted on just ordering one and took it out to his car to eat," Turner says. "A few minutes later he was back in line, grinning. And then he came back a third time."