Eden Bishop remembers playing in her great-grandmother Lida's Smoky Mountains garden as a child. Lida's 1911 home, called Rostrevor, stood as a crown jewel of Knoxville, Tennessee, with a sunken Italian garden, terraced lawn, and columned patio lined with roses, irises, and purple clematis. "My great-grandmother had a woodland wildflower garden, too," Eden recalls. "Even though the paths hadn't been maintained, as a kid, I could still find them, and it was magical." Although the original house was demolished in 1969, and a chunk of the woods and gardens was bulldozed in the 1980s to make way for a country club's tennis courts, the family held on to much of the twelve-acre property.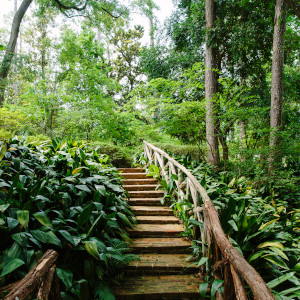 Decades later, after returning home to Tennessee from years living in Winston-Salem, North Carolina, and a divorce, Eden met Chris Bishop, a first-grade teacher, when she enrolled her children at the Episcopal School of Knoxville. The couple married, and in 2016, Eden's father gave them permission to build a home on an acre and a half of the original Rostrevor footprint, the same land that had provided her a Secret Garden–esque wonderland. But when it came time to plan their own garden, rather than follow the plot's deep-rooted formal history, the Bishops channeled their energy into creating a wild, rambunctious pollinator paradise.
Chris already had experience helping monarch butterflies with his students. "I had eleven raised beds I took care of," he says, "and basically, that was my introduction to gardening." Each plot shared a lesson: larval host plants, pollinator plants for nectar, and so on. "When I finally retired, and we built this house, it just seemed natural to continue."
Planting a few monarch-friendly milkweeds was just the beginning. Chris completed the University of Tennessee's Master Gardener program and made it his mission to improve his home's biodiversity. (At first, the area around the Bishops' home looked like an arid martian landscape.) "Chris and Eden had to remove many trees, as the property was once woods, leaving the yard pockmarked, rocky, and barren," says Sara Hedstrom Pinnell, the founder of Hedstrom Landscape Architecture, the firm that worked with the couple. At a low spot along the driveway, dirty brown water pooled, creating an unwanted focal point. Other landscapers had offered to fix the puddle with rock swales and creek beds, but when Pinnell heard Chris mention his dream of growing a native grasslands garden, she saw a solution. "I said, 'We need to work with what you have.'"
They got to it, soaking up the soggy soil with yellow flag irises, swamp azalea, and wet-wicking rush. The team designed a boulder-lined circular lawn with minimal mowing in mind, sowing the mountaintop meadow with native coverage like little bluestem and wispy side oats grama. Along the slope extending downhill from the petite lawn, they planted prairie dropseed, a textured bunchgrass. The star of the show, Chris says, is the Rudbeckia fulgida, or orange coneflower, which appears in a burst of ocher from June to August.
It's not all prairie chic here—a royal country home in England provided inspiration, too. With Pinnell's help, the Bishops installed a stump garden inspired by King Charles III's stumpery at Highgrove. "We took old cedar, hickory, and oak stumps, covered them in soil, and planted them with ferns, woodland phlox, mosses, and lichens," Pinnell says, adding that the bog-like installation helps trap water.
Every other plant has a purpose, too. The couple seeded goldenrods and mountain mints to attract pollinating wasps, and planted eastern redbuds for bees. To draw moths, they rooted oaks, hickories, and prairie willows. Larval host plants beckon butterflies to lay eggs—pussytoes for painted lady butterflies, hoary vervain for buckeye butterflies, and passionflowers for Gulf fritillaries. Leaves create natural mulch and compost; and to improve the soil, Chris has started a three-year burn cycle of grasses, which helps release nutrients while discouraging weeds. Unlike other gardeners who wield insecticide like a sword, the Bishops leave even the aphids alone—the pests' biggest predators are the very ladybugs the couple wants to protect.
The garden is an extension of Chris's lifework as a teacher. "I tell the kids, you want oak trees everywhere because oak trees support more caterpillars than any other tree," he says. "We need caterpillars because if you don't have caterpillars, you don't have baby birds. And if you get rid of the oaks, you get rid of the acorns. Then there go the birds." It's a full-circle lesson children and adults alike can appreciate, be it the Bishops' five-year-old grandson, Ben, as he watches a butterfly emerge from a chrysalis, or Eden, recalling her adventures along Rostrevor's paths all those years ago.