You may remember Scratch Pasta Co. from G&G's 2019 Made in the South Awards, which saluted chef-turned-noodle-maker Stephanie Fees's conical, frilled Virginia wheat campanelle for its "rough, artisan texture" and ability to grip the thickest of sauces.
At that important juncture in Scratch's trajectory, Fees was forming and drying all her strikingly varied small-batch pastas in a converted garage, and selling them to a swelling fan base, mostly at area farmers' markets.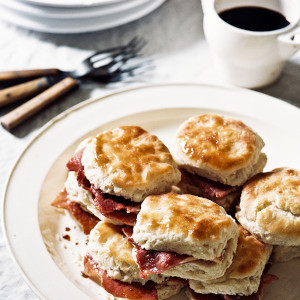 Fast-forward to this summer and Scratch has moved into its own storefront and production space on Bedford Avenue, a rapidly revitalizing corridor in Lynchburg, Virginia, between the downtown and Boonsboro neighborhoods. In fact, Fees rehabbed the entire building, a defunct Dr. Pepper bottling plant, and has welcomed complementary tenants like Truss restaurant, the Flour District bakery, and Rhodora boutique. Once customers enter the building, they can access all three businesses via openings that flow from merchant to merchant.
"We want it to be interactive," Fees says of the building. "A lot of people who go to the bakery also wander into Scratch."
Fees's thousand-square-foot shop showcases her tried-and-true lineup of nine boxed dry pastas, from the comforting semolina fusilli and lemon-basil gemelli to the foodie-baiting spicy garlic mohawks and porcini mushroom pappardelle. Displayed around them is a thoughtfully curated collection of jams, sauces, honey, cheese straws, ciders, wines, and cookbooks. Many are local, extending to handsome carbon-steel skillets crafted by fellow Made in the South winner Blanc Creatives up the road in Waynesboro. Among non-local goods, a display devoted to tinned seafood from Fishwife and Scout is reason enough to frequent Scratch. "We try to offer what you can't get at the supermarket," she says.
Through a door behind the register is Fees's gleaming new production space and kitchen, the centerpiece of which is a hard-working Arcobaleno pasta machine that quadruples the capacity of what she could make not too long ago.
"I needed more manufacturing square footage to keep up with demand," Fees says. "And as a chef, I'm also now able to be more creative, to have fun making fresh items to sell in the store." To wit, a freezer case by the front door offers house-made, take-home portions of shrimp scampi risotto and crab-spiked mac and cheese, plus pizzas from Richmond's Billy Pie. (Psst—keep a special eye out for Fees's limited runs of fresh pastas, such as a recent experiment with puttanesca spaghetti made with a paste of anchovies and capers.)
So does Fees miss anything about the startup era of laboring in her garage? "I miss being able to walk downstairs and get right to work," she laughs. "But it's great to be here and see all the customers who started with me at the markets six years ago. If anything, I wish I would have opened the shop sooner."