The overhead lights go down in the Nashville Municipal Auditorium, summoning the smartphone flashes and LCD displays that scatter like fireflies across the darkened crowd. Nearly 7,500 wrestling die-hards in the building—along with more than 24,000 fans live-streaming from across the globe—are hushed in anticipation of an event that few imagined would ever happen. After more than a decade away from the ring, the then-seventy-three-year-old man widely considered to be the greatest professional wrestler of all time, "Nature Boy" Ric Flair, is returning for one last match.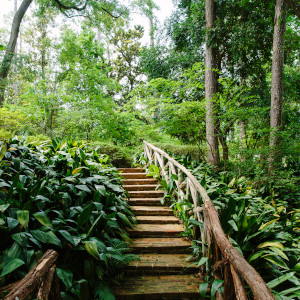 Several men who could also rightfully lay claim to that mantle sit ringside—Hall of Famers Bret "Hit Man" Hart, Mick Foley, and "the Undertaker" Mark Calaway, all of whom have come to pay their respects. Near them perch members of Flair's family, including his eldest daughter, Megan. And beside her, at the end of this row of wrestling royalty, stands a forty-one-year-old mortgage broker from Huntsville, Alabama, named Conrad Thompson.
Less than a decade ago, Thompson likely would've been an anonymous face in the crowd trying to capture a moment like this on his phone. But tonight, he might be the most important person in this building, even more so than Flair himself. This whole event was Thompson's brainchild, after all, and it was largely his investment of money, time, and connections that made it a reality.
In addition to being the promoter and producer of Ric Flair's Last Match, presented under the banner of Jim Crockett Promotions, the legendary North Carolina wrestling company that Thompson helped revive after thirty-four years of dormancy, he runs Starrcast, a traveling wrestling fan convention, and hosts, cohosts, or produces more than a dozen wrestling podcasts featuring veterans of the business such as wrestlers Foley, Jake "the Snake" Roberts, Arn Anderson, and Kurt Angle. He also happens to be Flair's son-in-law through his four-year marriage to Megan.
There's a drawn-out pause in the arena as excited spectators start to whistle and shout out Flair's signature "woo" across the darkness. Suddenly, Flair answers their calls with a "woo" over the house sound system. The lights go up. The words "Nature Boy" appear in flamboyant purple script on the video screen, and the swelling brass fanfare of Richard Strauss's "Also sprach Zarathustra" (better known as the orchestral theme to the film 2001: A Space Odyssey and Flair's longtime theme music) heralds the coming of the man himself.
Just before Flair struts out in his sequined white robe, Thompson feels Megan squeeze his hand. He squeezes back. The two exchange a quick, silent look, and shake their heads in disbelief: How the hell did we get here?


* * *


By now, it's an open secret that professional wrestling is and always has been an ongoing work of fiction. The violence, strength, and athleticism—men and women throwing themselves and each other onto concrete floors, tables, chairs, ladders, thumbtacks, barbed wire, and occasionally the canvas-covered plywood ring surface—is very real. Performers have permanently injured themselves and even died in the act. But professional wrestlers are all actors, characters cast as villains (heels), heroes (babyfaces), and every shade of anti-hero in between. They have writers who script them into blood feuds and betrayals that play out in the ring via a loosely choreographed combat-sport soap opera with predetermined winners and losers. In essence, wrestling is storytelling.
Growing up in Central Alabama during the 1980s, Thompson was steeped in these stories. Even as casual wrestling fans, Thompson's parents attended local and regional events, and his father followed TV broadcasts of Continental Championship Wrestling, a promotion based in Knoxville and Dothan, Alabama, featuring larger-than-life grapplers like Harley Race and Jimmy Golden. But it was Thompson's grandfather who, while babysitting, took his young grandson to the video store and rented him the double VHS of WrestleMania IV with Andre the Giant and Hulk Hogan on the cover. "Man, I was in love," Thompson says. "These were superheroes come to life."
Thompson tagged in and out of professional wrestling throughout his childhood. But in the mid-1990s, Ted Turner's Atlanta-based World Championship Wrestling (WCW) poached several high-profile wrestlers, including Hogan, from Vince McMahon's dominant World Wrestling Federation (WWF, now WWE), igniting a head-to-head battle for television ratings called the Monday Night Wars. Along with Extreme Championships Wrestling (ECW), a grittier, bloodier upstart promotion from Philadelphia, these companies ushered in a golden age of pro-wrestling melodrama.
A fifteen-year-old Thompson was hooked. He subscribed to all the magazines and newsletters, so-called "dirt-sheets," that provided insider info on all the storylines, characters, the wrestlers themselves, and even some of the writers and producers of these shows. He devoured any wrestling memoir he could get his hands on. In the days before YouTube, he joined an ever-expanding network of tape traders who hunted for rare footage of untelevised matches from as far away as Japan. "I got knee-deep into it, reading and studying as much as I could," Thompson says. "I always had a fascination with what else I didn't know. That's what's interesting about being a wrestling fan: You always have this unquenchable thirst for more knowledge. I'm not sure that exists in any other genre."
Obsession or not, wrestling was still just a hobby. Around age twenty, Thompson got into the mortgage business and quickly set about building his own Huntsville-based company. The full-time gig eventually plied him with disposable income that he could then spend on memorabilia, including replica and authentic championship wrestling belts and authentic feathered-and-sequined Ric Flair robes, each with its own backstory. Then in 2012, he and some buddies pooled money to pledge toward a Kickstarter campaign for a documentary about the now-defunct ECW. The level of their donation earned them a personal in-home screening of the film with ECW star Shane Douglas, who ended up staying for beers and a bull session long after the credits rolled.
Thompson and crew peppered Douglas with questions and reveled in off-color anecdotes from life beyond the mat. For the insatiable Thompson, it was a fix unlike any other—one that he had to experience again. He worked a connection with a wrestling author and historian to offer an undisclosed sum of money to the legendary booker, promoter, and manager Jim Cornette to come to his house and regale him and his guests with tales. After Cornette accepted, Thompson began checking other wrestlers' schedules for when they would be in the area and pitching them, too.
Eventually, Thompson tracked down Flair, who was making an appearance in Rome, Georgia. Flair and Thompson struck up a friendship, and the two exchanged phone numbers. Flair started inviting the guys to wrestling events where he got them backstage. At Flair's sixty-fifth birthday party in Atlanta, Thompson met Flair's oldest daughter, Megan, and the two of them hit it off.
Then, one day in 2015, Thompson was Flair's guest at a charity event in Nashville, when Flair told him about a possible business opportunity with CBS. Flair wondered: Did Thompson know anything about podcasting?


* * *


Back then, Thompson rarely even listened to podcasts. But he had some experience advertising for his mortgage company on the radio, and more importantly, he knew how to spur wrestlers into telling stories about themselves.
Wooooo! Nation only lasted a year, as Flair eventually lost interest in podcasting. But one of Flair's and Thompson's guests on the show had been Bruce Prichard, a fifty-year veteran of the wrestling business who was between stints as an executive with WWE. One of Prichard's many roles had been producing weekly TV for the promotion, so Thompson enlisted him to help shoot some recruiting videos for the mortgage company. At the end of one of those marathon filming days, Thompson found himself in his living room with Prichard. He blurted out a question about what really happened behind the scenes back in 2000 when a team or "stable" called the Radicalz jumped from WCW to WWE.
"He just turned in his seat and adjusted himself to get comfortable, and we talked for maybe an hour and a half—the detail he went into was wonderful," Thompson says. "At the end, I was like, dude, that's a podcast. At the time, everyone in the space was doing the interview format. So, whenever anyone has a big pay-per-view or they have a book or whatever, the same guest appears on all the major wrestling shows, and they talk about the exact same thing and tell the same stories. I thought, rather than recap a thirty-year career in fifty minutes and plug your upcoming project in ten minutes, what if we took the whole hour to talk about one topic?"
The pair launched Something to Wrestle with Bruce Prichard in August 2016 (on the same day as Thompson's first date with Megan) with the idea that it might give Thompson a platform to promote his mortgage company and help Prichard sell a few more shirts on prowrestlingtees.com. Their initial goal was 30,000 downloads. The first episode immediately pulled in 60,000. Soon, the number was in the hundreds of thousands. Then a million.
A year later, the weekly podcast was steadily getting 3 million downloads a month. The success was so staggering that, soon, Thompson was helping start podcasts for other notable names who had backstage dirt to dish, including legendary WCW announcer Tony Schiavone, WCW and WWE exec Eric Bischoff, wrestlers Angle and Anderson, WCW/WWE commentator and executive Jim Ross, and third-generation promoter, wrestler, and executive Jeff Jarrett. "I've been around the business since 1946, and I've been around a lot of promoters and marketers," Jarrett says. "When you create good content, you still have to market it. Candidly, Conrad is one of the top guys I've ever met in this business. He's personable, has a great sense of humor, is a really smart dude, and has the ability to market his vision to the masses."
Through his production company, Ad Free Shows, Thompson now produces more than a dozen wrestling-themed podcasts, each with a unique perspective on the business, but almost each one formatted to tell one story per episode. He also promotes the Starrcast convention, where people can swap tales and reminisce with some of his podcast hosts and their friends in person. He has enlisted a small army of researchers, technicians, videographers, audio engineers, merch people, attorneys, accountants, and event staff working behind the scenes to put each podcast together. But even though Thompson sits atop this podcast empire, even though he himself hosts no fewer than seven shows a week, the so-called Podfather still considers it a side hustle, a fun way to market his mortgage company.
That's why, when Jarrett came to him with the idea of doing a big show the Sunday after WWE's marquee summer event, SummerSlam, Thompson approached it like a business opportunity. He had a pretty good instinct what might be the biggest draw to wrestling fans already in Nashville that weekend. He talked to his wife. Then he called his father-in-law. How about one last match? Flair barely let Thompson finish his sentence before exclaiming: "I'm in!"
* * *


Back at the Nashville Municipal Auditorium, Flair's last dance has played out like a greatest hits compilation. Since it's a tag-team affair, in which only one member of each two-man team is supposed to be wrestling at one time, Flair is really only working half a match. He is teamed with current All Elite Wrestling (AEW) wrestler Andrade El Idolo, his other son-in-law, who is married to Megan's half-sister, the WWE superstar Charlotte Flair. Together father Flair and El Idolo are facing off against Jay Lethal and Jarrett, who also came out of retirement to be part of this send-off.
In between rests at the ring post, the septuagenarian Flair has managed to work in his signature chops across his opponents' chests, each punctuated with a Woooo; his finisher, the figure-four leg lock; and some intentional bleeding, the red reading even brighter against his shock of white-gray hair. At one point, Flair even fakes a heart attack to bring the opponents' guards down so he can deliver a few blows—an old-school heel move.
Later in the match, Thompson stands up and digs into the pocket of his blue suit jacket. He pulls out a set of brass knuckles, which he sneaks in the most dramatically obvious way to Flair's partner, El Idolo. Thompson's brother-in-law eventually passes the weapon to Flair, who uses it to "knock out" Jarrett. Flair gets the pinfall while managing to apply one last figure-four. The audience erupts almost as if they weren't quite sure of the inevitable outcome.
Thompson stands and applauds, too, savoring a brief chance to just be a fan again. The demands of promoting an event like this have been so arduous that Thompson has reemphasized in just about every interview that he is not a promoter. He says he wants the rejuvenated Jim Crockett Promotions to pass to son David Crockett, the rightful heir, who can choose the path forward for his family's legacy. For his part, Thompson maintains that he doesn't have designs on working in the business anytime soon. But in wrestling, as they say, "you never say never."
Besides, for the moment, Thompson is content with his podcast empire, which he still speaks of as just a really time-consuming hobby. He's just a mortgage guy, after all. But tonight, this Alabama wrestling fanatic got to write himself into the long and dubious lore of the quasi-sport he so loves. For a moment, Thompson got to be part of the story.