"Blasphemy!" I screamed from the raft as we floated along the Snake River in Jackson Hole, Wyoming. I had just opened a box to find chicken tenders. "This is not fried chicken," I shrieked to my friend, whom I had politely asked to bring fried chicken as a boat snack. As we maneuvered through white water, our small group immediately divided into Southerners vs. non-Southerners concerning the correct type of chicken to serve on a boat. We were as riled up as the rapids, but really there's no debate—as a North Carolinian who travels the South to write about food, I'm here to state that chicken tenders, while delicious, are not fried chicken. And when someone invites you on a boat ride, you bring fried chicken.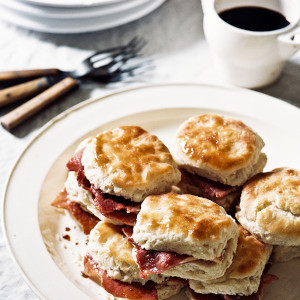 Boat chicken is its own celebration. "It's a staple in the summertime," says James London of the Charleston, South Carolina, seafood hot spot Chubby Fish. "It's easy and tasty and you can pull right up to the sandbar or throw an anchor and have the picnic of a lifetime."
"Fried chicken on a boat is perfect because you don't need a knife and fork," adds Alex Eaton, executive chef of Charleston's Estadio. "It requires almost zero effort unless you're frying it up yourself."
Ever since that Wyoming whitewater trip, I've been gathering opinions about the proper protocols for boat chicken. Turns out, quite a few Southerners in the food and beverage world have strong stances of their own.


In the South, boat chicken is fried chicken.
"Boat chicken is the highest and best use of what is commonly called fried chicken," says Ann Marshall, co-founder of High Wire Distilling Co. in Charleston. "Is there anything better than zipping through a salty creek with an ice-cold beer in one hand and a perfectly fried drumstick in another?" The answer is no.


It's gotta have bones.
"If it doesn't have bones, it's just a chicken tender," says Matt Register of Southern Smoke BBQ in Garland, North Carolina. "I prefer whole chicken pieces, but fried chicken wings are acceptable too." Register's happy place is sitting on the edge of a boat with one foot hanging in the water, eating chicken off the bone.
"No offense to chicken tenders—they certainly have their place—but that place is not in the pantheon of 'fried chicken,'" Marshall adds. "Fried chicken is fried crisp on the bone with skin that can be peeled off and consumed alone for ultimate pleasure and succulent meat made tender by its proximity to other fats near the bone."


Boat chicken should be cold.
James Doss of Rx Chicken & Oysters in Wilmington, North Carolina, often hits the water at the crack of dawn, leftover fried chicken in tow. "You can put it in the cooler and snack throughout the day," he says. "It's good for breakfast on the way offshore, another piece on your surface interval between dives, and a couple more with beers on the ride home." Doss is even considering offering a bucket of cold boat chicken for takeout. "Thighs and legs are the best pieces of chicken," he says, "but a breast can be good cold on the boat with a beer."
"It cools you down when it's hot out and you can taste it better when it's cold," London says. "And when you get all greasy you can just jump in the water and scrub yourself down."
It's all about timing.
"My friend Shipley says the key is leaving church just after you take communion to pick up your boat chicken," Marshall says. "This guarantees first place in line at the Church's drive-thru and also gets you to your favorite anchor spot before all the other God-fearing folks."


The best fried chicken might be from the grocery store.
But it depends on whom you ask.
Marshall: "We purchase our fried chicken fresh and hot from the grocery store deli—Harris Teeter or Publix, a hot topic of debate in these parts—and let it cool down naturally on the boat."
London: "My go-tos are Publix, Dodge's, and Popeyes, but I honestly lean towards Publix the majority of the time. Also, their breaded fried chicken wings are straight fire and definitely count as boat chicken in my book."
Eaton: "If I'm going on a casual boat ride, honestly, I'm hitting Publix for fried chicken and all the snack and bev needs for boat day."
Doss: "I really haven't eaten fried chicken much outside of [my restaurant] RX in years. We always cook several orders at a time because fried chicken has to rest, and it takes a long time. We almost always have a few pieces left over, so I take it home to eat cold."
Register: "If I don't make it, it has to be Publix. I love their chicken—it has just the right amount of breading, so it stays crispy and juicy even as it cools off."


Don't show up empty-handed.
If someone invites you on their boat, bring fried chicken to share. With bones. "If you brought tenders, I would throw you off the boat," Register says, "and I certainly wouldn't have faith in you to bring other important staples like pimento cheese or bread." So if you can't get on board with fried chicken, perhaps take a different tack: "Maybe you could bring a bag of chips, or the ice…you know what, bring extra ice!"