With the door shutting on most hunting seasons and the spring rush of fishing still on the horizon, these are the weeks I spend the most time in the kitchen, working through the freezer. For wild game cooks, beginning or seasoned, it's perhaps the best time in history to be alive and stirring. We now have a wealth of recipes just a few keyboard strokes away. But I still find great inspiration in cookbooks. These five live in my kitchen, and they've proven to be steady companions season after season.
---
Afield: A Chef's Guide to Preparing and Cooking Wild Game and Fish
by Jesse Griffiths
When I cracked open the sumptuous Afield to find an entire chapter on creek fishing, I knew I'd found my culinary spirit animal. Griffiths is the owner of Austin's Dai Due butcher shop and restaurant and the author of the forthcoming The Hog Book, and his approach to game cooking starts the moment the trigger is pulled or the hook is set. He covers everything from field dressing to aging to, of course, recipes, and the essays in Afield set the table for a chronicle that feels like spending an entire year chasing game and fish with a chef. It's a great book for beginning game cooks, but also seasoned sports who want to spread their wings.
---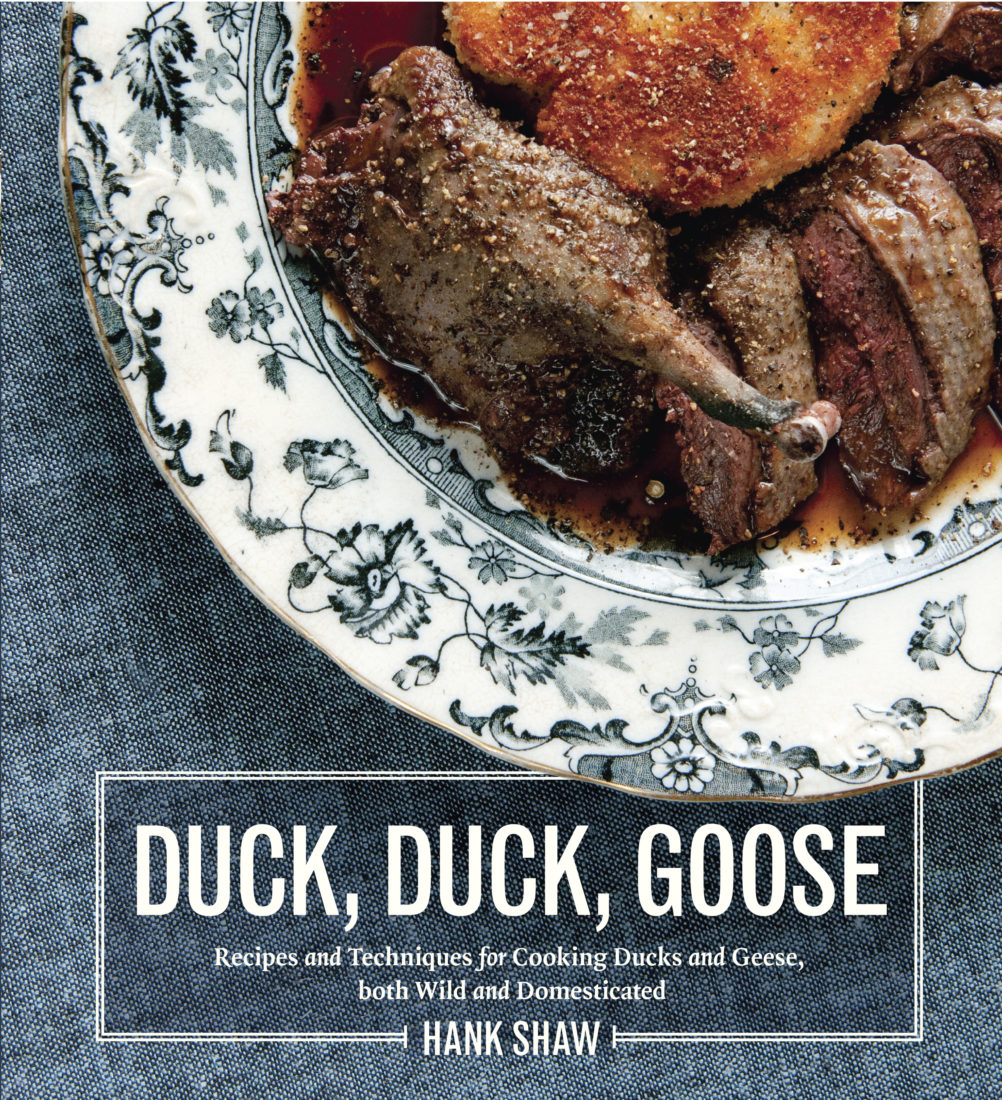 Duck, Duck, Goose
by Hank Shaw
Shaw's six-step, three-full-page rendition of how to pan sauté a duck breast made me smirk at first. I thought, "Yeah, I'm not the only writer who had to fill a bunch of pages." Then, for funsies, I followed his instructions to the letter, and very little about my wild game cooking has been the same since. Shaw is perhaps the most influential living wild game chef on the planet, and his series of cookbooks—others include Buck, Buck, Moose; Pheasant, Quail, Cottontail; and the upcoming Hook, Line, and Supper (stay tuned for more on that)—are inspirational without gloating, and aspirational in that rare way that makes you put them down and think, "I may just be able to pull that off" as you rush to the grocery store.
---
The Wild Chef
by Jonathan Miles and the editors of Field & Stream
The challenge with wild game cooking is that you are never forgiven, and the meal never forgotten, when your grasp exceeds your reach. Try to get too fancy, and you'll be reminded of your failures for many seasons to come. Some of the recipes in this cookbook might make you stand on your toes, but you'll likely never topple. I love the mashup of classics with wild game, such as venison osso buco with Israeli couscous, or grilled dove pizza with mushrooms and fontina cheese. And with just a bit of imagination, you can mix-and-match with what's in your freezer. I'm fresh out of rabbit, but this weekend I'm cooking quail from the cider-braised rabbit with apples and crème fraiche, and I bet no one will complain.
---
Escoffier: The Complete Guide to the Art of Modern Cookery
translated from French by H.L. Cracknell and R.J. Kaufmann
Auguste Escoffier developed most of the recipes in his 650-page classic, published in 1903, while in the kitchens of the Savoy Hotel in London and the Ritz in Paris. There are 5,012 recipes, none of which are suited for the microwave, and most of which have nothing to do with wild game. But the tome's chapter on "Releves and Entrees of Game" is the equivalent of a 150-recipe rollercoaster through a time when there was staff enough to spend three days cooking a roast. For every "huh"—adding a dollop of blood to a sauce of rabbit seems to have fallen out of vogue—there is a revelation and an inspiration for those tired of the same ol', same ol' grilled backstrap. I might not have time to meticulously follow the recipe for Faisan á l'Alcantara, a partially boned pheasant stuffed with duck foie gras mixed with truffles, marinated for three days, and cooked in a casserole. But baking quail on a bed of buttered mushrooms and a bit of store-bought foie gras, I bet, is going to come deliciously close.
---
A Taste of the Wild: A Compendium of Modern American Game Cookery
by A.J. McClane
This is the first cookbook I ever took to bed, to devour like a novel that opens up a new way of thinking. McClane was a long-time fixture in the sporting press—his 1,000-page McClane's Standard Fishing Encyclopedia and International Angling Guide served as the primary reference book for a generation of anglers. Published in 1991, A Taste of the Wild presaged the current movement in which an appreciation of wild fish and game is bound with a raised environmental consciousness. He celebrated wild animals as a deep expression of place. Flipping through the cookbook today, it's still a collection that makes me reconsider the occupants of my two wild game freezers. And if you've ever desired to learn how to braid the loins of a rabbit, here you go.
---
Follow T. Edward Nickens on Instagram @enickens