Tori Johnston got her first dollhouse at age six; her dad built it from a kit. Not long after, she got her second dollhouse, an antique store find. She was "really into them" for several years, she says. And then she grew up. "I always thought I'd get them [back] when I had a little girl, but I had two boys," she says. So in her parents' attic they stayed, until 2022, when her nostalgia switch was flipped by a few interior designers toying around with dollhouses on social media. Her interest rekindled, she brought them to her home in Montgomery, Alabama.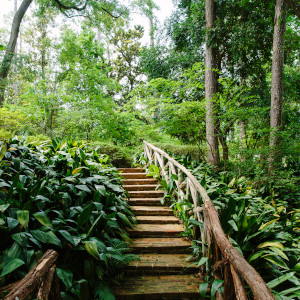 The plan was to freshen up the exterior paint and add new roof shingles, but once Johnston began, she fell down the rabbit hole like a miniaturized Alice. "I could not stop," she says. "I started redoing every room from top to bottom."
Through her company, White Kitchen Cookies, Johnston is known for her almost-too-pretty-to-eat custom-decorated sweets. She's accustomed to channeling her creativity into detailed handiwork, which is what her dollhouse restorations also require. "I love working with my hands making the furniture, curtains, rugs, and pillows," she says. "I love sourcing the materials and coming up with the look and style."
And just like her edible art, her dollhouses were meant to be shared, so she posted before, in-progress, and after photos on her cookie business's Instagram page. The windows into her little world got a big reaction. "So many people started sharing their dollhouse stories with me," she says.
Moms and daughters ask to come see them. Grandmothers call Johnston seeking advice on redoing a dollhouse with their grandchildren. When she was done with hers, Johnston bought and renovated a used dollhouse for her nieces. And a local artist has commissioned Johnston to refurbish and upgrade her childhood dollhouse as a gift for her new adopted daughter. "That's been the best part of this," she says, "connecting with people over their dollhouse memories and helping others make new ones."
Johnston's facelift for her second childhood dollhouse included painting over its faded sage green exterior, adding curved roof shingles, and constructing a new Chippendale balcony railing. "The exterior is Ballet White, a wall color I used in my real house," she says. "All the choices for my dollhouses are influenced by my personal aesthetic: traditional but clean-lined and a little contemporary too; light and bright; feminine but not froufrou."
Johnston's now a devoted dollhouse-decorating evangelist, pointing to the activity's positives, especially for kids. "It gets them off devices and teaches them usable skills," she says. She advises starting simple. "Look for a used dollhouse—Facebook marketplace is a good spot to search—and then make it your own. Also, a house that's flat across the back is a lot easier to get your hands in."
Johnston custom-made the cabinets, shelves, and oven hood in her dollhouse kitchen and its mudroom. "My dad is a master woodworker, and I learned to carefully measure and cut angles from him," she says. She also made the beamed ceiling that let her scratch an itch. "I considered exposed beams in my real kitchen, but worried I might not like the look long-term, so I did it in my dollhouse." She sourced the stove, tiny plates, cups, and a telephone from Etsy, Mary Charles Dollhouse Shop in Birmingham, and Miniature Cottage in Nashville.
Johnston purchased the sofa and wing chairs in the dollhouse's cozy den but sewed the curtains, accent pillows, and rug, sourcing fabric scraps from Montgomery's King Cotton fabric store. She made the mantel from balsa wood and went with grasscloth on the walls, which she got from her favorite local paint store, New Look. "They get me wallpaper samples that I've used throughout the houses," Johnston says. "The lady who has helped me is now a good friend and has gotten into dollhouses herself. I love how the project has built this little community."
Johnston used geometric-patterned wallpaper on the floor in several rooms, like this bathroom, to mimic tile. She also uses paints she has on hand and sometimes mixes them to create unique colors.
In the dining room and throughout, Johnston used mini popsicle sticks to make frames for scaled-down and printed images of paintings by local artists (with their permission). The originals of these watercolor feathers hang in her own den. She also prints miniature versions of paintings in the Metropolitan Museum of Art's collection, which are available for legal download in the open access gallery on its website.
The detailed bedding, bench, and curtains—all made by Johnston—and soothing hues in the master bedroom scored her a life-size decorating gig. "A lady loved this bedroom look so much, she asked me to help her do her bedroom in a similar style," she says.
For these little lamps and others, Johnston covers corks with fabric to fashion the shades and uses wooden beads and other elements like thread spools for the bases. She goes through a lot of glue and offered this advice on the sticky stuff: "Be careful using wood glue on anything not being painted, because it dries yellow. I use super glue and craft glue instead."