Though you can complete the one hundred miles between Key Largo and Key West in a couple of hours, last year my wife, Julie, and I marked off five full days to explore. We planned a slowpoke road trip, hunting down off-the-beaten-path Florida Keys restaurants, lodgings, and attractions. In other words, the Keys visitors often miss.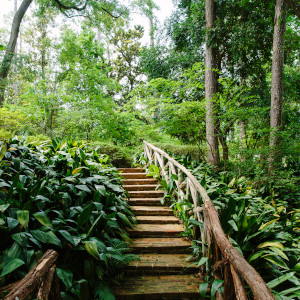 We had a few guidelines for our search. Targets had to be off the main U.S. 1 drag, a.k.a. the Overseas Highway, or, in the case of Key West, off overhyped Duval Street. Or they had to offer something special despite an Overseas Highway address. "And anything with a billboard is off the list," Julie suggested. Five days of meandering later, we had a deeper—and even better—impression of an archipelago we'd already grown to love.
Right out of the gate, as Highway 1 leaves the mainland south of Miami, we took a left-hand turn just past Homestead, onto Card Sound Road. Most Keys visitors continue south on U.S. 1, but this alternate route rises over verdant grass prairies, the horizon studded with dark green hardwood hammocks and veined with turquoise waters. The road slices the Crocodile Lake National Wildlife Refuge, home to the slender-snouted American crocodile, and delivered us to the middle of Key Largo, the northernmost of the Keys and an island we've usually blown past.
I'm glad we took our foot off the gas. First, we logged a four-mile leg-stretching hike through the black ironwood and Bahama strongbark forests of Dagny Johnson Key Largo Hammock Botanical State Park, then headed for the waterfront. A few years ago, Julie and I stumbled across Key Largo Fisheries, located down a network of side roads that lead to the water. The commercial fish house is half a century old and also home to a sunny waterfront café overlooking the marina. When we returned this trip, I ordered a Florida lobster roll with chunks of sweet meat the size of shooter marbles, while Julie worked through a platter of Key West pink shrimp and conch fritters. We even got a surprise visit from a manatee cozying up to the wharf. It was quite the welcoming party.
One thing that's always intrigued us about Key Largo is its healthy subculture of small mom-and-pop motels and resorts. Our stay at Bay Harbor & Coconut Bay Resort convinced us these treasures are worth the stop. Former Key Largo schoolteacher Peg Mullin Laron purchased the five-unit Coconut Bay waterfront motel in 1994 and three years later added the next-door Bay Harbor property to create a two-and-a-half-acre bayfront retreat. Every aspect of the place exceeded expectations: Gravel paths wend through a manicured garden of mango, palm, and papaya trees, festooned with orchids, hibiscus, birds-of-paradise, and bougainvillea. Our sprawling, bright room had a full kitchen and a cozy deck overlooking the tree canopy. Laron herself is a delight—as were her famous scones, which she bakes daily. Frankly, Julie and I didn't want to leave. But the road called, and we were only getting started.
Island-Hopping
When we arrived in Islamorada, fifteen miles south of Laron's unforgettable scones, the senior portraits of soon-to-be graduates of Coral Shores High School hung like holiday flags on the power poles lining the Overseas Highway. That's good hometown karma in a place that retains a community feel despite being a major tourist destination.
Near the top of my list for this trip was perusing the Morada Way Arts & Cultural District, a six-block corridor of Islamorada. The quiet Morada Way itself runs perpendicular to the highway, anchoring an assemblage of artist collectives and galleries. At the Redbone Gallery, I immediately recognized a striking palette of bonefish and snook and a stunner of a pileated woodpecker by Tim Borski, as well known for his saltwater fly designs as his art. And while finding artists in their studios can be a little catch-as-catch-can, I lucked out at the Morada Way Clay co-op. Bev Blitzer, a retired Rhode Island art teacher, greeted me in her shop and schooled me on her nerikomi pottery, created with colored bits of clay that she cuts and stacks to produce a look that brings to mind Damascus steel.
Not all noteworthy Islamorada galleries are in the arts district, however. When I walked a short way north and into the Michelle Nicole Lowe Art Gallery, it felt like I'd slipped underwater to check out a coral reef. Lowe's great-grandfather worked as a Keys commercial fisherman, and her love of the water shines through in her brightly colored portraits of native Keys fish, turtles, and pelicans.
Lowe enlisted her husband, fishing guide Captain Camp Walker, to ferry us to Indian Key, a nearby mangrove-shrouded island whose wild beauty often inspires her paintings. In 1836, the eleven-acre island became Dade County's first county seat, thanks to a salvage business there that scrounged the Keys for shipwrecks. Today it's a historic state park and an ideal snorkeling spot, accessible by boat only. You can still see the ruins of the old town in the shade of tall tamarind trees.
"I often wonder," Lowe said as the shadow of an osprey crossed the shell trail in front of us, "if those early settlers really appreciated the beauty here. Or was life so hard that they couldn't comprehend it the way we do now?" I pondered that question as I schemed a return trip to hunt for bonefish, barracuda, and possibly permit. The remote flats and reefs around the island are perfect for a half day of fishing, with a shot at complete solitude.
Adventure Afoot
For many visitors, crossing the Overseas Highway's bridges is a quintessential Keys memory, but the best way to admire the view from a Florida Keys bridge these days has nothing to do with a car. Last year, after a five-year, $44 million rehabilitation project, a storied remnant of the Old Seven Mile Bridge reopened as a linear park between Marathon and Pigeon Key. Walkers and bikers rejoiced.
As Julie and I powered through the nearly four-and-a-half-mile round-trip hike, we felt like frigate birds soaring above the water. "It's kind of like walking the High Line in New York," Julie mused. She looked down on underwater prairies of turtle grass, scored with bright white sand. A loggerhead sea turtle sunned in the water, far below. "Okay," she admitted. "Maybe it's not like that at all."
After a day of gallery-hopping and bridge gawking, we checked in at Deer Run on the Atlantic, an intimate four-room bed-and-breakfast as far off the highway as you can get on Big Pine Key. The name is a clue: Endangered Key deer wander the oceanfront property, even drinking from the fountains. There's a gorgeous beach—a rarity in the Keys—and easy access to kayaking in a mangrove-lined bay just across the street.
Deer Run's close-to-nature vibe—the food is all vegan, and the inn is the top-rated Keys spot in the conservation-focused Florida Green Lodging Program—invites exploration. Julie and I shoved one of the inn's tandem kayaks into the water at Coupon Bight Aquatic Preserve, and within a few paddle strokes, we were surrounded by mangroves, with sorties of red-winged blackbirds and glossy ibis all around. Within minutes, Julie was in a reverie, paddle stowed, trailing her hands in the water. "I don't mind paddling for two," I groused. "But how about not riding the brakes?" When we staked out in the kayak and leaned back with cups of wine, Julie declared she'd found her happy place. "Next time," she crooned, "we are staying here longer."
The Heart of It All
We pulled into Key West sunbaked and grimy from sea kayaking, so I assumed it was high time to relax. But Julie had other ideas.
We spent the afternoon on a walking marathon, taking a wandering route through town and stopping first at Kino Sandals, a leather sandal factory opened by a Cuban immigrant couple in 1966. Housed in a tall brick building just off Duval Street, Kino sells twenty-five styles of sandals, all hand cut and assembled on location. Julie chose the classic Lily sandal in white—twenty-seven dollars. Yes, you read that correctly.
Next we made a dash into the überlocal Fausto's Food Palace to stock up on wild boar salami and fruit, and I barely made it past the deli counter—jerk chicken thighs, picadillo, Cuban pork—without emptying my wallet. We dropped the goods at Winslow's Bungalows (more on that in a minute) and made our way to the less-traveled southern shore of Key West, and perhaps our most intriguing find of the entire trip.
One of two batteries whose armaments bolstered the guns at the pre–Civil War Fort Zachary Taylor, the West Martello Tower never saw battle, but "Fort Zach" gunners hammered it for target practice. Locals ransacked it for bricks until the Key West Garden Club, in a stroke of vision, took it over in 1949. Today, sculptures and fountains adorn extensive gardens, and inside the old battery, each turn in the warren revealed galleries of botanical artwork hung on the old brick walls.
Heading back toward the main part of town, we swung by 5 Brothers, a corner store that serves up authentic Cuban sandwiches and lunch plates, plus traditional hand-rolled Cuban cigars. It's a favorite of local Cubans, and for at least the millionth time, I regretted not paying closer attention in my high school Spanish classes. Julie and I refueled with cafés con leche and guava pastries on a nearby bench, then struck off to cool our heels—finally!—at Winslow's Bungalows. While the West Martello Tower's lush gardens may make it one of the most relaxing places on the island, it has stiff competition in this collection of historic Queen Anne, Victorian, and smaller conch houses. Tucked among tropical foliage, with pools, outdoor bars, and comfy swings beckoning under the trees, the retreat seemed impossibly quiet and restful given its proximity to Key West's center.
With three blisters on my feet, I was grateful that I'd booked a fishing trip with Shadow Caster Keys Flats Fishing for the next day. There was only so far Julie could walk on a twenty-two-foot center console. Captain Justin Valakis is a Key West fixture, a full-time guide and an advocate for preserving the island's funky attributes. "We've got the fish, the music, the scene, and the sun, but we have to be aware of loving it to death," he told me, explaining his focus on tourism that supports a healthy ecosystem. We caught tarpon and lost a spinner shark when it leaped in a triple axel before shearing the line, and we left with a deeper appreciation for the locals who are protecting their slice of paradise.
For our last night in the Keys, Julie and I returned to a place we've long loved—El Siboney, a traditional Cuban restaurant on the outskirts of downtown. We ordered roast pork with pickled onions, coconut shrimp, and Cuban albondigas—meatballs—which we didn't need but were curious to try. The meatballs came in a pungent tomato sauce, a savory counterpoint to the rest of our meal.
As we downed the last of a sangria pitcher, I gnawed Julie's shrimp tails down to the nubs. She's a terrible shrimp eater who leaves a third of the meat on each tail. But as I dredged the last crustaceans through a pineapple-and-hot-pepper sauce, I realized that her shortcomings as a kayak partner and seafood diner paled in comparison to how she shines as a road trip companion. Like me, she'd rather take her chances off the beaten path. And after a half dozen trips together to the Keys, she still inspires adventure and discovery. As these islands do, if you'll take the time to look.