When the owners of a new restaurant in Louisville's Butchertown neighborhood discovered a vintage D-shaped clock in the basement of the circa-1875 building, it eliminated any lingering doubts about what to name their venture. "'Decade' has a nostalgia to it; it's got some weight, but it's also timeless," Chad Sheffield says. "For us, it speaks to the importance of time and savoring the moment and the people you're with."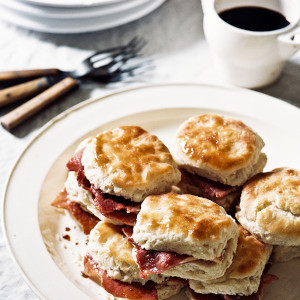 Sheffield and his partners, co-executive chefs Matt Johnson and Andy Myers, say the pandemic underscored the tenuous nature of the restaurant industry and the importance of making the most of our time. Sheffield was a founding partner in Decca, a beloved Louisville restaurant that was among the first to plant its flag in the then-emerging NuLu neighborhood when it opened in 2012. The restaurant closed in 2020 and reopened the following summer with Johnson and Myers running the kitchen, before shuttering for good in 2022. With Decade, the three partners aim to evoke the easy-going neighborhood vibe and unfussy-yet-elevated cuisine that garnered Decca a favorable reputation throughout the South, while building on a fresh start with a new team.
Mosaic tile floors, a wooden ceiling, and brick walls decorated with contemporary artwork help create a comfortable, timeless atmosphere. The owners removed a horseshoe-shaped chef's tasting bar left by the building's previous tenant, Butchertown Grocery, and installed two eight-top community tables. Behind bar shelving, they uncovered hand-painted lettering that dates to the building's days as a neighborhood grocery in the early 1900s. Artwork in the main dining room and in a second-story event space and music venue is curated by Amy King and will feature local and nationally known artists. "We want to create a hub for the community not only for food but also for art and music," Sheffield says.
Johnson, who previously cooked at Proof on Main, and Myers, who cooked at Holy Grale and Gralehaus, say the menu will also change frequently and reflect their passion for farm-grown ingredients prepared elegantly yet simply. Sugar snap peas are dressed with a Caesar aioli, studded with crispy ham, and dusted with cured egg yolk. And homemade jalapeno bucatini pasta is served with rock shrimp and a celery and herb salad with squid ink breadcrumbs. "Rather than having categories like appetizers and entrees, we've organized the menu around vegetables, pasta dishes, and meats," Myers says. "You can create a three-course meal if you want or order a bunch of food for the table," adds Johnson. Beverage director Kelsee Bryant's cocktail, beer, and wine menu includes several zero-proof cocktails and prosecco and natural cider on draft.
Says Myers: "I want people to come in and enjoy themselves and find things on the menu that they love and want to eat again and again."