When the Fair Grounds gates clang shut at 7:00 p.m. during the weekends of the New Orleans Jazz & Heritage Festival (this year, April 28 to 30, and May 4 to 7), savvy fans know that the tunes are not over. Far from it.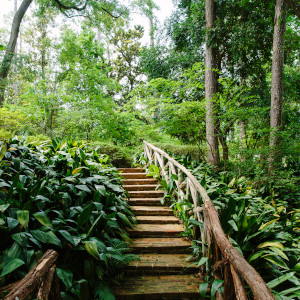 The aftershows of Jazz Fest—held in bars, theaters, and even backyards around the city—offer some of the best performances of the year and often feature surprise musical guests and impromptu jams. Here are some of the 2023 shows music lovers won't want to miss, from a recently opened art gallery with private tours and vinyl-listening hangouts to Trombone Shorty's annual Threauxdown at the Saenger Theatre.


Friday, April 28, at 6:00 p.m.
No one throws a yard party quite like New Orleans. And this one, the All-Star Jamboree at 2520 Esplanade Avenue, is an easy walk from the Fair Grounds. The music gets kicking by 7:00 p.m. and goes until 11:00 p.m. In between, plentiful cocktails, a gorgeous setting, and a wooden outdoor dance floor will set the backdrop for tunes by the Tropicales, Boma Bango, Bon Bon Vivant, and Free Creatures.
---
The (Mostly) Rock 'n' Roll Gallery
Throughout the two weekends, plus a live show with Elena Izquierdo on Friday, April 28, at 6:00 p.m.
Steve Rapport and his camera have been in the crowd and on the stage for some of history's most iconic live shows. He was at Live Aid when Freddie Mercury gave the performance of a lifetime; he caught Bruce Springsteen at the Meadowlands in 1984. But in 2022, the Brit relocated to New Orleans and opened a space in the French Quarter showcasing his body of work: the (Mostly) Rock 'n' Roll Gallery, with a back room dedicated to New Orleans–based musicians. During Jazz Fest, he will host a performance by Izquierdo with no cover, and, the photographer says, "The gallery is also a great place for people to meet, hang out, listen to vinyl, and talk about music." Private appointments and tours will also be available, and Rapport will donate 20 percent of his sales of prints featuring local artists back to the musicians themselves.
---
The Toulouse Theatre's Fest by Nite
April 28–30
In this sultry, red-lit, intimate space in the French Quarter, you can catch incredible late-night acts including, this year, Parliament-Funkadelic vs. Sly and the Family Stone.
---
Trombone Shorty's Annual Threauxdown
Saturday, April 29, at 8:00 p.m.
Trombone Shorty (a.k.a. Troy Andrews) grew up in the Treme, the birthplace of many iconic New Orleans musicians. Now he's one of the world's most prolific trombone players. From turning out awarded albums to being featuring on the hit HBO show Treme, he has brought the sounds of his home streets to the world and remains a headliner annually at Jazz Fest. However, his post show has become a don't-miss music moment, when he brings in national acts to join him on the Saenger Theatre stage. This year, the seventh annual Treme Threauxdown will feature Dumpstaphunk, Eric Church, Mavis Staples, Robert Glasper, and New Breed Brass.
---
Every night of Jazz Fest; shows start around 11:00 p.m.
During Jazz Fest, the venerated Preservation Hall "offers something a little different," says Ashley Graham, the historic venue's development director. That would be Midnight Preserves, which began in 2005 with guest artists joining in for a performance. Originally, those names were announced before tickets went on sale, but now are instead a surprise to the audience. "Past guests have included Jon Batiste, Jason Isbell, Alabama Shakes, Irma Thomas, Jimmy Buffet, and Pete Townsend," Graham says. "It is now the flagship annual fundraiser for the Preservation Hall Foundation." It's a hot ticket, but you can join the waitlist for the chance to snag last-minute reservations.