Nearly 170,000 guests will fill Louisville's Churchill Downs on the first Saturday in May for the 149th running of the Kentucky Derby. Yes, it is America's oldest continuously held major sporting event, and a bucket-list experience for many. But before and after the stands brim with outrageous fascinators and fedoras, you're likely to spot hard hats as the facility undergoes an estimated $320 million upgrade through next year. The project is adding upscale seating and hospitality areas, including the Homestretch Club, which debuted last year, and covered grandstands at the first turn. The paddock—where grooms saddle horses before each race—will feature a green space for more spectators and a perfectly framed view of Churchill Downs' iconic twin spires.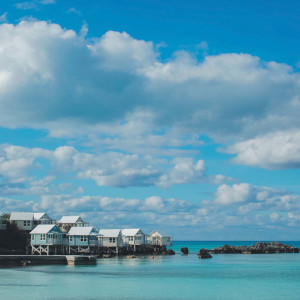 Beyond the track, Kentucky's largest city is experiencing a similar rebirth, with pilgrimage-worthy cocktail lounges and distilleries opening at a steady clip. (More than a hundred new restaurants and bars launched in 2022, reports the Louisville Courier Journal, along with some twenty hotels in the past two years.) "I credit bourbon," says chef Edward Lee, who moved to Louisville from New York City in the early 2000s to stake his culinary claim with the lauded fine-dining restaurant 610 Magnolia. Lee is opening a new restaurant this spring that melds Southern sensibilities with his Korean roots. "As the bourbon explosion has happened," he says, "there has been an explosion of tourism in Louisville that's unlike anything I've seen."
Kentucky has long enjoyed its tie to America's native spirit, but the concentration of bourbon-related attractions downtown is a modern phenomenon. The Evan Williams Bourbon Experience opened in 2013, followed over the next two years by Copper & Kings brandy distillery and Kentucky Peerless Distilling Co. In 2016, Angel's Envy became the first full-production whiskey distillery downtown since Prohibition. And the hits keep coming, with tasting rooms set to open for Buzzard's Roost, Bardstown Bourbon Company, and Brough Brothers, Kentucky's first licensed African American–owned distillery.
The fresh spin on tradition carries over into modern hotels tucked into century-old buildings, shops that re-envision dusty spaces, and institutions like the Kentucky Derby Museum going high-tech to tell the story of America's favorite racehorse, Secretariat. Even the legendary Stitzel-Weller Distillery, a few miles west of Churchill Downs, has a renewed purpose as the brand home of Blade and Bow (and this publication's own Garden & Gun Club, which serves light bites like pimento cheese and spicy boiled peanuts alongside neat pours and old-fashioneds).
"There's a lot of excitement about the future of the bourbon industry and what that means as an economic driver and Louisville becoming a major tourist destination," says Mayor Craig Greenberg, who took office at the beginning of the year and is the former CEO of 21c Museum Hotels. But the city's history paved the way. "We're going to invest in things that are unique and authentic to Louisville."
Whether you're coming to town for horse racing, restaurant hopping, bourbon tasting, or all of the above, you can't go wrong by adding these newcomers to your itinerary.
EAT & DRINK
You might begin, as many visitors do, with a distillery tour. In addition to the aforementioned options, other standouts include Old Forester for a grain-to-glass look at the bourbon production process and Michter's Fort Nelson for its cypress fermentation vats and top-notch cocktail lounge.
Angel's Envy, headquartered in an artfully renovated and repurposed factory on East Main Street across from Louisville Slugger Field, completed an $8.2 million expansion last year. Those short on time for a full tour can opt for a bottle-your-own experience, or a guided tasting and visit to the Finishing Room bar for seasonal cocktails and a sweeping view of the Ohio River. The company recently hired a new master distiller, Owen Martin, who previously worked at Stranahan's Colorado Whiskey in Denver and moved to Louisville last fall. "I'm very impressed by the sense of history here," he says. "There are so many historic businesses and areas, and even the newer bars and restaurants have distinct personalities that you don't always get in other cities."
Among those new spots is the charming Epiphany, a farm-to-table cocktail bar and brewery located in a former post office sorting facility in the Highlands neighborhood. Here mixologists work with an ever-changing array of local produce to craft drinks like the Farmer's Tan, a gin martini riff made with brined and pickled baby green tomato "olives."
Chef Lawrence Weeks brings the Cajun-Creole flavors he learned cooking with his grandmother to the kitchen of North of Bourbon, a Germantown destination both classically minded and inventive (try the shrimp yakamein or a bourbon-based take on peanuts in Coke). For a deep bourbon dive, it's worth a trip a bit farther afield to the Norton Commons neighborhood for the compendious selection and clubby atmosphere at Watch Hill Proper. If possible, time your visit to correspond with one of chef Michael Crouch's themed pairing dinners, which have included a Seven Deadly Sins menu and an ongoing series with whiskey expert Fred Minnick.
Just east of downtown, a busy stretch of Market Street in the heart of the NuLu neighborhood offers a bevy of eclectic flavors. You can't miss the canary-yellow exterior of La Bodeguita de Mima, which serves some of the tastiest Cuban cuisine (and rum cocktails) in the city. At Lou Lou on Market, a vibrant New Orleans–inspired restaurant one block over, you might hear live jazz seeping from the below-ground lounge over plates of shrimp and grits and Cajun-spiced rib eye. Cross the street to Gertie's Whiskey Bar, in the NuLu Marketplace, for an after-dinner cocktail such as the Nouveau Carré, made with rye, apple brandy, allspice dram, and house-made sweet vermouth. Visit on a weekend evening, and the host may buzz you into the subterranean speakeasy.
On East Main Street, Edward Lee will soon open Nami, his contemporary Korean steak house, with traditional grill tables and a private karaoke room on the second floor. Lee says the timing felt right for a city that values authenticity and craves new experiences. "Louisville is a growing city, but it has retained its identity," he says. "And, to me, it still feels like a small town in all the best ways."
STAY
Opened in 2021, the Grady Hotel sits in an 1880s building on West Main Street that was once home to a medicinal bourbon apothecary and a milliner of fine Derby hats. Today the property sports a refined aesthetic with soaring ceilings paneled in reclaimed wood, and a speakeasy-style bar and restaurant in the catacombs beneath.
Hotel Genevieve, a six-story, 122-room property set to open in NuLu in time for the Derby, takes its inspiration from the city's namesake, King Louis XVI. A Parisian-style rooftop restaurant and bar offers river views, and the hotel partnered with nearby Rabbit Hole distillery to create a signature single-barrel bourbon.
A short drive away, the historic Highlands neighborhood is home to the Bellwether, located steps from the numerous shops, bars, and restaurants on Bardstown Road. In 2019, Ben Botkins and Sarah Mattingly, along with another couple, purchased neighboring early-twentieth-century buildings—one formerly housed the Highlands police station and the other a BellSouth switching station—and combined them into a twenty-room boutique hotel that showcases the latter's art deco design. "We don't think of ourselves as developers," Botkins says. "We love the neighborhood, love these buildings, and couldn't stand watching them continue to crumble."
SEE & DO
You'll find all kinds of Kentucky lore amid the Frazier History Museum's permanent and rotating installations. One new exhibition digs into the Van Winkle family archives to share a selection of dusty bottles and rare photos. (You can also pop into the adjacent Kentucky Bourbon Trail Welcome Center for trip-planning help and guided bourbon tastings.)
In a building that dates to 1854, Bud Bruner opened a boxing gym where Louisville native Muhammad Ali trained in the 1960s. Today the leather goods company Clayton & Crume puts on workshops and events in the space, and sells a wide variety of handcrafted bags, belts, and wallets in its downstairs shop, alongside an intimate bourbon lounge.
Old Forester's Paristown Hall, the Kentucky Center for the Performing Arts' new venue in the Paristown arts and entertainment district, hosts indoor and outdoor concerts and community events. It's the centerpiece of the rapidly developing neighborhood, which also includes the Village Market, Louisville's first collective food hall; the two-hundred-plus-year-old institution Stoneware & Co., with handcrafted ceramics; and Fleur de Flea Vintage Market, where you can peruse more than a hundred vendors' antique and midcentury modern treasures.
Both Kentucky's horses and its bourbon benefit from the state's abundance of limestone-filtered water and lush land, prime examples of which you can see throughout Louisville's distinctive park system, which was initially designed by Frederick Law Olmsted in the 1890s. An upcoming project will expand the already popular Waterfront Park and connect it with the Russell neighborhood, a historically Black community devastated by red-lining and urban "renewal" in the 1960s. Efforts are also underway to expand Louisville's trail system to more closely link the city's core with the Ohio River, including the new Waterfront Botanical Gardens, which feature terraced plantings and views of downtown.
Even if your only connection to Louisville has been the televised Kentucky Derby, you know the race reverberates far beyond its famed two minutes. Perhaps no memory in Derby history has captivated the world more than Secretariat's last-to-first performance in 1973. At the Kentucky Derby Museum, which sits alongside Churchill Downs, crews are installing a permanent, immersive exhibit titled Secretariat: America's Horse ahead of this year's fiftieth anniversary of the Thoroughbred's historic Triple Crown sweep. The museum, which is open year-round, will also introduce several new tours during Derby season that provide behind-the-scenes access to watch this year's contenders and future hopefuls during morning workouts. You'll see the backside, where more than 1,400 horses and their grooms live and work during the racing season, and stand shoulder to shoulder with trainers as Thoroughbreds thunder by at nearly forty miles per hour. It's hard to think of a more authentic Louisville experience.