When André 3000, a member of the Atlanta rap duo Outkast, stepped onto the Source Awards stage in 1995 to accept his award for best new artist, he was met with boos and jeers. Before Outkast's recognition in the world of hip-hop music, Southern rappers hadn't been afforded a space on a national platform. André's curt response to the audience went down in history as an emblematic call: "The South got something to say."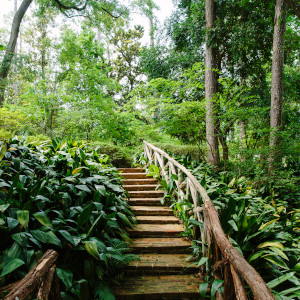 Bernard L. Herman is hoping the world—especially the world of art—will listen to Southern creatives who have long been overlooked. Unsettled Things: Art from an African American South, curated by Herman and associate curator Lauren Turner at the Ackland Art Museum at the University of North Carolina at Chapel Hill, seeks to amplify Black Southern artists within larger discussions on American art. The exhibition, which runs from April 23 to July 2 at the Ackland, highlights forty-four works from twenty-eight artists from its own private collection, including renowned Alabama multimedia artist Thornton Dial; musician, painter, and sculptor Lonnie Holley; and Gee's Bend quiltmaker Lucy T. Pettway.
"Unsettled Things challenges how we think about art," says Herman, whose collection of essays, The Unfinished Business of Unsettled Things, informs the title. "How will this art be brought into the larger conversation? Are we looking at changing how we think about American art?"
For Herman, institutional barriers limit the way audiences can talk about artwork from Black Southerners, which is typically excluded from the sphere of American "fine art." Says Herman: "There's a tendency to want to circumscribe Southern art with terminology like 'self-taught' or 'folk' or 'vernacular.' What that really does is create a kind of authority on the margin—you can talk about how wonderful, inspiring, and moving this art is, but it's still always on the edge of some larger art world, one that essentially describes itself by the distance it creates from these categories."
Such labels also fail to recognize the artists' expertise. Quiltmakers in Unsettled Things—like Nettie Young and Gee's Bend artists Mary Lee Bendolph and Pettway—study their craft at an early age, through meticulous teaching passed down through generations of women. "It starts in childhood with young kids who play under or around the quilt," Herman says. "In Gee's Bend, you can say a lot of things about the quilts, but they're not self-taught. There's a school of sophistication."
Artists Holley and Sam Doyle also honed their skills as children. Holley, for example, learned how to make sculptural chains out of foil wrappers from family members at home. "When you use something like 'self-taught,' you rob the maker of their thoughtfulness," says Herman, whose appreciation for Holley and his work runs deep. "I've been out with Lonnie Holley, and he curates the world as he moves through it. There's thoughtfulness and intentionality to what he chooses."
Unsettled Things will also feature videos and audio clips from art collector William S. Arnett's Souls Grown Deep Foundation, which maintains an expansive archive of interviews, field notes, and photos of Black Southern artists at UNC. One video, captured by one of Herman's students, shows an exclusive drawing demonstration with Dial in his Bessemer, Alabama, studio, where he hosted Herman and his class. "In less than ten seconds, he laid out an entire drawing," Herman says. "It's the only record we have." 
For Herman, organizing Unsettled Things also became a tool for teaching young students at the University of North Carolina at Chapel Hill, who collaborated with him on centering the show's works around the three themes of "Life," "Spirit," and "Matter." In the future, the show will also open at the International African American Museum in Charleston, South Carolina, as the inaugural special exhibition in early 2025.
"Our show may not travel to big metropolitan centers, but it will travel to places where it should be seen," Herman says. "What I hope the work does for anybody is inspire them as thinkers—and even as makers."