Ted Lasso, who? Okay, yes, everyone's favorite football coach comes back for season three on Apple TV+ this month, but March is otherwise full to the brim with streaming movies, series, and podcasts tied to the South (not South London). And I'm not even counting Prime Video's Daisy Jones & the Six, based on the novel by the Maryland native Taylor Jenkins Reid and starring Elvis's granddaughter Riley Keough (hey, it takes place in L.A. and was inspired by British band Fleetwood Mac). Who needs Rumours when you've got an…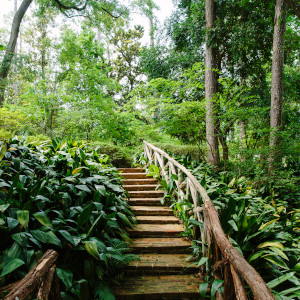 Ode to (David) Joy
Devil's Peak, on demand
A moment to brag on one of our own: An adaptation of regular G&G contributor David Joy's 2015 debut novel Where All Light Tends to Go, set around Cashiers, North Carolina, just hit on demand as the retitled Devil's Peak. Not only that, but true Southern heavy hitters star in the Appalachian noir: Arkansas native and Oscar winner Billy Bob Thorton as meth kingpin Charlie and, as his estranged wife, Laura, Texan Robin Wright (acting alongside her son, Hopper Penn, as central character Jacob).
---
Booth to the Future
The Big Door Prize, Apple TV+
But wait, there's more! Boasting to be done, that is. A comedy series based on G&G Good Dog contributor and Baton Rouge native M.O. Walsh's 2021 novel The Big Door Prize starts up March 29. The fantastical gist: A photo booth–looking machine mysteriously appears in a small town general store. The people of Deerfield, Louisiana, soon discover that a swab from the device will reveal that person's full potential in life. Shenanigans, as you would imagine, ensue.
---
Legend of Letters
Zora Neale Hurston: Claiming a Space, PBS
The prolific writer and anthropologist Zora Neale Hurston's influential work took her from her base in Harlem back down to her home state of Florida and beyond as she traveled the Depression-era South documenting Black life and folk tales. This documentary, which offers an in-depth look at the novelist of Their Eyes Were Watching God and her research, aired on PBS back in January, but you can now watch the whole thing online any time.
---
Palmetto Powerhouse
Succession, HBO Max
The Shakespearean saga of the backstabbing Roy media dynasty reaches its zenith starting March 26, when the fourth and final season of the utterly compelling Succession begins. One of the keys to the New York–centered drama series' success? The wry and pitch-perfect J. Smith-Cameron, a South Carolina native who portrays Gerri Kellman, the consigliere of ruthless patriarch Logan Roy. Find out what makes Smith-Cameron so good in this G&G interview with the scene-stealer.
---
Crockett and Tubbs Could Never
Murder in Miami, iHeartPodcasts
Buckle up for Lauren Bright Pacheco's Murder in Miami—a wild ride following journalist Phil Stanford's 1980s dive into a cocaine-fueled cocktail of drug smugglers, spies, murderers, and money launderers. The grit and glam of Miami Vice–era South Florida get recounted in evocative (and at times, horrifying) detail: a private eye's bones picked clean by Everglades gators, writers living la vie bohème at the famed Cardozo Hotel, a dashing pilot with a Bahamian island likened to a Motel 6 for drug smugglers, included.
---
Nashville Idol
My Kind of Country, Apple TV+
Well if this competition series isn't tailor-made for G&G music fans, I'm not sure what is. After all, it's chock-full of G&G subjects and favorites: Starting March 24, hosts Reese Witherspoon and Kacey Musgraves are on an international hunt for the next great country music star, with the help of some of Nashville's finest, including Orville Peck, Mickey Guyton, and Jimmie Allen. The promo copy says the top voice will get a "life-changing prize" courtesy of Apple Music, but I'm pretty sure music lovers will be the real winners.
---
South to Alaska
Outlast, Netflix
That said, if Survivor is more your speed—or rather, if Survivor on speed is more your speed—you may want to check out Netflix's big reality competition releasing March 10. Outlast parachutes sixteen "lone wolf" survivalists into the Alaskan wilderness, with the instruction that each will have to team up with a "pack" to win. Players can switch teams at any time, but don't get your phone ready to vote or expect a tribal council to weigh in: The only way to lose out on the million-dollar prize is to give up. No surprise that the casting crew looked South for tough, resourceful contestants; a full half of them hail from the region, including a CrossFitter from Charlotte, a San Antonio EMT, and a high-school teacher and wrestling coach from Tampa.
---
Mess in Texas
Waco: American Apocalypse, Netflix
If you were alive and cognizant in 1993, you likely saw some portion of the deadly fifty-one-day standoff between the federal government and charismatic cult leader David Koresh's Branch Davidians in Waco, Texas, live on television. Now, a three-part documentary attempts to tread new ground on the national tragedy—which claimed the lives of four ATF agents and, by the end of the conflagration of their compound, eight-two Branch Davidians—with new footage and recordings and interviews with the likes of surviving Davidians and FBI and ATF members who took part.