Traveling through the South in recent years, you might have noticed the occasional massive, yellow, circular sign off the interstate featuring a cartoon beaver's cheerful grin. Buc-ee's, a warehouse-sized gas station and convenience store beloved by Texans for decades, has rapidly expanded through the region since 2019, with locations now open in Alabama, Georgia, Tennessee, Florida, Kentucky, and South Carolina. More than just a place to fuel up, Buc-ee's is famous for its immaculate restrooms (an attribute it touts on billboards declaring "It's potty time" and "You can hold it") and a kitschy gift shop where the buck-toothed mascot is emblazoned on everything from T-shirts to wine glasses to dog toys.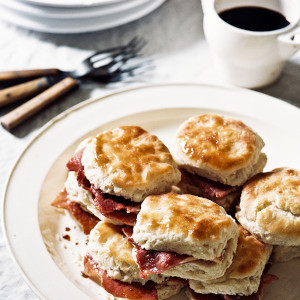 But it's the seemingly endless array of snacks and drinks that is perhaps Buc-ee's biggest draw. At the Texas Round Up counter in the center of each store, employees shout "Fresh brisket on the board!" to alert customers to a new batch of barbecue sandwiches. Nearby, Buc-ee's servers cut bricks of rich fudge and dole out cups of Dippin' Dots. Yet another counter serves kolaches, tacos, sandwiches, massive cinnamon rolls, and fresh-baked cookies. And then there are the walls and shelves of packaged snacks—a dizzying selection of jerky, candy, chips, nuts, caramel corn, and any other road-trip treat your heart could desire. With so many choices, it's easy to burn precious travel time wandering the aisles. Allow us to steer you toward some winners.

If you need a substantial lunch
Buc-ee's chopped brisket and pulled pork sandwiches are simple—sauced meat on bread—but tastier than most fast-food sandwiches. They're also very filling. Pair them with hot, fresh potato chips, also located on the barbecue bar, or if you are looking for something a little healthier, you can grab a fruit cup or salad from a refrigerated case.


If you want a hot handheld
Barbecue is delicious, but you do run the risk of dripping sauce onto your car seats. A sausage kolache, on the other hand, is perfect for on-the-go lunching. Buc-ee's has a few varieties, including boudin, but for a bit of a kick, opt for the sausage, cheddar, and jalapeño kolache, where the pillowy, sweet bread is stuffed with spicy meat wrapped in a layer of melty cheese. Just be sure to ask for it warmed up.


If you have a sweet tooth
The fudge counter at Buc-ee's offers virtually any flavor you could want—gooey salted caramel with dark chocolate, cookies and cream, mint chocolate, praline, rocky road, even Key lime pie. But perhaps the most charming is the sprinkle-dotted birthday cake, which tastes identical to the store-bought funfetti frosting you might have adored as a child.


If you skipped your morning cereal
Try the fruity rice crispy treat, which is essentially the classic Rice Krispie recipe made with Fruity Pebbles. The salted caramel rice crispy is also decadent but delicious.


If you can only pick one snack
Or if you need something easy to bring back for a friend, grab a bag of Beaver Nuggets, Buc-ee's signature snack. These large, sugared corn puffs seem to both crunch and melt in your mouth at the same time, and it's hard to not devour the entire bag. Buc-ee's has a few novelty nugget flavors, including sea salted caramel, spicy, and cinnamon, but nothing's better than the original.


If you're a carnivore
Buc-ee's not only has an entire wall devoted to bags of its "world-famous jerky," it has a counter where you can buy it by weight. Flavors include the traditional—teriyaki, pepper—and more unique, including Bohemian garlic, lemon pepper, and ghost pepper. You can pick up turkey jerky, too.
If you want your car to smell heavenly
It's hard to resist the allure of the warm cinnamon-glazed pecans, cashews, and almonds. If you don't mind enjoying them after they've cooled, they will also keep on a long road trip—we tried some after an eight-hour drive and they were still delicious.


If you're craving something sweet and salty
Buc-ee's is known for having its own brand of, well, everything, including general store snacks like trail mix, gummy worms, taffy, and chocolate-covered nuts. One of the things it does best is dipped pretzels, which come in a host of flavors, from dark chocolate to cinnamon to blueberry yogurt. Try the raspberry yogurt–dipped for the perfect balance of sweet, fruity, and a hint of salt.


If you need a last-minute gift for your in-laws
You're in luck, because the general store section of Buc-ee's is packed with cutting boards, soaps, candles, tea towels, wooden signs, and other quick gifts. But for a foodie gift that travels well, consider one of Buc-ee's jarred spreads, including fig preserves, blueberry jalapeño jam, muscadine grape jelly, and apple butter.


If you're thirsty
The soda fountain awaits. Buc-ee's has both Coke and Pepsi products, with flavor shots you can add to any drink, and they also carry their own brand of cane sugar sodas in flavors like orange cream, pineapple cream, and mango. The cherry lime soda is super sweet but super tasty—not unlike drinking a melted slushie.