Atlanta is known for many things (Hartsfield-Jackson International Airport, Coca-Cola, streets named Peachtree), but being walkable is not one of them. But in recent years, two booming neighborhoods—one on the east side of downtown, one on the west—have sprouted areas designed for [gasp!] pedestrians. Not surprisingly, they are among the most vibrant stretches in the city. Next time you're in town, ditch the car for one of these itineraries.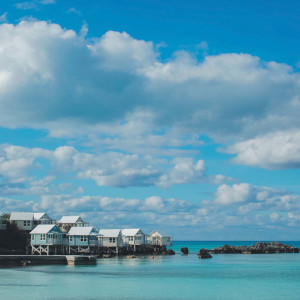 Eastside
Start at Highland Bakery in Inman Park, a charming neighborhood dating back to the late 1880s. Housed in a historic brick building, this breakfast-and-lunch spot serves all the staples—omelets, salads, biscuit sandwiches—but you're here for the pancakes. Ask for a half order of sweet potato and of ricotta with blueberry compote.
Across the street (and behind another celebrated carb temple, Bomb Biscuit Co.) you'll spot a paved path called the BeltLine, which will eventually run twenty-two miles around the city's urban core. More than a trail, the BeltLine unites Atlantans, connecting previously disparate areas with restaurants, shops, and parks. Turn right and walk north approximately ten minutes, then stop and watch teens ride the ramps at Historic Fourth Ward Skatepark, or relax in the large, adjacent greenspace (you brought a frisbee, right?). Another ten minutes up the trail brings you to an elevator on your left. Ride it down to Historic Fourth Ward Park to snag scenic photos by the water or let the children run wild at the playground and splash pad.
If you've had your fill of fresh air, cross the street to Ponce City Market, a former Sears warehouse converted to funky mixed-use space. Alternately, if you haven't quite burned off breakfast, stroll twenty minutes farther north to Atlanta's famed, Olmsted-designed Piedmont Park, where more grassy lawns and lake views await—then double back on the BeltLine to the market. Once inside, head to the Central Food Hall for lunch at H&F Burger, specifically the griddled double cheeseburger, from award-winning chef Linton Hopkins. (Grab a chocolate sea salt popsicle from King of Pops for dessert.) The afternoon is yours to shop around the market—try on jeans at Ponce Denim Co., snag a gift from Rhen's Nest Toy Shop, or browse artisan goods in Citizen Supply—and explore the rooftop "carnival" with Coney Island–style games and a heege tower.
By now you've worked up an appetite, so exit Ponce City Market on Ponce de Leon Avenue and take the sidewalk east for about seven minutes. Your destination is Tiny Lou's, a classy French-American brasserie in Hotel Clermont (yes, there is a basement lounge/strip club celebrities have been known to frequent). Here, order duck confit and a glass of wine to cap off your evening. Another option is to depart Ponce City Market back onto the BeltLine, walk eight minutes south, and order up a lavender margarita, Mexican tapas, and a view of the sunset on the Estrella rooftop—a perfect end to a perfect day.
Westside
A burgeoning restaurant and entertainment district surrounds the intersection of Howell Mill Road and 14th Street in West Midtown. Here, you'll start with coffee from the Brash Box in Westside Provisions, a former meatpacking plant and warehouse. Brash is local but sources its beans from small farms in Colombia, Guatemala, and El Salvador. Bring your beverage—maybe an iced Americano with a dash of almond milk—up the stairs with you to Five Daughters Bakery for a 100-layer donut, a treat as decadent as the name suggests. Then it's time to hit the shops—everything from Anthropologie and Free People to Atlanta-based Ann Mashburn and Perrine's Wine Shop. Packages in hand, continue across the scenic footbridge to Taqueria del Sol, located on the far side of the parking lot. Chef Eddie Hernandez serves a mean brisket taco, but the fried chicken taco is a winner too. 
Your next destination is diagonally across the street in the Interlock building. Take the elevator to Rooftop L.O.A., an urban oasis with expansive city views. Reserve a poolside lounge chair in advance, or relax in the Grove with a cocktail in hand (try the Far East Punch, featuring Suntory Toki Whisky, lime, pineapple, ginger, and angostura).
Dinner is just downstairs at Kinjo Room, an intimate and sophisticated sushi spot from brothers Alex and Chris Kinjo, the duo behind the MF Sushi empire. Choose a selection of bites to share, such as spicy salmon avocado balls or the yellowtail with lemon zest, cilantro, serrano pepper, and grated wasabi. Another popular sushi option, O-Ku, is just south on 14th and features a much larger dining room (though reservations are still recommended); don't miss the melt-in-your-mouth lobster temaki and the matcha crème brûlée.
Afterward, stop by Puttshack at the base of the Interlock for neon-lit, indoor putt-putt. The lively crowd will keep you energized while you show off your skills or lack thereof. Commemorate the day with a photo in front of the cheeky "Oh My God Becky Look at Her Putt" mural outside. Then again, if all this glitz has you craving PBR and pool tables, you might be better off strolling a block south to Northside Tavern, a legendary blues dive that looks decidedly out of place amid the tall glass buildings, in the best way.