In the evenings, after she has tucked in her toddler son, Ford, Anna Bond goes to her sleek new home studio to create. She might sketch an idea for a thank-you note for Rifle Paper Co., the Winter Park, Florida, firm she and her husband, Nathan, started in 2009. Or put the finishing touches on a design for a piece of stationery, or a nostalgic recipe card. She hand paints almost everything in gouache, a combination of watercolors and acrylics, losing herself in the flat, velvety colors and the exuberant patterns—vintage-looking florals or folksy filigree—that have made Rifle Paper one of the South's most recognizable purveyors of paper goods.
"It's so rare to get a card in the mail," Bond says. "Something personal, handwritten. It has meaning." She brought that same thoughtfulness to the renovation of their midcentury ranch house, where she especially loves to work on Sunday afternoons, when the sun douses the white studio walls in peach.
"I plan to have our second child share a room with Ford," says Bond, who's expecting in April. "Because I'm not giving up my home office. It's that vital."
---
BONUS PHOTOS: CLICK HERE TO SEE MORE IMAGES FROM THIS STORY
---
When the Bonds launched Rifle Paper, the couple didn't own a house, much less a home office. Living in a garage apartment near Winter Park, the newlyweds took a leap of faith, starting an old-fashioned pen-to-paper stationery company at a time when most people their age wouldn't look up from their smartphones. Their first product was a riff on the thank-you notes Anna had sent to their wedding guests. Built on her eye for color and composition, Nathan's marketing savvy, and an early partnership with Anthropologie, the company took off. Today the Bonds employ more than 150 people, and Anna's distinctive designs now sprawl across wallpaper and a new home decor collection debuting this spring.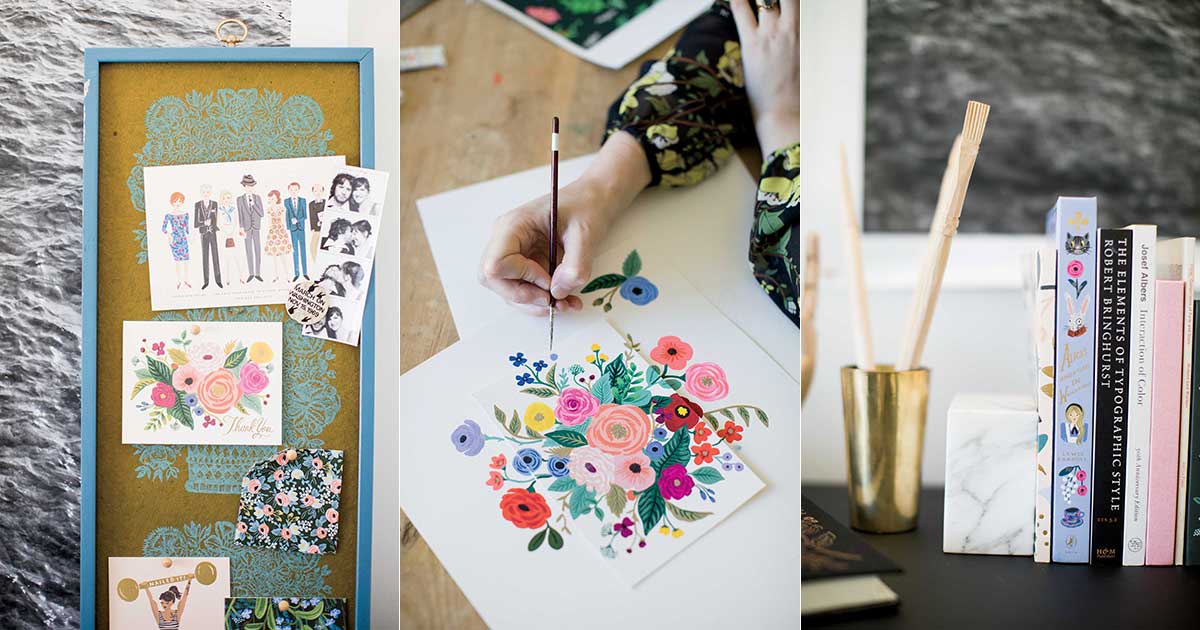 photo: Patricia Lyons
Even with the expansions, though, Anna and Nathan have stayed true to their do-it-yourself, small-town roots—most recently in their choice of home, a one-story, three-thousand-square-foot house facing Lake Minnehaha that was built in 1957. Four years ago, the Bonds bought the lot next door, planning to build. Instead, Anna fell in love with this house. They knocked on the door, and as it happened, the empty-nest owner was looking to sell. Nathan was dubious, but when Anna stepped through the double doors into the living room, with its vaulted ceiling and wall of sliding glass, she had a vision. The home's sponge-painted kitchen, green-and-burgundy accents, and scarf-swag window treatments fell away, leaving clean, white rooms drenched in Florida sunlight. "You've got to trust me," she told Nathan.
By then, the couple had doubled down on their commitment to stay in artsy Winter Park, a suburb of Orlando. Nathan had grown up nearby, and they both realized their Southern location had become an advantage. "I love going to New York, where there's so much creative energy, but it's easy to get swept up in that," Anna says. "I find it helpful to be able to block all that out. Down here, we're in our own little world."
Even more so now, thanks to the Bonds' newly finished home, which—no surprise—Anna designed herself, pulling together the renovation over the course of a year with no help other than a builder. What is astonishing, given Rifle's bold designs, is the home's subtle color palette.
"My work at Rifle is so vibrant, I needed this blank slate to come home to and recharge," Anna says. "We wanted to walk in the front door into an oasis."
White, black, and gold dominate the aesthetic, and Anna chose timeless materials—marble, brass, and wood—all set off with her trademark use of pattern. For example, she chose toile wallpaper for the guest bedroom, and even hand penciled landscape scenes directly onto the paint for a toile-inspired look in a bathroom. Each place depicted holds personal significance: beach scenes, Anna's childhood house, favorite spots in Florida. She drew quickly, partly to give the look a dashed-off quality. "I tried erasing a mistake, but it didn't work so well, so I left it," she says. "The flaws add character." In the kitchen, gray-and-peach-swirled stone countertops and backsplash bring in another motif. The stone's undertones inspired the peach wall color in the adjacent powder room—pretty much the home's only other hue.
photo: Patricia Lyons
Anna also grounded the modern architecture with traditional touches, such as the seventeenth-century etching of a pastoral scene she hung on the black dining-room wall. In the kitchen, a black Lacanche French range with chrome and brass handles evokes the early twentieth century. Classic brass fixtures in all the bathrooms echo the look.
Still, the overall effect is unpretentious, on purpose—nothing is hands-off, the kitchen is the heart of the house, and the open living room doubles as Ford's playroom. He loves running his toy cars across the hearth, a long slab of concrete cantilevered from the white-painted brick wall the Bonds added around the fireplace. And friends are always welcome.
On any given weekend, even in winter, you might find Nathan on their boat teaching those pals to wakesurf. And on most Sundays, when the light is just right, you'll most likely find Anna—refreshed from her serene surroundings—sneaking off to her studio to lose herself once more in a world of pattern and color. 
---
BONUS PHOTOS: CLICK HERE TO SEE MORE IMAGES FROM THIS STORY
---