No doubt you have big plans for April 16, what with it being National Eggs Benedict Day. (Seriously, you can check, it's a real thing.) But even if the hollandaise-drenched holiday somehow slips by you, the span between Easter and college commencements—with Mother's Day prominently perched right in the middle—might as well be dubbed High Brunch Season. And in my opinion, a brunch without eggs Benedict is like the Kentucky Derby without giant hats. (Come to think of it, I'd eat a hat, or a horse, drenched in hollandaise.)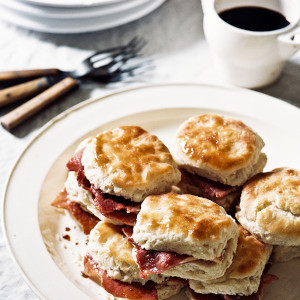 Apparently originated in New York City in 1894 (though by which eatery is in dispute), the dish in its most traditional form is composed of a split English muffin topped with Canadian bacon, poached eggs, and hollandaise. But the wonderful thing about eggs Benedict is that as long as the basic structure is maintained, it's open to near-endless creative interpretation. Indeed, I still reminisce about the poached eggs and chicken livers on a biscuit I once ordered as a hangover cure at The Old Coffee Pot in the French Quarter.
That establishment is no more, but plenty of other Southern restaurants are taking eggs Benedict to delicious new heights this spring. Several are doing a seafoody riff, such as the Crab Cake Benny Stack at 300 East in Charlotte, which uses the traditional English muffin as a foundation for layers of crab cakes, fried eggs, tomato pepper jam, avocado, pickled onion, and citrus hollandaise. New Orleans's venerable Tujague's ditches a bread base altogether, instead topping two seared Louisiana crawfish cakes with poached eggs, tomato-spiked choron sauce, and étouffée. Or try a Mexican twist with the crab tostada Benedict at Tinta in Fort Lauderdale, showcasing lump crab, poached eggs, refried beans, avocado slices, and chipotle hollandaise atop a white corn tostada.
Answering the question of whether Texans put barbecue on everything, Dallas's Mansion Restaurant heaps smoked brisket on biscuits with Béarnaise sauce and piquillo peppers. You like it spicy? Then go for the Kashmiri hot chicken Benedict at Mister Mao in New Orleans, which assembles ancho-seasoned fried chicken, fried eggs, onion milk gravy, Hawaiian pineapple rolls, and lime cream dotted with Szechuan peppercorns.
Sometimes, though, a creative but less-busy interpretation is just what the brunch doctor ordered. Ya Mas! Taverna in Fort Lauderdale fills that prescription with its speck-on-brioche Benedict."It's inspired by giving a Mediterranean twist to a traditional brunch classic," says executive sous chef Shane Spohn. "We spice it up with harissa, a North African red pepper paste that consists of garlic, chiles, vinegar, and various spices. Then we crumble crispy baked speck from Northern Italy to give the Benedict a bit of crunch."
Spohn shared the recipe below, which is almost too pretty to eat.