Though he hails from Vermont, chef Chip Ulbrich has earned his Southern cooking bonafides. His extensive résumé has taken him to acclaimed kitchens in Beaufort, South Carolina, and Williamsburg, Virginia, among other cities. For the past sixteen years, though, he's guided the culinary direction of South City Kitchen, a sophisticated restaurant serving regionally inspired fare at four locations in metro Atlanta.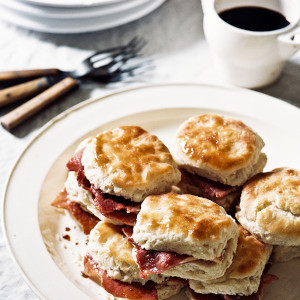 "I love my New England roots, but I identify more as a Southern gentleman now," Ulbrich says. It doesn't hurt that his wife, Tricia, was born and bred in South Carolina and brought family recipes to their marriage. Her late mother's signature Thanksgiving dish was a cornbread stuffing made with Ballard cornbread mix, which Ulbrich started cooking to bring Tricia comfort. When the Ballard mix was discontinued, he tried substituting White Lily's Self-Rising Buttermilk White Cornmeal Mix—and was more than pleased with the result.
"It's light and forgiving. To me, cornbread is not sweet, and this mix doesn't have added sugar," he says. As a self-identified Southerner, he also reserves an opinion on aesthetics: "The Jiffy mix is too yellow for me. I like it to have some white."
Based in Knoxville, Tennessee, White Lily has been a Southern pantry staple since 1883, when James Allen Smith began milling soft red winter wheat. He, too, found inspiration in his wife, named Lillie, and christened his finely sifted flours in her honor. Over the years, the company passed from Smith's descendants to various hands, and it's now under the ownership of Hometown Food Co., the parent group of Pillsbury. Yet it's still known for lending a light, fluffy rise to baked goods, thanks in part to its slightly lower protein content.
That's a quality Ulbrich enjoys not only in his mother-in-law's stuffing but in his own creations, including ricotta pancakes. "It adds a little crunch," he says. He also makes a fish batter from the mix by adding garlic powder, cayenne, paprika, salt, pepper, corn starch, and baking powder. "It makes a light, crispy coating similar to the catfish flour we use at South City Kitchen," he says. Simply dip shrimp, oysters, or even green tomatoes in buttermilk, then dredge in the batter and fry.