Mea culpa: HBO Max, or rather, the artist now known as Max, released the drop date for the much-discussed Bama Rush too late to make May's Southern Streaming, but thankfully my colleague Caroline Sanders Clements was on the case: No matter where your opinion of sororities falls, you'll want to read her review.
Speaking of great writing, you'll also want to dive into G&G contributor Helen Ellis's review of the Broadway smash Shucked before the Tonys stream live June 11 on Paramount+. With the musical comedy up for nine awards, the broadcast will surely include a number by the cast, which is chock full of Southerners.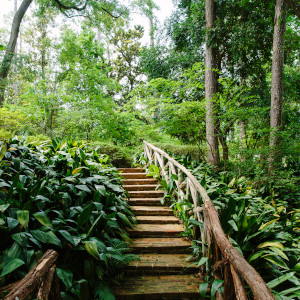 To keep the belly laughs going, Righteous Gemstones brings back everyone's favorite Southern irreverent reverends for season three June 18 on Max. (Also, the very funny Gemstones regular and comedian Eric André, a Boca Raton native, debuts the sixth season of his "anti-late-night talk show" on June 4 on Adult Swim and Max.)
Otherwise, here are the original options to stream this month that have caught my eye.


Snack Attack
Flamin' Hot, Hulu and Disney+
Who invented Flamin' Hot Cheetos? Well, that question's been a little bit up for debate, but come June 9, the Texas native Eva Longoria's directorial debut will tell one version of the story with this biopic of Richard Montañez, the alleged inventor of the spicy snack, who worked his way up from janitor on the floor of a Frito-Lay factory to parent company PepsiCo's vice president of multicultural sales and community promotions.
---
Diggin' on This
TLC Forever, Lifetime
At least ten songs on the soundtrack of my life would be by the Atlanta trio TLC—Tionne "T-Boz" Watkins, Lisa "Left Eye" Lopes, and Rozonda "Chilli" Thomas. And I know I'm not the only one—they're still one of the best-selling girl groups of all time, a momentum slowed not stopped by the tragic death of Left Eye in a 2002 car crash, as this documentary, airing June 3 and streaming the next day, will show.
---
Ranger Danger
Smoke Screen: Just Say You're Sorry, Apple Podcasts, Spotify, et al.
For your summer road trips, tee up this sixth season of the investigative podcast Smoke Screen by the Marshall Project. Reported and hosted by staff writer and Austin resident Maurice Chammah, the episodes scrutinize a Texas Ranger known as the "serial killer whisperer" who plays fast and loose with his interrogation techniques.
---
Brother on a Mission
Burden of Proof, Max
In 1987, fifteen-year-old Jennifer Pandos vanished from her family's home in Williamsburg, Virginia. At the time, her parents told everyone she had run away. But her brother, Stephen, had doubts. This four-part docuseries, dropping June 6 and 7, follows his efforts to get to the bottom of her disappearance and his astonishing discoveries over the course of seven years.
---
Chrome Candy
Tex Mex Motors, Netflix
I'm a sucker for vintage cars, so I'm drooling over the rust buckets this El Paso body shop is hauling over the border from Mexico to restore. Where do I put in my order for a '62 Corvette?